The Latest QNAP News

Product and Solution Information, Press Releases, Announcements
QNAP Introduces New QM2 PCIe Cards for PC/NAS to Add Two M.2 SSD Slots and One 10GbE Port
---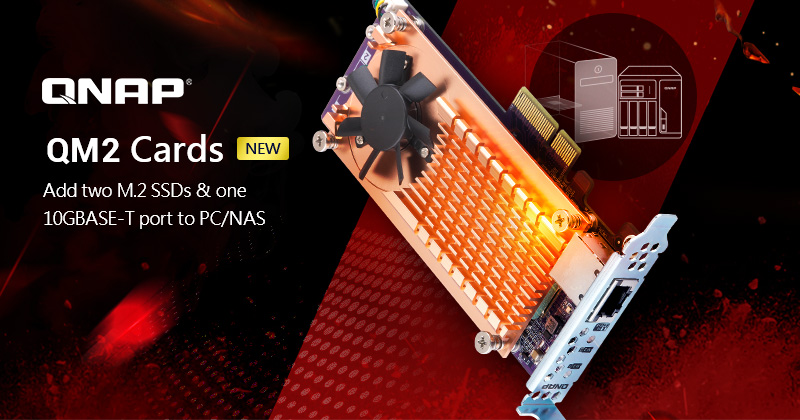 Taipei, Taiwan, June 19, 2019 – QNAP® Systems, Inc. has extended the lineup of QM2 PCIe expansion cards with two new models that use the Aquantia® AQC107 controller: the dual M.2 2280 SATA SSD & single-port 10GbE expansion card, (QM2-2S10G1TA) and the dual M.2 2280 PCIe NVMe SSD & single-port 10GbE expansion card (QM2-2P10G1TA). Users can easily install a QM2 card into a compatible QNAP NAS or Windows®/Linux® PC and workstation to add M.2 SSD slots (M.2 SSD sold separately) and 10GBASE-T Multi-Gigabit (10G/5G/2.5G/1G/100M) connectivity to enhance application performance.
"QM2 cards provide users with economical options to upgrade system performance" said Dan Lin, Product Manager of QNAP, adding "With both M.2 SSD slots and 10GbE connectivity on a single card, users can realize both faster data access times and network connectivity without requiring heavy investment to adapt to the growing bandwidth-demanding applications in modern IT environments."
The innovative QM2 cards feature M.2 SSD thermal sensors that allow real-time temperature monitoring, and a quiet cooling module (heatsink and smart fan) to minimize overheating and ensure high performance. Compared with SATA, the PCIe-based QM2 cards deliver higher bandwidth for maximized performance. The new QM2 models support two M.2 SSDs, allowing for SSD caching with higher storage capacity to optimize IOPS-demanding applications, enabling tiered storage in QNAP NAS to optimize storage efficiency, as well as supporting RAID 0/RAID 1 to balance performance and data protection.
Key specifications of new QM2 PCIe cards
QM2-2S10G1TA - Dual M.2 2280 SATA SSD & single-port 10GbE expansion card - PCIe Gen2 x 4
QM2-2P10G1TA - Dual M.2 2280 PCIe NVMe SSD & single-port 10GbE expansion card - PCIe Gen2 x 4