QNAP Releases QTS 4.4.1 Beta 4 Version, Delivering Optimal User Experience and Quality, Reliable Services
The Latest QNAP News

Product and Solution Information, Press Releases, Announcements
QNAP Releases QTS 4.4.1 Beta 4 Version, Delivering Optimal User Experience and Quality, Reliable Services
---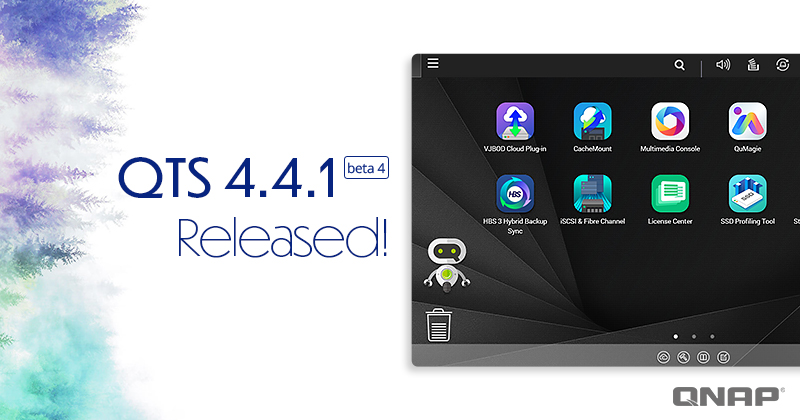 Taipei, Taiwan, August 16, 2019 – QNAP® Systems, Inc. (QNAP) today released QTS 4.4.1 beta 4, the latest version of the acclaimed QNAP NAS operating system. QTS 4.4.1 beta 4 has added many useful features, including a list of improvements and enhancements from the previous version. Starting from today, QNAP NAS users will receive QTS 4.4.1 beta 4 update.
Learn more about QTS 4.4.1 Beta Program
New Features
Control Panel - Multimedia Console
Replaced Multimedia Management with Multimedia Console, which integrates media indexing, transcoding, thumbnail generation, and content management, allowing users to manage multimedia applications and services more efficiently. Multimedia Console also provides the following features:

Browse content in various multimedia applications in Content Management after adding folders as content sources
Monitor the status of all multimedia applications and services
Configure content sources for Qsirch advanced photo indexing
File Station
File Station now supports converting Apple iWork file formats to Microsoft Office file formats using CloudConvert.
Added support for restoring QDFF files and folders with HBS 3 in File Station.
PostgreSQL
Added support for PostgreSQL 11.4.
Desktop
Changed the password requirements to enhance system security.
Storage Management
Added support for Marvell QLogic Fibre Channel host bus adapters for the following NAS models: TS-832X, TS-432XU, TS-432XU-RP, TS-832XU, TS-832XU-RP, TS-1232XU, TS-1232XU-RP, and TS-1635AX
Enhancement
QTS Security
"IP Access Protection" is enabled by default for the SSH, Telnet, and HTTP(S) protocols to enhance system security.
Fixed Issues
Users could not wake the NAS using Wake-on-LAN in Qfinder Pro after updating QTS to 4.4.1.0978 build 20190626.
The system fan speeds on the TVS-682 would increase abnormally after users updated QTS from 4.3.6 to 4.4.1.
Storage & Snapshots would change the volume names on the TR-004 expansion enclosure after users updated QTS to 4.4.1.
Dashboard would not display the fan information of the QM2-2S expansion card after users updated QTS to 4.4.1.
The "create folder" and "upload" icons would disappear from the toolbar in File Station when users browsed subfolders.
The Marvell Qlogic QLE2562-CK Fibre Channel host bus adapter could not successfully connect to the NAS.
Qfiling could not decrypt files encrypted in File Station with passwords containing multibyte characters, or vice versa.
Users could not replace disks one by one for a legacy volume after updating QTS to 4.4.1.