QNAP VSM-2000

2-bay / Central Management System / Tower Network Video Recorder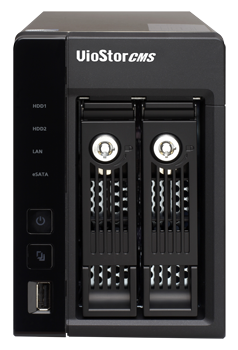 QNAP Products VSM-2000
Central Management System Solution
QNAP 2-bay Tower VioStor Management Server, Built-in 64 Camera License
VSM-2000-US
Our Price: $4,399.00
Click here to jump to more pricing!
Overview:
Package Content
VioStor CMS VSM-2000 Server
CD-ROM
2 x Ethernet Cable
Quick Installation Guide
8 x Flat Head Screw (for 3.5" HDD)
6 x Flat Head Screw (for 2.5" HDD)
Hard Disk Lock
Power Cord
Power Adapter
QNAP VioStor CMS is a Linux-embedded turnkey solution to centrally monitor, manage, and configure distributed NVRs, cameras, and events at multiple locations. A truly unified platform for projects of various sizes, it is designed to help those with the following roles to manage projects easily and efficiently:
Control center operators or managers can maintain overall control of areas for which they are responsible, receive event notifications, and respond in a correct, timely manner when events occur
Event examiners can retrieve video footage of events efficiently
Project installers can configure the system quickly and intuitively, with less time for setup
Why QNAP NVR?
QNAP VioStor NVR (Network Video Recorder) is designed for high quality megapixel recording, and high performance real-time monitoring. It is a reliable standalone NVR with powerful surveillance features and mass storage capacity. Based on Linux OS, the NVR supports H.264, MPEG-4, M-JPEG and MxPEG recording from over 1,100 network camera models from popular brands. With QNAP's unique multi-server monitoring feature, multiple VioStor NVRs can be cascaded together for central monitoring of up to 128 channels of video surveillance. The VioStor NVR is an ideal solution for small, medium, and large facilities that integrate IP cameras, advanced intelligent video analytics and RAID storage technologies to help companies provide a safe environment for employees and protect company assets.
Supports a Broad Range of IP Cameras
The VioStor NVR supports H.264, MPEG-4, M-JPEG, and MxPEG recording from over 1,000 network camera models of many popular brands.
PC-less Network Surveillance by HD Local Display
The VioStor NVR supports PC-less system configuration, monitoring of IP cameras over the network, and video playback by a monitor or high-definiton TV, a USB mouse, and a USB keyboard.
Multi-server Monitoring
You can connect to the VioStor NVR and add other QNAP NVR servers to monitor up to 128 channels on a PC over LAN or WAN.
Intelligent Video Analytics (IVA) for Fast Video Retrieval
The VioStor NVR supports intelligent video analytics (IVA), such as motion detection, missing object, foreign object, out of focus, and camera occlusion to provide fast video retrieval.
Advanced Event Management
The compatibility between the NVR and the surveillance devices are strengthened to provide more event handling options when events are detected or alarms are triggered on the IP cameras.
Live View on Mobile Devices by VMobile
With VMobile installed on your Android phone, iPad, iPhone, iPod touch, or Windows PDA phone, you can monitor your home and office and receive instant event alert anytime, anywhere.
RAID Data Protection
The VioStor NVR supports RAID 1, 5, 6, 5+hot spare, 6+hot spare to protect the recording data against hard drive failure. Single disk, JBOD, and RAID 0 are also offered**.
Convenient Video Backup to External USB Storage
You can press the one-touch-auto-video-backup button on the front of the NVR to copy the data from the NVR to an external storage device.
Linux-embedded System
The VioStor NVR is a Linux-embedded system which is more powersaving and less vulnerable to virus attack compared to PC-based surveillance solutions.
QNAP Unique Utilities
QNAP Finder
The QNAP Finder is a value-added utility developed to help you quickly search all the VioStor NVR servers and all major brands of IP-based cameras and network video servers.

VioStor Player
The VioStor Player allows you to play the recording files on your Windows computer or the VioStor NVR servers.

Watermark Proof (Installed with VioStor Player)
You can select to add digital watermark on the exported videos and snapshots. The Watermark Proof allows you to check if the exported files were modified.

V-Mobile
(for Windows PDA Phone, iPad, iPhone, iPod)
The V-Mobile is a mobile video surveillance utility for you to monitor the network cameras on the VioStor NVR. With V-Mobile installed on Windows PDA phone, iPad, iPhone, and iPod, you can monitor your home and office, check the safety of the children at home and be alerted by the intrusion alarm anytime, anywhere.
* For VioStor Pro series NVR only. ** The RAID levels supported depend on the number of hard drives installed.
Key Features:
Turnkey Solution
QNAP CMS server is a Linux-embedded turnkey solution, with other needed services built-in, such as database SQL server. This makes the installation of the QNAP VioStor CMS easily and intuitively - just run the CMS server Quick Configuration, install the CMS client software on a PC, then it's ready to log into CMS server from the CMS client. QNAP develops both the hardware and software solution in house, tuning the collaboration between hardware and software to the finest point, thus brining the optimal performance of the CMS system.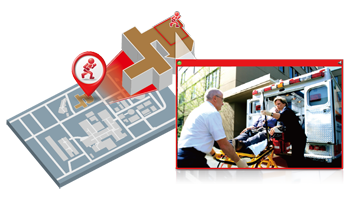 Centralized Event Management
At big sites, a large number of cameras, devices, recording servers, etc. are usually distributed widely at great intervals. This can be a challenge for control center operators to monitor the status of all devices, especially when an event occurs.
VioStor CMS helps overcome the challenge by providing several features such as E-map based event alert: When an event occurs, there will be red indicators on e-map to show the event location, and by double-clicking the camera icon, live video of the event will pop out.
The e-map layers are unlimited, and e-map links are multi-directional.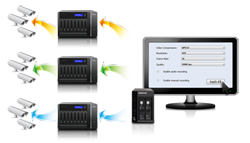 Centralized Device Management
One of the most challenging tasks in a large project is the configuration of numerous NVRs and cameras. VioStor CMS helps the project installer to monitor and configure the devices in the system easily from a central location. This significantly reduces set-up time and enhances efficiency.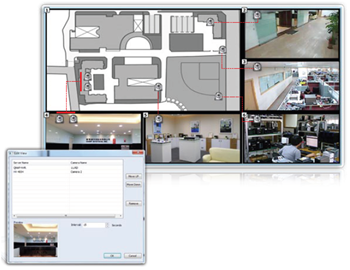 Flexible Central Monitoring for fast focusing
In a large-scale project, a great number of camera channels need to be displayed on several monitors. Control center operators need a flexible, customizable tool to help them monitor these many channels, and quickly focus on the specific channels.
VioStor CMS has a customizable monitoring layout, which allows the users to freely mix and match e-map and camera videos in different slots of a view. Each slot can include multiple camera videos to form a sequence. By doing so, the non-critical channels can all be displayed in sequential mode, while keep the critical channels always displayed.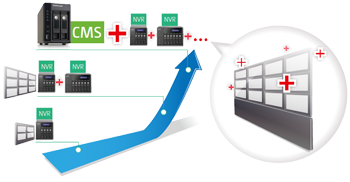 Online License Scalability
VioStor CMS is compatible with QNAP NVRs with firmware version 4.1.0 or above. The number of channel licenses can be increased online as the project grows. This provides more flexibility to the project designers and installers.



Specifications:
VSM-2000 Specifications
Number of license
Base: 64, Maximum:1,024
CPU
Intel Dual-core Processor
HDD Capacity
2 x Hot-swappable HDD and lockable tray (2.5'' or 3.5'')
Maximum 4TB per HDD
Operating System
Linux Embedded
LAN Port
2 x Gigabit RJ-45 Ethernet port
Voltage
110~240V
Form Factor
Tower
Dimensions
150 (H) x 102 (W) x 216 (D) mm,
5.91 (H) x 4.02 (W) x 8.5 (D) inch
Weight
Net weight: 1.74 kg (3.84 lbs), 
Gross weight: 2.92 kg (6.44 lbs)
Temperature
0~40˚C / 32~104˚F
Relative Humidity
5~95% RH non-condensing, wet bulb: 27˚C.
Power Consumption (W)
25W
Package Contents

VSM-2000
CD-ROM
Ethernet cable x 2
Power cord
Flat head screw x 8 (for 3.5" HDD)
Flat head screw x 6 (for 2.5" HDD)
Quick Installation Guide
Adaptor
Hard Disk Lock
Software Specifications:
Server Configuration
Operating System
Linux Embedded
Interface
Web browser: IE, Google chrome, Firefox
System Administration
General Settings
System Administration: Set the CMS Server Name and System Port, Enable Secure Connection (SSL): when SSL is enabled, the users can only connect to the CMS via the https connection
Date and Time: Setup Time Zone, Date Format, Time Setting: Manual Setting, Synchronize with an Internet Time Server (NTP) automatically, Set the server time the same as the computer time
Daylight Saving Time: Adjust system clock automatically for daylight saving time Enable customized daylight saving time table
Network
TCP/IP:
Use static IP address
Obtain IP address automatically from DHCP server
Enable CMS server as the DHCP server
DDNS:
Select the DDNS server
Enter the username/password/domain name to register with the DDNS provider
Power Management
Restart, Shutdown 
Power-on the CMS server automatically after the AC power resumption, or to remain power-off after the power resumption
Backup / Restore / Reset Settings
Support
System Logs
System event logs, System connection logs, On-line users
Firmware Update
Support
Disk Management
RAID Management
VSM-2000 (2 bays): RAID 0, 1 
VSM-4000U-RP (4 bays): RAID 0, 1, 5, 6, 10
Online RAID Level Migration without turning off the CMS server
RAID Recovery without turning off the CMS server
HDD Smart
Bad Block Scan & Hard Drive S.M.A.R.T.
System Status
System Information
Check the Server Name, Firmware Version, System Up Time, Serial Number
Resource Monitor
Check the CPU Usage, Memory Usage, Disk Usage, Bandwidth Transfer, Process
Client Configuration
Operating System
Windows 7 (64 bits preferred)
Interface
QNAP CMS client software
Dashboard
Alarm: alarm input, motion alarm
User account: login error, never login 
Hardware status: NVR disconnection, camera disconnection, HDD failure, fan failure
License
Activate license online 
Activate license offline
Server
Centrally configure up to 128 NVRs 
Available configurations made on NVRs: 
* Shutdown, Reboot, Update firmware, Synchronize settings with NVR, 
* Edit IP: assign static IP manually 
* Edit system time: manually set the time zone, automatically synchronize with an Internet time server 
* Edit alert notification: E-mail, SMS settings 
The above configurations can be synchronized by grouping devices of the same NVR model.
Camera
Centrally configure up to 1,024 cameras
Available configurations made on cameras:
* Edit recording parameters (codec, resolution, FPS), quality 
* Enable audio recording, manual recording 
* Set recording schedule 
The above configurations can be synchronized by grouping devices of the same camera model.
Event Management
Centrally receive events from multiple NVRs 
Event from camera: motion detection, camera I/O 
Event from hardware: NVR disconnection, camera disconnection, fan failure, HDD failure
View
Centrally configure the view from multiple NVRs View layout:
1, 2X2, 3X3, 4X4, 5X5, 6X6, 7X7, 8X8, 1+1+4, 1+5, 1+7, 2+8, 1+11, 1+12, 12+1
View can be managed by creating video group for security guard's easier monitoring
Sequential mode: Each slot can be composed of multiple camera channels to form a sequential mode
The interval between each camera video's display is adjustable
E-map
Centrally setup E-maps for multiple NVRs 
Available E-map format: JPEG, PNG, BMP Device indicators on E-map: NVR, camera, link to other E-maps Unlimited E-map layers
Flexible and easy editing of E-map links for multi-directional E-map management
User Managemen
Users can be created and assigned to different user group. Each user group can have different permission of: Feature access:
* Administrator: System operation, User Management, View Management, E-map Management, Log Out
* Client Live View: Information, Camera control, Bookmark, Snapshot, Event log
* Client Playback:

Export, Bookmark, Snapshot
Device access: NVR, camera
View access
E-map access

Server Log
Sever, System event, NVR event, On-line users
CMS Server Configuration
Configure SMTP server, SMS server
Live View
Quad-monitor Mode
1, 4, 6, 8, 9, 10, 12 or 16-channel display
Central Monitor
Connect up to 1,024 camera channels from up to 128 NVRs 
Display up to 64 camera channels per monitor 
Display up to 256 camera channels per CMS client PC (depending on PC specification)
View Layout
1, 2X2, 3X34, 4X, 5X5, 6X6, 7X7, 8X8, 1+1+4, 1+5, 1+7, 2+8, 1+11, 1+12, 12+1
Content List
View, E-map, NVR (camera) 
The content list window can be auto hidden, leaving more room to display the camera video
View Content
Flexible view content of mixed camera videos and E-maps
Camera Control
Connect to the camera webpage, 
Snapshot,
Enable manual recording, 
Enable digital zoom, 
Zoom in,
Zoom out,
Enable audio input, 
Enable audio output,
Focus near, 
Focus far, 
Fit image to window,
Keep aspect ratio,
PTZ panel
The camera control panel can be auto hidden, leaving more room to display the camera video.
E-map
When event occurs, the camera icon will turn into red indicator to show the event location.
When double-click the camera icon, the live view video will pop up to show the instant status. 
Unlimited E-map layers 
Multi-directional E-map links
Alarm Mode
When event happens, the alarm indicator will flash and can be clicked to enter the alarm mode. 
When enabling the alarm mode: 
1) The snapshot of the alarm will be shown on the Alarm List 
Maximum number of snap shot kept on the Alarm List: 15
2) The log of the alarm will be shown on the Event Log 
Maximum number of log shown on the Event Log: 150 
Based on each alarm snapshot and the alarm log, the operators have 4 types of event instant handling options:
1) Open live view, 
2) Open event playback (30 seconds before and after the event), 
3) Go to live view layout, 
4) Go to e-map layer,
Bookmark
For the easier event tracking: 
Click Quick Bookmark to place a vertical thin bar on video footage. 
Click Detailed Bookmark to place a vertical thin bar on video footage, and text details accordingly.
Sequential Mode
Each slot can be composed of multiple camera channels to form a sequential mode. 
Sequential mode can take place only in the selected slots. 
The interval between each camera video's display is adjustable. 
Sequential mode can be easily enabled or paused on live view page.
Shortcut
Up to 5 most used view layout or E-map can be dragged onto the top of the window for quicker access
Playback
Central Playback
Up to 16 channels from 16 NVRs
View Layout
1, 2X2, 3X3, 4X4
Video Time Frame
Maximum time length is 24 hours, and can be cross the other day.
Content List
NVR (camera) 
The content list window can be auto hidden, leaving more room to display the camera video.
Video Operation
Play, Pause, Stop, Play rewind, Speed up, Speed down, Play the next frame, Play the previous frame, Enable audio output,
Place quick bookmark, Place detailed bookmark, Export video (AVI format),
Enable digital PTZ, Zoom in, Zoom out, Fit image to window, Keep aspect ratio, Sync playback, Non-sync playback

Sync playback: 
All channels are displayed based on the identical timeslot. 
Non-sync playback:
Each channel can be assigned to display different timeslot.
Information of each channel
On slot bar: Camera name,
OSD: Date, time
Timeline
Timeline can be stretched wider for easier video searching
Miscellaneous
Number of CMS Client Installation
Unlimited
Supporting QNAP VioStor NVR
NVR Hardware platform: VS-x1xx 
NVR Firmware version: v. 4.1.0
Pricing Notes:
Pricing and product availability subject to change without notice.
QNAP Products VSM-2000
Central Management System Solution
QNAP 2-bay Tower VioStor Management Server, Built-in 64 Camera License
VSM-2000-US
Our Price: $4,399.00