QNAP TS-253Be

Quad-core multimedia NAS with PCIe slot for diverse application expansion and greater efficiency
Sorry, this product is no longer available, Please contact us for a replacement.
Overview:
Package Content
Turbo NAS TS-253Be SAN/NAS Storage System
2 x Ethernet Cables
AC Adapter
Power Cord
6 x Flat Head Screws (For 2.5" HDD)
Quick Installation Guide (QIG)
The TS-253Be features a simple physical design that can easily fit into office and home environments. It provides a PCIe port that can boost its functionality: a QNAP QM2 expansion card can be installed to add M.2 SSD caching/10GbE connectivity and support for Qtier auto-tiering technology, or a compatible wireless card can be installed to use the TS-253Be as a wireless access point. The TS-253Be also supports dual-channel 4K H.264/H.265 processing to provide a smooth media viewing experience on all connected devices. In addition, a wide range of productivity tools are available for use on the TS-253Be to improve work efficiency for media creators or creative professionals, while also enriching their multimedia experience.

The PCIe port supports installing a 10GbE network card, a QM2 dual-port M.2 SSD/10GbE card, a USB 3.1 10Gbps card or a compatible PCIe wireless adapter.

4K media playback and online transcoding; multimedia viewing on HDTV via HDMI output



Snapshots fully record the system status and data. If files are accidentally deleted or modified, you can quickly restore the previously-recorded data.



Hybrid Backup Sync consolidates backup and sync tasks into a single app.



Secure private cloud solution with high storage scalability.




Supports containerized applications and hosting multi-OS virtual machines.
Features:
Extend NAS functionalities with the PCIe slot
With PCIe expansion, the TS-253Be provides flexibility in extending NAS functionality and potential applications. Install a QNAP QM2 card to provide M.2 SSD caching/10GbE connectivity, or use the TS-253Be as a wireless access point by installing a compatible wireless network card (ex. QNAP QWA-AC2600), or boost the USB connectivity of the TS-253Be by installing a USB 3.1 10Gbps card.
Intel® Celeron® J3455 quad-core 1.5GHz CPU with AES-NI Encryption
Powered by an Intel® Celeron® J3455 quad-core 1.5GHz processor (burst up to 2.3 GHz), 2GB/4GB DDR3L RAM (up to 8GB), dual Gigabit LAN ports, and supporting SATA 6Gb/s hard drives, the TS-253Be provides dependable performance of up to 225 MB/s read/write speeds. The TS-253Be features Intel® AES-NI hardware-accelerated encryption to drive transfer speeds of up to 225 MB/s with AES 256-bit encryption for both full NAS volumes and shared folders, boosting system performance while ensuring the security of sensitive data stored in the TS-253Be.
Protect data with snapshots
Snapshots help protect your data by fully recording the NAS system state and metadata. If a file is accidentally deleted or modified, you can use snapshots to quickly restore the file to its previously-recorded state. QNAP snapshots are block-based and only record the changed data. Not only does this save storage space but also reduces the time required to back up and restore data. The TS-253Be supports up to 1,024 snapshots per NAS and up to 256 snapshots per volume or LUN.
Real-time video transcoding
Featuring advanced 9th-generation Intel® HD Graphics, the TS-253Be supports dual-channel 4K H.264/H.265 hardware decoding and real-time transcoding, allowing you to convert videos to universal file formats that can be smoothly played on multiple devices*. Therefore, you can easily share movies and videos stored on your NAS with family and friends for their enjoyment on a range of devices. The QNAP RM-IR004 remote control (sold separately) can be configured using QButton to customize the actions of individual buttons, providing a more convenient NAS experience.
*The TS-253Be's hardware provides H.264 /H.265 hardware decoding, encoding and transcoding capabilities. However, playback quality may vary due to factors including playback software, file formats, system usage, and available bandwidth.
Multiple ways to enjoy videos
QNAP provides a wide range of multimedia applications for you to easily enjoy photos, music, and videos.
Multiply your productivity
The app-driven QTS operating system provides solutions for simplifying file backup, management, search, and more. With File Station you can view and manage your files not only from NAS but also from multiple storage devices; the OCR Converter allows you to extract text from images; Qfiling helps automate file organization, and Qsirch helps quickly find files.
Multi-point backup and access
With integrated data backup, restoration and synchronization, Hybrid Backup Sync helps you easily backup or synchronize data on the TS-253Be to other QNAP NAS, USB storage (one touch copy) or cloud storage. With Qsync, you can also access your NAS files from PCs, laptops or mobile devices connected with the TS-253Be at any time.
NAS as a Multi-OS Platform
Virtualization Station and Container Station provide comprehensive solutions for creating virtualized environments to improve business IT infrastructure, workflows, and productivity.
Supports 360-degree panorama photos and videos
QNAP NAS now supports the popular 360-degree panorama recording format! By clicking the 360-degree panorama display button, these photos and videos will be displayed as 360-degree panorama media files. The QNAP mobile apps Qfile, Qphoto and Qvideo also support 360-degree format viewing.
Whole new QVR Pro surveillance solution
QNAP's new QVR Pro surveillance solution allows you to arrange a dedicated, independent storage space for surveillance data on TS-253Be and leverage the advantages of scalability and storage manageability from QTS. With QVR Pro, camera management, storage space allocation, camera live view and playback become more easily. You can also use QVR Pro Client's mobile app to monitor anytime, or use a USB webcam as an ONVIF network camera with the QUSBCam2 app.
Comprehensive surveillance solution for 24/7 monitoring
Surveillance Station provides an intelligent video management system to assist in managing real-time monitoring, video & audio recording and playback with a wide range of customizable settings to safeguard your physical environment. You can use the Vmobile mobile app to manage the monitored channels at anytime and anywhere, or install the Vcam mobile app to turn your device into a network camera to instantly record to your NAS.
Flexible and economical storage expansion
You need an easy solution to increase storage capacity when running out of space. QNAP provides several ways to expand your NAS storage as needed to accommodate data and business growth.
Specifications: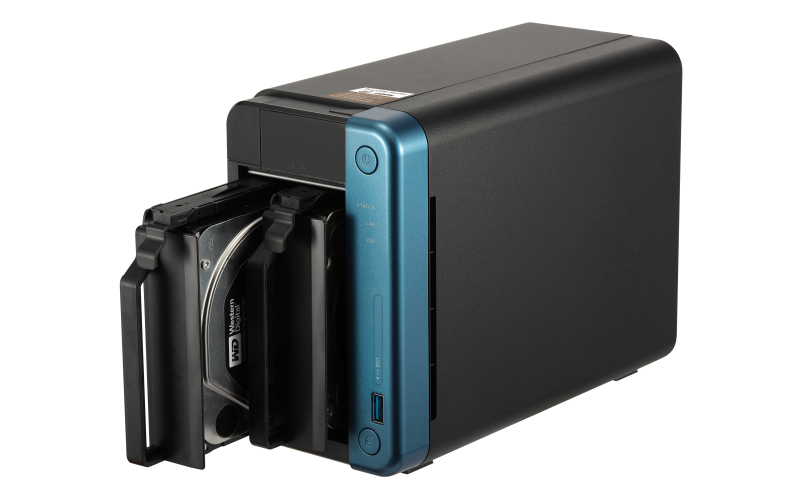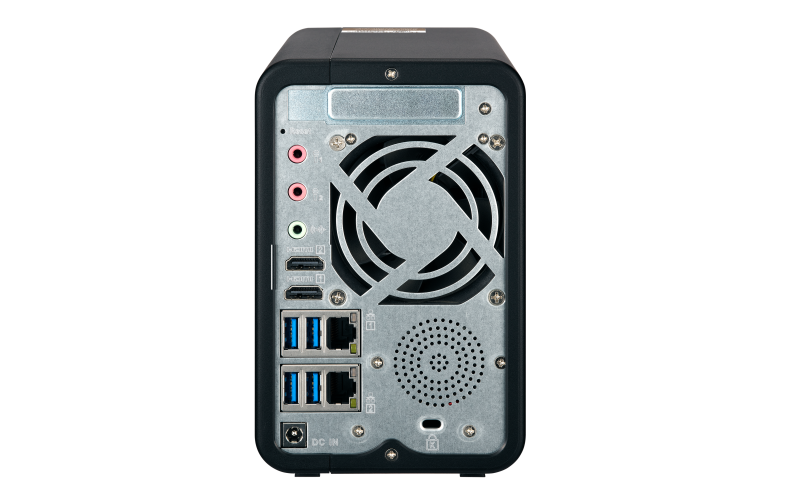 Hardware Specifications: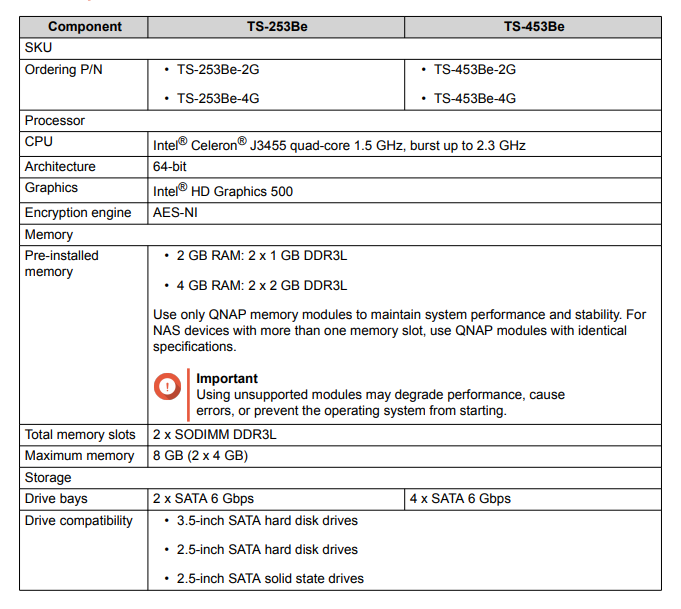 Documentation:
Download the Hardware Specification