QNAP QSW-3216R-8S8T

Half-width Rackmount 16-Port 10GbE Unmanaged Switch for SMB/SOHO high-speed networking environment
QNAP Products
QNAP Unmanaged Switches
QNAP Half-Rackmount Switch QSW-3216R-8S8T-US, 16 port Unmanaged Switch, 8 port of 10GbE NBASE-T (10G/5G/2.5G/1G/100M) & 8 port of 10GbE SFP+ (10G//1G)
Marvell 98DX3550, 8 Gbit (1GB) DDR4
#QSW-3216R-8S8T-US
Our Price: $549.00
Click here to jump to more pricing!
Package Content
QNAP QSW-3216R-8S8T Switch
Power cord
Rackmount kit
Quick Installation Guide
Overview:
More 10GbE ports and more space-saving at an affordable price. The QNAP QSW-3216R-8S8T is a half-width rackmount Unmanaged Switch with eight 10GbE SFP+ fiber ports and eight 10GbE RJ45 ports. Featuring plug-and-play set up, the QSW-3216R-8S8T provides network loop detection and blocking functions, making it easy to create an affordable high-speed network environment for your home or business. With a half-width design, the QSW-3216R-8S8T can be conveniently placed within working environments without taking up too much space, and two can be installed in a single 1U rack space The QSW-3216R-8S8T is made in Taiwan (MIT), providing a high-quality and reliable networking solution.
10G Multi-Gig connectivity
Includes eight 10GbE RJ45 and eight 10GbE SFP+ fiber ports for connecting different interfaces.
Entry-level solution
Automatic loop detection and blocking to ensure continuous network operation.
Energy saving
Compliant with IEEE 802.3az Energy Efficient Ethernet and IEEE802.3x Flow Control in full-duplex mode, the QSW-3216R-8S8T avoids packet loss from unparalleled bandwidth and reduces power consumption for low-speed and inactive connections.
Features:
Half-width design, two models in 1U
With a half-width rackmount design, a QSW-3216R-8S8T can be installed in a 1U rack space with another half-width rackmount switch (such as QSW-M3216R-8S8T) for efficient physical space utilization and tidy cabling.
Note: The optional SP-EAR-QSW2FOR1-01 rackmount kit is required if two half-width rackmount switches are installed.
---
Flexible deployment with sixteen 10GbE SFP+ and RJ45 ports
The QSW-3216R-8S8T provides eight 10GbE SFP+ ports and eight 10GbE RJ45 ports for connecting various devices and enabling high-speed networks. With SFP+ interfaces, Direct Attach Copper (DAC) cables can be used for connecting directly to SFP+ devices. You can also use RJ45 ports to connect 10GBASE-T/NBASE-T™ devices through RJ45 Category 6 (or better) cabling.
Note: 10GbE SFP+ ports are backward compatible with 1GbE SFP; the 10GbE RJ45 ports support up to five speeds (10G/5G/2.5G/1G/100M).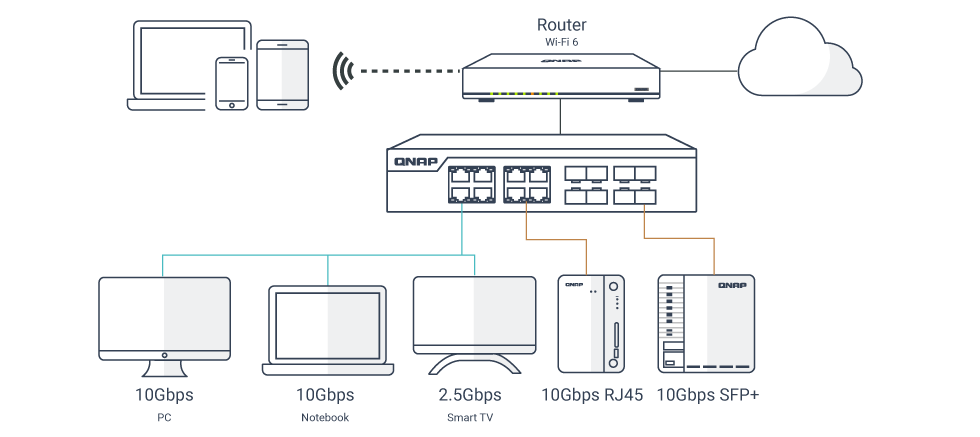 ---
Instantly build a plug-and-play high-speed network
No complex settings are required to use the QSW-3216R-8S8T - simply connect your devices with existing cables and it's ready to use. The QSW-3216R-8S8T supports auto-negotiation that optimizes transfer speeds (10G/5G/2.5G/1G/100M) and performance for each connected device.
---
Loop detection and blocking
The QSW-3216R-8S8T features network loop detection. If a network loop is detected, the QSW-3216R-8S8T automatically locks the looped ports to ensure the network environment quickly resumes normal operation.
---
Dependable performance with effective heat dissipation
With a compact metal body that optimizes cooling performance, the QSW-3216R-8S8T provides stable and reliable operations even when under full load. The front-panel LEDs also assist in viewing the current system status.
---
Fully embrace High-Speed Networking with QNAP!
QNAP offers comprehensive, budget-friendly storage and networking solutions that provide an array of connectivity possibilities. Easily and flexibly upgrade your workplace or home network now to handle bandwidth-hungry applications.
A switch that supports 2.5GbE/10GbE
QNAP 2.5GbE/10GbE switches support 10G/5G/2.5G/1G/100M and allow connecting multiple workstations and devices for high-speed collaboration in device-dense environments.
A fast NAS
A QNAP NAS with multiple 2.5GbE/10GbE ports and Port Trunking allows you to combine multiple ports for greater bandwidth potential.


Note: Managed Switch series support Port Trunking.

Upgrade desktops and servers
Servers and desktops can install QNAP PCIe network cards that support 10G/5G/2.5G/1G/100M Multi-Gig.
Add a 5GbE/10GbE port to laptops
Use the portable QNAP USB 3.2 Gen 1 to 5GbE adapter or QNAP Thunderbolt 3 to 10GbE adapter to connect laptops and upgrade-limited computers to 5G/2.5G/1G/100M networks.
---
Extend hardware warranty up to 5 years
The QSW-3216R-8S8T is backed by a 2-year warranty at no additional cost. You can also purchase a warranty extension that extends your warranty coverage up to 5 years.
Hardware Specifications:
QSW-3216R-8S8T
Management Type
Unmanaged
Number of Ports
16
10GbE SFP+
8
10GbE BASE-T (RJ45)
8
Power Supply Description
Internal Power Supply Unit
Max. Power Consumption
80W
Input Power Type
AC
Input Voltage Range
100 ‒ 240VAC, 50/60Hz
MAC Address Table
16K
Total Non-Blocking Throughput
160Gbps
Switching Capacity
320Gbps
Management Interface
Unmanaged
Console
Energy Efficient Ethernet (IEEE 802.3az complaint)
Fan
PWM VAPO Bearing fan x 2
Supported Standards
IEEE 802.3 Ethernet
IEEE 802.3u 100BASE-T
IEEE 802.3ab 1000BASE-T
IEEE 802.3z 1000BASE-SX/LX
IEEE 802.3ae 10G Fiber
IEEE 802.3x Full-Duplex Flow Control
Form Factor
Rackmount
LED Indicators
Per Port: Speed/Link/Activity
Per System: Power/Status
Buttons
Reset button
Dimensions (HxWxD)
43.3 x 207 x 199.5 mm
Weight (Net)
3.35 lbs
Weight (Gross)
4.92 lbs
Operating Temperature
0˚C to 40°C (32°F to 104°F)
Relative Humidity
5%–95% (non-condensing)
Certifications
CE, FCC, VCCI, BSMI
Electromagnetic Compliance
CLASS A
Jumbo Frames
9K
Warranty
2 Years
Note: Use only QNAP memory modules to maintain system performance and stability. For NAS devices with more than one memory slot, use QNAP modules with identical specifications.
Warning: Using unsupported modules may degrade performance, cause errors, or prevent the operating system from starting.
QNAP reserves the right to replace partial parts or accessories if the original is no longer available from its manufacturer/supplier. Any replacement would be fully tested and verified to meet strict compatibility and stability guidelines and will deliver identical performance to the original.
The terms HDMI, HDMI High-Definition Multimedia Interface, HDMI trade dress and the HDMI Logos are trademarks or registered trademarks of HDMI Licensing Administrator, Inc.
Product images are for illustrative purposes only and may differ from the actual product. Due to differences in monitors, colors of products may also appear different to those shown on the site.
Designs and specifications are subject to change without notice.
Pricing Notes:
Pricing and product availability subject to change without notice.
QNAP Products
QNAP Unmanaged Switches
QNAP Half-Rackmount Switch QSW-3216R-8S8T-US, 16 port Unmanaged Switch, 8 port of 10GbE NBASE-T (10G/5G/2.5G/1G/100M) & 8 port of 10GbE SFP+ (10G//1G)
Marvell 98DX3550, 8 Gbit (1GB) DDR4
#QSW-3216R-8S8T-US
Our Price: $549.00