QNAP TS-832PX

High-capacity NAS with 10GbE SFP+ and 2.5GbE, Supports PCIe Expansion for M.2 SSDs to Accelerate Applications
QNAP Products
TS-832PX
QNAP 8-Bay desktop NAS, AL324 64-bit quad-core 1.7GHz, 4GB DDR4 SODIMM RAM (1 x 4GB, max 16GB)
8 x 3.5″/ 2.5″ drive slots, 2 x 10GbE SFP+ LAN, 2 x 2.5GbE LAN, 3 x USB 3.2 Gen1, 1 x PCIe 2.0 x2 slot, hardware encryption, TL/TR expansion units
#TS-832PX-4G-US
Our Price: $879.00
Click here to jump to more pricing!
Package Content
QNAP TS-832PX Storage
1 x Ethernet cable
1 x Power cords
32 x Flat head screw (for 3.5" HDD)
24 x Flat head screw (for 2.5" HDD)
2 x Drive tray keys
Quick Installation Guide
Overview:
The quad-core 1.7GHz TS-832PX features eight 3.5-inch SATA 6GB/s drive bays, providing huge storage potential for a wide range of applications and everyday usage. With two 10GbE SFP+ and two 2.5GbE LAN ports, the TS-832PX supports next-generation networks for empowering bandwidth-demanding applications and providing smoother file access and sharing. Various PCIe cards are also supported, including QM2 cards that provide M.2 SATA/NVMe SSD caching and Qtier™ auto-tiering storage to boost NAS performance.
Available Models
TS-832PX-4G-
Annapurna Labs Alpine AL324 quad-core 1.7 GHz processor, 4 GB DDR4 RAM (expandable to 16 GB)

Two 10GbE SFP+ and two 2.5GbE RJ45 network ports empower bandwidth-demanding tasks and accelerate file sharing.

PCIe expansion allows for installing a QM2 card to add M.2 SSDs for caching, a 10/5GbE network card, or a wireless network expansion card.

Snapshots record your system status, allowing you to protect files and data from accidental deletion and malware attacks.

Cloud storage gateways realize hybrid cloud applications by working with the cache space reserved on NAS to ensure low-latency data access to the cloud.

Qtier™ auto-tiering technology and SSD caching enable constant storage optimization.

Increase the storage capacity of the TS-932PX with QNAP TR RAID expansion enclosures or TL JBOD.
Features:
Energy-efficient Quad-core Processor
Powered by 64-bit quad-core 1.7GHz ARM Cortex-A57 processor and 4 GB DDR4 RAM (expandable to 16 GB), the TS-832PX features is highly energy efficient without impacting system or application performance.
---
High-speed 10GbE and 2.5GbE connectivity
The TS-832PX includes two 10GbE SFP+ and two 2.5GbE LAN RJ45 ports, providing out-of-the-box support for high-speed networking and supporting Port Trunking and Failover to reinforce your network infrastructure. QNAP also provide many other high-speed networking solutions, including 10GbE/2.5GbE managed/unmanaged switches and network adapters, allowing you to build a budget-friendly high-speed network environment.

---
Extend NAS Functionality with a PCIe Card
With a PCIe Gen 2.0 slot, the TS-832PX provides flexibility in extending NAS functionality and potential applications. To optimize system performance, install a QNAP QM2 card for M.2 SATA/NVMe SSD caching/10GbE connectivity and use with Qtier for optimal system performance. You can also use a QNAP Wi-Fi 6 (802.11AX) network card to create a wireless environment. Additional options include QXG 5GbE/2.5GbE network adapter cards and USB 3.2 Gen 2 (10Gbps) cards. All these options ensure that the TS-832PX can be upgraded to fit future requirements.
---
Protect Important Data with Snapshots
Snapshots fully record the NAS system state and metadata and can be used to quickly restore files to previously-recorded states if they are accidentally deleted/modified or if the system is compromised by ransomware. QNAP snapshots are block-based and only record modified data. Not only does this save storage space, but also reduces the time required to back up and restore data. The TS-832PX supports up to 256 snapshots per NAS and up to 64 snapshots per volume or LUN.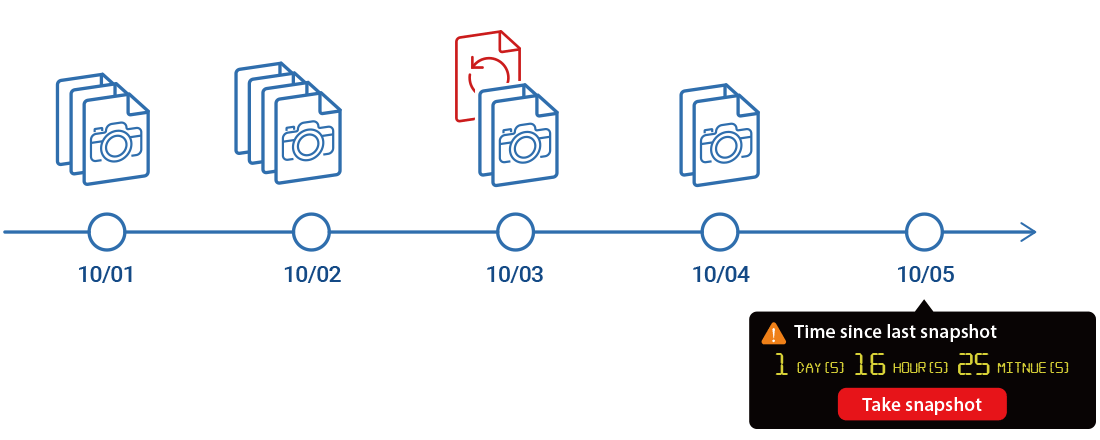 ---
Multi-Point File Backup, Access, and Sync
The TS-832PX supports common file sharing protocols (including SMB/CIFS, AFP and NFS) for Windows®, Mac®, and Linux®/UNIX® devices. Coupled with Qsync (a utility that transforms a QNAP NAS into a secure, high-capacity data center for file synchronization) any file uploaded to the TS-832PX becomes available for all linked devices (such as computers, laptops, and mobile devices). Hybrid Backup Sync helps you easily backup or synchronize data on the TS-832PX to another QNAP NAS, remote server, or cloud storage (including Microsoft One Drive®, Google Drive™, and Dropbox®) for disaster recovery.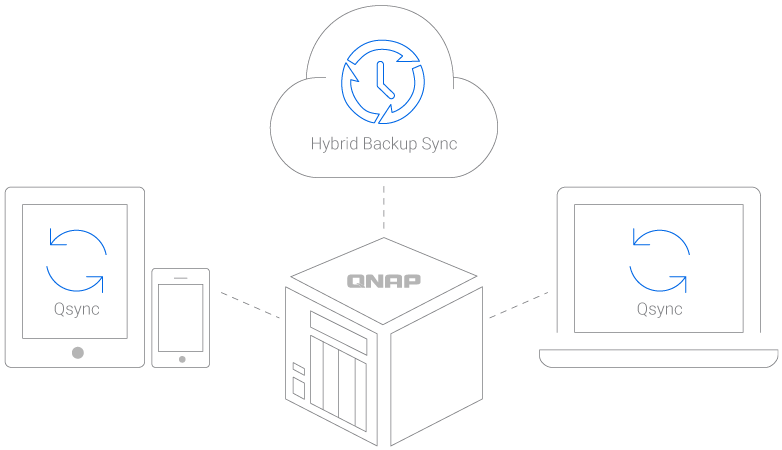 ---
Smart AI Photo Management
QuMagie integrates QuMagie Core AI image recognition technology for facial recognition, subject identification, and geotagging photos. Similar photos are categorized into People, Places, and Things albums. QuMagie also features a built-in timeline scroll, customizable folder covers, iOS® Live Photo display and a powerful search tool, to provide you with the ultimate photo management and image sharing solution.
---
Low-latency Access to Cloud Data with Cloud Storage Gateways
By deploying cloud storage gateways and enabling local caching on the TS-832PX, you can seamlessly use the cloud for storage, backup, and data recovery with low-latency access, providing an innovative hybrid cloud experience.

HybridMount File-based Cloud Gateway
Flexibly expand your storage capacity by connecting to cloud storage. You can leverage QTS apps to manage and edit your cloud files or monitor multimedia files. HybridMount is ideal for file server online collaboration and file-level data analysis.

VJBOD Cloud Block-based Cloud Gateway
VJBOD Cloud supports backing up NAS data to block-based cloud storage. Block-based data transmission uploads random data and large files to the cloud in blocks, and only block-based volume or LUN changes are transmitted. This is ideal for backing up LUN, databases, and confidential files.
---
Secure remote access to your QNAP NAS
Use myQNAPcloud Link to access, share, download, and manage files stored on an HQ-based NAS via the Internet. QNAP NAS also supports VPN services for remote workers to access the NAS and resources on a private network from the Internet. You can also use QVPN Device Client powered by QNAP's proprietary QBelt protocol to easily connect to your TS-832PX and use measurement tools to know the speed of your VPN connections and connection history.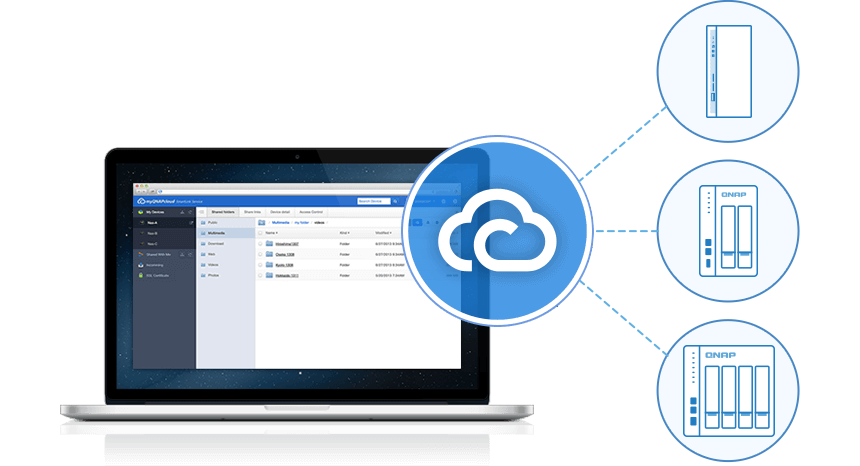 ---
Easily find and automatically organize files
The TS-832PX provides greater convenience for managing files. You can quickly find files using Qsirch and auto-archive them with Qfiling.

Auto archiving
Qfiling automates file organization or recycling based on self-configured rules, greatly improving work efficiency.

File search
Qsirch quickly finds images, music, videos, documents, emails, and other files by using keywords, colors and different filters.
---
Flexible and economical storage expansion
QNAP provides several ways to expand the storage capacity of the TS-832PX to accommodate data growth: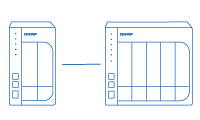 Attach Expansion Enclosures
Connect two expansion enclosures (4-bay TR-004, 2-bay TR-002) or one 8-bay TL-D800C, 4-bay TL-D400S, 8-bay TL-D800S JBOD and use the Storage & Snapshots Manager to handle NAS capacity expansion.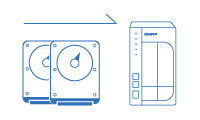 Upgrade RAID Capacity
Hot-swap lower-capacity drives with larger-capacity drives to expand the TS-832PX.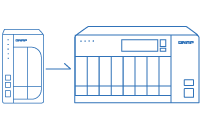 Migrate to a New NAS
Install your NAS hard drives into a larger QNAP NAS and retain all your existing data and configurations.
---
Multiply Your Productivity

Security Counselor
A security portal for checking weaknesses and providing recommendations for enhancing NAS security. It also integrates anti-virus and anti-malware scanning software.

Notification Center
Consolidates all QTS system events, alerts, and notifications for easy NAS management, keeping you always informed of your NAS status.

QVR Pro
Build a secure surveillance environment without any extra software needed. Provides free embedded channels and you can also purchase QVR Pro licenses to deploy a large-scale surveillance network.
---
Extend hardware warranty up to 5 years
The TS-832PX is backed by a 2-year warranty at no additional cost. You can purchase a warranty extension that extends your warranty coverage up to 5 years.
Hardware Specifications:
TS-832PX-4G
CPU
AnnapurnaLabs Alpine AL324 ARM® Cortex-A57 quad-core 1.7GHz processor
CPU Architecture
64-bit ARM
Floating Point Unit
Encryption Engine
System Memory
4 GB SODIMM DDR4 (1 x 4 GB)
Maximum Memory
16 GB (1 x 16GB)
Memory Slot
1 x SO-DIMM DDR4
Flash Memory
512 MB (Dual boot OS protection)
Drive Bay
8 x 3.5-inch SATA 6Gb/s, 3Gb/s
Drive Compatibility
3.5-inch bays:
3.5-inch SATA hard disk drives
2.5-inch SATA hard disk drives
2.5-inch SATA solid state drives
Hot-swappable
M.2 SSD Slot
Optional via a PCIe adapter
SSD Cache Acceleration Support
2.5 Gigabit Ethernet Port (2.5G/1G/100M)
2 (also support 10M)
10 Gigabit Ethernet Port
2 x 10GbE SFP+
Wake on LAN (WOL)
Jumbo Frame
PCIe Slot
Slot 1: PCIe Gen 2 x2
PCIe bandwidth limitations will restrict the NAS 10GbE performance.
USB 3.2 Gen 1 port
3
Form Factor
Tower
LED Indicators
System Status, LAN, USB, HDD1~8
Buttons
Power, Reset, USB Copy
Dimensions (HxWxD)
7.41 × 12.96 × 11.06 inch
Weight (Net)
14.07 lbs
Weight (Gross)
18.98 lbs
Operating temperature
0 - 40 °C (32°F - 104°F)
Relative Humidity
5-95% RH non-condensing, wet bulb: 27˚C (80.6˚F)
Power Supply Unit
250W, 100-240V AC, 50/60Hz, 3.5A
Power Consumption: HDD Sleep Mode
27.949 W
Power Consumption: Operating Mode, Typical
50.858 W
Tested with drives fully populated.
Fan
System fan: 2 x 120mm, 12VDC
CPU fan: 1 x 60mm
Sound Level
19.6 db(A)
System Warning
Voice prompts or Buzzer
Kensington Security Slot
Max. Number of Concurrent Connections (CIFS)
1500
Note: Use only QNAP memory modules to maintain system performance and stability. For NAS devices with more than one memory slot, use QNAP modules with identical specifications. Warning: Using unsupported modules may degrade performance, cause errors, or prevent the operating system from starting.
* Sound Level Test Environment: Refer to ISO 7779; Maximum HDD loaded; Bystander Position; Average data from 1 meter in front of operating NAS. Designs and specifications are subject to change without notice.
Pricing Notes:
Pricing and product availability subject to change without notice.
QNAP Products
TS-832PX
QNAP 8-Bay desktop NAS, AL324 64-bit quad-core 1.7GHz, 4GB DDR4 SODIMM RAM (1 x 4GB, max 16GB)
8 x 3.5″/ 2.5″ drive slots, 2 x 10GbE SFP+ LAN, 2 x 2.5GbE LAN, 3 x USB 3.2 Gen1, 1 x PCIe 2.0 x2 slot, hardware encryption, TL/TR expansion units
#TS-832PX-4G-US
Our Price: $879.00
Accessories
Dual M.2 22110/2280 PCIe SSD expansion card (PCIe Gen2 x4)
Low-profile bracket pre-loaded, Low-profile flat and Full-height are bundled
*shorter version to support TVS-x82/TS-x77 PCIe slot 2 & slot 3
#QM2-2P-244A
Our Price: $123.00
Dual M.2 22110/2280 SATA SSD expansion card (PCIe Gen2 x2)
Low-profile bracket pre-loaded, Low-profile flat and Full-height are bundled
*shorter version to support TVS-x82/TS-x77 PCIe slot 2 & slot 3
#QM2-2S-220A
Our Price: $79.00
Single-port (10Gbase-T) 10GbE network expansion card, PCIe Gen3 x4, Low-profile bracket pre-loaded, Low-profile flat and Full-height bracksts are bundled
All NAS models with a PCIe slot.
#QXG-10G1T
Our Price: $139.00
Single port 2.5GbE 4-speed Network card
PCIe supported NAS and Windows 10/ Windows Server 2016 & 2019 /Linux PCs. Visit https://www.qnap.com/go/compatibility for the compatibible NAS.
#QXG-2G1T-I225
Our Price: $59.00
Dual port 2.5GbE 4-speed Network card
PC/Server or NAS with a PCIe slot
#QXG-2G2T-I225
Our Price: $79.00
QNAP dual port 5GbE multi-Gig expansion card;Aquantia AQC111C;Gen2 x 2;low profile
PCIe supported NAS
#QXG-5G2T-111C
Our Price: $145.00
QNAP WiFi 6 (Intel AX200) PCIe wireless card w/ antenna & brackets for NAS; Giga-byte GC-WBAX200 QNAP Edition
PCIe supported NAS and Windows 10/Linux PCs.
#QXP-W6-AX200
Our Price: $70.00
2GB DDR4 RAM, 2400 MHz, SO-DIMM, 260 pin, P0 version
TS-x73, TS-932X, x73,TS-832X, TVS-951X, TS-332X, TVS-472XT
#RAM-2GDR4P0-SO-2400
Our Price: $75.00
4GB DDR4 RAM, 2400 MHz, SO-DIMM, 260 pin, K1 version
TS-x73, TVS-882ST3, TVS-882ST2, TS-332X
#RAM-4GDR4K1-SO-2400
Our Price: $105.00
SFP+ 10GbE twinaxial direct attach cable, 1.5M, S/N and FW update
For use with SFP+ 10GbE
#CAB-DAC15M-SFPP
Our Price: $50.00
SFP+ 10GbE twinaxial direct attach cable, 3.0M, S/N and FW update
For use with SFP+ 10GbE (except x85U)
#CAB-DAC30M-SFPP
Our Price: $70.00