QNAP TNS-h1083X (NAS Node)

GM-1000 system NAS node: Optimal performance and data integrity with Intel® Xeon® E processors and the QuTS hero operating system
QNAP Products
NAS Node
Intel® Xeon® E-2234 4 cores/8 threads 3.6 GHz processor (Bursts up to 4.8 GHz), 8 GB DDR4 ECC UDIMM memory (2 x 4 GB), 2 x NVMe Gen3 x2 M.2 slots, 2 x 2.5GbE ports, 2 x 10GbE SFP+ SmartNIC (Mellanox ConnectX®-4 Lx EN).
GM-1000 system NAS node
#TNS-h1083X-E2234-8G
Our Price: $2,499.00
Intel® Xeon® E-2236 6 cores/12 threads 3.4 GHz processor (Bursts up to 4.8 GHz), 16 GB DDR4 ECC UDIMM memory (2 x 8 GB), 2 x NVMe Gen3 x2 M.2 slots, 2 x 2.5GbE ports, 2 x 10GbE SFP+ SmartNIC (Mellanox ConnectX®-4 Lx EN).
GM-1000 system NAS node
#TNS-h1083X-E2236-16G
Our Price: $2,649.00
Click here to jump to more pricing!
Overview:
Designed as a NAS node for the GM-1000 storage system, the TNS-h1083X features a powerful Intel® Xeon® E processor, and provides multiple 10GbE / 2.5GbE ports and expandable I/O. Coupled with the built-in M.2 and U.2 SSD slots that allow for cache acceleration, the TNS-h1083X is ideal for business backup and virtualization applications. The TNS-h1083X runs the ZFS-based QuTS hero operating system, supporting block-level inline data deduplication and compression, near-limitless snapshots, real-time SnapSync, and more business-oriented features to ensure reliable service-level agreement performance.
Available Models
TNS-h1083X-E2234-8G-
Intel® Xeon® E-2234 4 cores/8 threads 3.6 GHz processor (Bursts up to 4.8 GHz), 8 GB DDR4 ECC UDIMM memory (2 x 4 GB), 2 x NVMe Gen3 x2 M.2 slots, 2 x 2.5GbE ports, 2 x 10GbE SFP+ SmartNIC (Mellanox ConnectX®-4 Lx EN).


TNS-h1083X-E2236-16G-
Intel® Xeon® E-2236 6 cores/12 threads 3.4 GHz processor (Bursts up to 4.8 GHz), 16 GB DDR4 ECC UDIMM memory (2 x 8 GB), 2 x NVMe Gen3 x2 M.2 slots, 2 x 2.5GbE ports, 2 x 10GbE SFP+ SmartNIC (Mellanox ConnectX®-4 Lx EN).


A NAS node for the GM-1000 system. Enables easier hardware upgrade and maintenance.

M.2 and U.2 SSD slots enable cache acceleration to maximize network bandwidth potential.

QuTS hero combines ZFS advantages with the QTS App Center ecosystem to empower your business.

Dual 10GbE and dual 2.5GbE ports boost virtualization, cloud storage gateway, and data center applications.

Two PCIe slots support 10GbE/25GbE/40GbE adapters, QM2 cards, or Fibre Channel cards to increase application performance.

Supports virtualization storage for VMware®, Citrix®, Microsoft® Hyper-V®, Windows Server® 2019, and hosts virtual machines and containers.
Features:
Replaceable, flexible, and economical
The TNS-h1083X is a NAS node designed for the GM-1000 system. Two TNS-h1083X can be installed in a GM-1000 system to save rack space and system costs. Upgrading and maintaining is also simplified, as the NAS nodes can be replaced to meet future performance needs for backup applications and other business tasks.
SKU
Enclosure
NAS Node
Processor
Memory
GM-1001
1 x TEC-2N16-770W
2 x TNS-h1083X-E2234-8G
Intel Xeon E-2234
8 GB (2 x 4GB)
GM-1002
2 x TNS-h1083X-E2236-16G
Intel Xeon E-2236
16 GB (2 x 8GB)
---
Intel® Xeon® E multi-core processor for up to 4.8 GHz
Powered by an Intel® Xeon® E processor, the TNS-h1083X provides enormous computing power for boosting virtual machine performance. Combined with up to 128 GB DDR4 ECC memory that can detect and correct single-bit memory errors to prevent downtime and data loss, the TNS-h1083X delivers server-grade performance and dependable reliability for rugged enterprise IT environments.

---
ZFS-based QuTS hero operating system enhances NAS performance and data integrity
QuTS hero combines the app-based QTS with the 128-bit ZFS file system to provide flexible storage management, comprehensive data protection, and optimized performance to tackle the complexity and performance demands of modern IT. From storage management, virtualization, to collaborative media workflows, QuTS hero streamlines your business-critical tasks.
| Data integrity is key | Data reduction improves storage efficiency and performance | Multi-level cache technology |
| --- | --- | --- |
| QuTS hero's self-healing ensures data integrity and reliability. Write Once, Read Many (WORM) is also supported. | Inline data deduplication, compression, and compaction reduce file size to conserve storage capacity and optimize performance. | Main memory read cache (L1 ARC), SSD second-level read cache (L2 ARC), and ZFS Intent Log (ZIL) for synchronous transactions with power fail protection are simultaneously supported to boost performance and security. |
| RAID Z enables robust data protection | QSAL (QNAP SSD Antiwear Leveling) enhances data protection | App Center ecosystem extends NAS functionality |
| Multiple RAID levels allow flexible capacity utilization. RAID Triple Parity and Triple Mirror deliver higher levels of data protection. | RAID-level SSD lifespan is automatically and regularly detected to prevent simultaneous SSD failure, improving your data protection and system reliability. | Apps for backup/sync, virtual machines/containers, content management, productivity, and more features can be used to expand the application potential of the TNS-h1083X. |
---
Tiered storage configuration for a QuTS hero NAS
Basic requirements for setup are similar to QTS. We recommend you to follow these steps to acquire optimal storage efficiency and performance for QuTS hero.
Step 1: System Drive & Default Shared Folders
The first Storage Pool you create is where the system drive, default shared folders, and apps are stored. In this step, it is recommended to create an SSD RAID with at least two SSDs to attain optimal system performance and efficient app metadata management. (With an all-HDD configuration, the first Storage Pool is also where the system drive and default shared folders are stored.)
Step 2: Read Cache & ZIL
Use more SSDs for read cache or ZIL. You can also install QM2 expansion cards to add M.2 SSDs for expanding cache space.
Step 3: Data Storage
Allocate HDDs/SSDs to create a RAID for storing files and application data. If needed, you can configure an all-flash configuration for optimal performance.
---
Build a highly-efficient backup center with inline data deduplication, compression, and compaction
QuTS hero supports advanced data reduction technologies (including inline data deduplication, compression, and compaction) to reduce file sizes, conserve storage capacity, and optimize performance. By deploying a GM-1000 system, you can configure one TNS-h1083X as primary storage and the other TNS-h1083X as backup storage, or offload services between the two NAS nodes and set cross backup. The TNS-h1083X also comes with snapshot protection, real-time SnapSync, and HBS remote backup services to assist organizations in accomplishing daily backup tasks with greater efficiency and cost-effectiveness.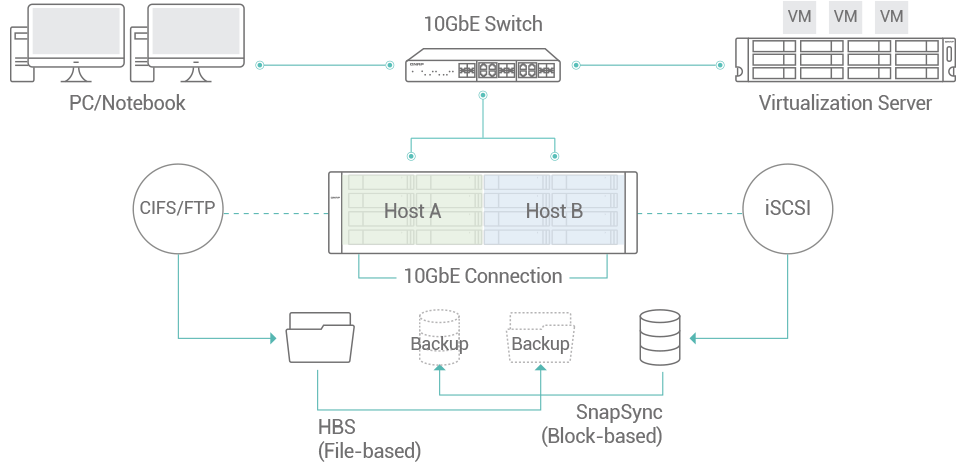 Snapshots multiply backup protection
HBS simplifies 3-2-1 backup plans
Near-limitless, instant snapshots bring peace of mind. Snapshot Replica simplifies data protection, while real-time SnapSync enables strict data synchronization for real-time disaster recovery.
Note: SnapSync will be available from QuTS hero h4.5.2.
HBS centralizes backup, restoration, and synchronization for easily transferring data in the TNS-h1083X to another QNAP NAS, remote server, or cloud storage space. HBS supports QuDedup technology that eliminates redundant data at the source and makes multi-version backup faster.
---
Perfect backup storage paired with dual-controller Enterprise ZFS NAS
QNAP's QuTS hero and QES operating systems use ZFS. Therefore, the TNS-h1083X is the perfect backup storage for the dual-controller Enterprise ZFS NAS using real-time SnapSync. If the Enterprise ZFS NAS unexpectedly stops, the TNS-h1083X (with synchronized, identical data) can immediately take over operations and services to prevent costly downtime.
Note: Enterprise ZFS NAS requires QES 2.1 (or later).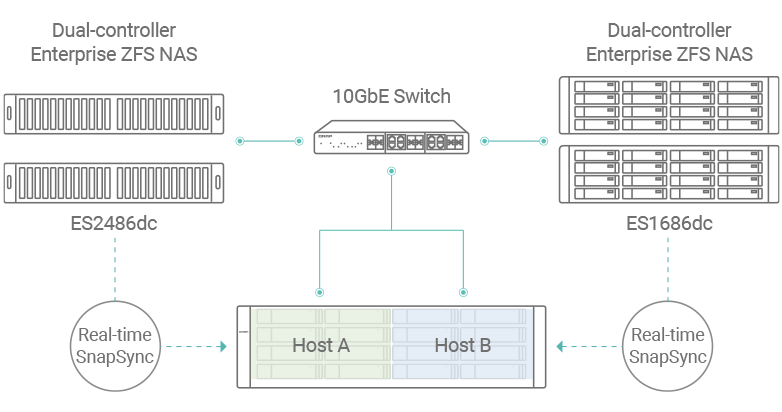 ---
Cloud Storage Gateway provides low latency access to cloud-based data
The TNS-h1083X perfectly integrates NAS with mainstream cloud services. By deploying cloud storage gateways and enabling local caching on the TNS-h1083X using M.2 (NVMe Gen 3 x2) and U.2 (NVMe Gen 3 x4 / SATA 6Gb/s) SSD slots (M.2 and U.2 SSDs are purchased separately), organizations can seamlessly use the cloud for storage, backup, and data recovery with low-latency access, realizing cost-effective, flexible and secure hybrid cloud applications.

HybridMount File-Based Cloud Gateway
Flexibly expand your storage capacity by connecting to cloud storage. You can leverage QuTS hero apps to manage/edit cloud-based files or monitor multimedia files. HybridMount is ideal for file server online collaboration and file-level data analysis.

VJBOD Cloud block-based cloud gateway
VJBOD Cloud supports streamlined NAS backup to object cloud storage. The block-based data transmission uploads random data and large files to the cloud in blocks, and only transmits block-based volume or LUN changes (such as addition, modification, or deletion). This is ideal for enterprise-level applications with large file transfer requirements, such as databases, VM volumes, and videos.
---
High-performance 10GbE and 2.5GbE networking
The TNS-h1083X comes with two 10GbE SFP+ and two 2.5GbE RJ45 ports that support Port Trunking and failover, satisfying bandwidth-demanding applications including virtualization, large files transferring, high-speed backup/restoration, and any real-time application. QNAP also offers numerous options of managed and unmanaged 10GbE/2.5GbE switches featuring 10GbE SFP+/RJ45 combo ports or Multi-Gigabit NBASE-T™ connections, assisting organizations in implementing high-speed, secure and scalable network environments without going over budget.

---
Abundant I/O capability with PCIe expansion
The TNS-h1083X features two PCIe Gen 3 slots that allow for various expansion cards for expanding application potential.
10GbE/25GbE/40GbE network cards
Enable lightning-fast throughput for bandwidth-hungry tasks (such as virtualization, massive data transmission, and fast backup/restoration).
QM2 M.2 SSD/10GbE cards
Add M.2 SSD caching or 10GbE (10GBASE-T) connectivity for optimized performance and bandwidth.
QXP expansion cards
Connect the TNS-h1083X to TL SATA JBOD enclosures by adding multi-lane SATA 6Gb/s transfer for high-performance storage expansion.
SAS expansion cards
Connect the TNS-h1083X to REXP expansion units and support petabytes of storage capacity by adding up to 128 SAS/SATA drives.
---
All-in-one solution for hosting virtual machines and containers
You can count on Virtualization Station and Container Station for comprehensive virtualization support. Coupled with the Network & Virtual Switch app that boosts interoperability between virtual machines, containers, QNAP NAS, and other physical devices on the network, you can flexibly allocate physical and virtual network resources to simplify network deployment.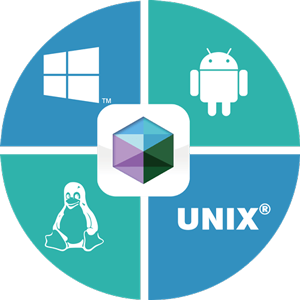 Run multiple Windows®, Linux®, UNIX®, and Android™ virtual machines and access them via a web browser or Virtual Network Computing (VNC). Businesses can run virtualized server applications on a TNS-h1083X without needing additional physical servers.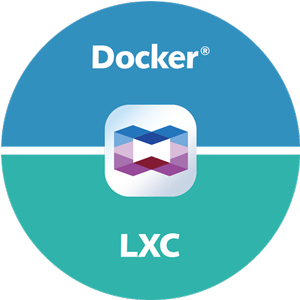 Experience LXC and Docker® lightweight virtualization technologies, and download apps from the built-in Docker Hub Registry®, import or export containers, and create multiple microservices.
---
High-performance, reliable storage solution for virtualization
Supports block-based iSCSI LUN as a high-performance, reliable, and affordable storage solution for VMware®, Citrix®, Microsoft® Hyper-V®, and Windows Server® 2019 virtualization environments.
Supports VMware VAAI and Microsoft ODX to increase performance by offloading server loading for ESXi server and Hyper-V respectively, and supports QNAP vSphere Client plug-in with enhanced operational efficiency and management in virtualization applications.
---
Build an affordable Fibre Channel SAN environment
Common Fibre Channel Storage Area Networks (SAN) devices are often costly. By installing a QNAP dual-port 16Gb/32Gb Fibre Channel expansion cards or compatible FC card from Marvell® or ATTO® in the TNS-h1083X, you have more budget-friendly options to add a NAS to a SAN environment. You can set a Fibre Channel Target using the iSCSI & Fibre Channel app. Moreover, the LUN Masking and Port Binding features provide an additional layer of data security.
Hardware Specifications:
TNS-h1083X-E2236-16G
TNS-h1083X-E2234-8G
CPU
Intel® Xeon® E-2236 6-core 3.4 GHz processor (burst up to 4.8 GHz)
Intel® Xeon® E-2234 quad-core 3.6 GHz processor (burst up to 4.8 GHz)
CPU Architecture
64-bit x86
Floating Point Unit
Encryption Engine
(AES-NI)
(AES-NI)
Hardware-accelerated Transcoding
System Memory
16 GB UDIMM DDR4 (2 x 4 GB)
8 GB UDIMM DDR4 (2 x 4 GB)
Maximum Memory
128 GB (4 x 32 GB)
Memory Slot
4 x Long-DIMM DDR4
Flash Memory
5GB (Dual boot OS protection)
Drive Bay
2 x 2.5-inch
The system is shipped without HDD/SSD.
Drive Compatibility
2.5-inch bays:
2.5-inch SATA solid state drives
2.5-inch U.2 Gen3 x4 solid state drives
Hot-swappable
M.2 SSD Slot
2 x M.2 2280 NVMe Gen3 x2
2.5 Gigabit Ethernet Port (2.5G/1G/100M)
2
10 Gigabit Ethernet Port
2 x 10GbE SFP+ SmartNIC (Mellanox ConnectX®-4 Lx EN)
Jumbo Frame
PCIe Slot
2
Slot 1: PCIe Gen3 x4 (PCH)
Slot 2: PCIe Gen3 x8 (CPU)
USB 3.2 Gen 2 (10Gbps) Port
4 x Type-A
Fan
3 x 60mm, 12VDC
Note: Use only QNAP memory modules to maintain system performance and stability. For NAS devices with more than one memory slot, use QNAP modules with identical specifications. Warning: Using unsupported modules may degrade performance, cause errors, or prevent the operating system from starting.
* Sound Level Test Environment: Refer to ISO 7779; Maximum HDD loaded; Bystander Position; Average data from 1 meter in front of operating NAS. Designs and specifications are subject to change without notice.
A replaceable NAS node with abundant I/O capability
The TNS-h1083X features outstanding hardware and expandable architecture, enabling optimal performance and flexibility to fulfill various business applications.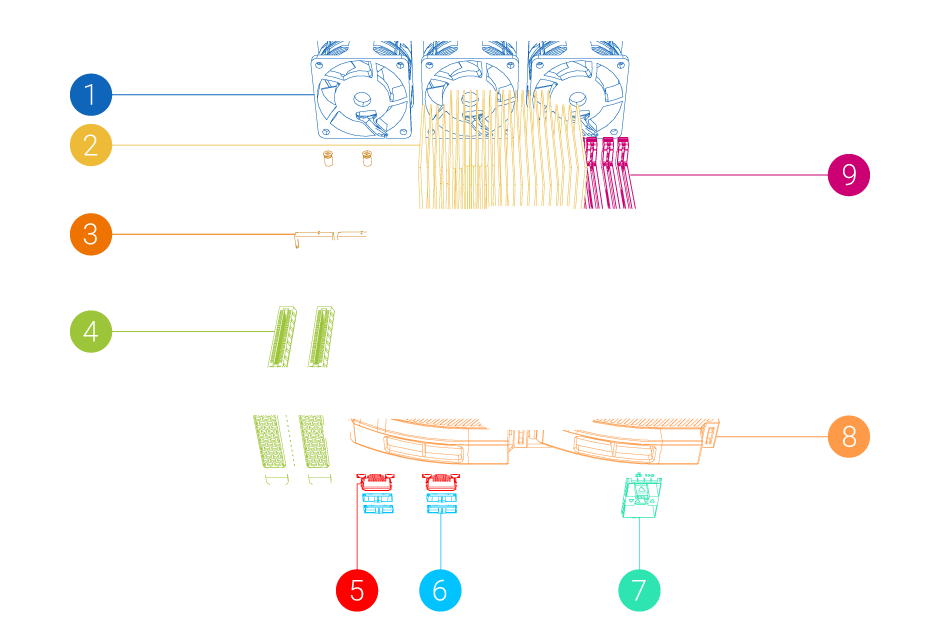 1
Smart cooling
Three 60mm system fans have their speeds automatically adjusted based on system temperatures.
2
Intel® Xeon® E processor
Intel® Xeon® E series processor with multi-core computer power and up to 4.8 GHz speeds.
3
2x M.2 SSDs
Supports NVMe Gen 3 x2 M.2 SSD with the 2280 form factor for enabling cache acceleration.
Note: M.2 SSD sold separately.
4
2x PCIe expansion slots
Includes one PCIe Gen 3 x8 (CPU) slot and one PCIe Gen 3 x4 (PCH) slot. Supports 10GbE/25GbE/40GbE adapters, QM2 cards, QXP or SAS expansion cards.
5
2x 2.5GbE LAN ports
Supports Port Trunking and failover.
6
4x USB 3.2 Gen 2 ports (Type-A)
Delivers transfer speeds up to 10 Gbps. Backwards compatible with USB 3.2 Gen 1 and USB 2.0 devices.
7
2x 10GbE SFP+ ports
Ideal for bandwidth-demanding applications such as virtualization and fast backup/restoration.
8
2x U.2 SSD slots
Supports NVMe Gen 3 x4 or SATA 6Gb/s for fast data access, cache acceleration, or system drive configuration. Users can install QNAP QDA-UMP or QDA-U2MP adapters to use M.2 SSDs in a U.2 SSD drive bay to maximize PCIe bandwidth utilization in a cost-effective way.
Note: U.2 SSD sold separately.
9
DDR4 ECC memory
Supports four DDR4 dual-channel Long-DIMM memory modules for a maximum of 128 GB RAM.
Pricing Notes:
Pricing and product availability subject to change without notice.
QNAP Products
NAS Node
Intel® Xeon® E-2234 4 cores/8 threads 3.6 GHz processor (Bursts up to 4.8 GHz), 8 GB DDR4 ECC UDIMM memory (2 x 4 GB), 2 x NVMe Gen3 x2 M.2 slots, 2 x 2.5GbE ports, 2 x 10GbE SFP+ SmartNIC (Mellanox ConnectX®-4 Lx EN).
GM-1000 system NAS node
#TNS-h1083X-E2234-8G
Our Price: $2,499.00
Intel® Xeon® E-2236 6 cores/12 threads 3.4 GHz processor (Bursts up to 4.8 GHz), 16 GB DDR4 ECC UDIMM memory (2 x 8 GB), 2 x NVMe Gen3 x2 M.2 slots, 2 x 2.5GbE ports, 2 x 10GbE SFP+ SmartNIC (Mellanox ConnectX®-4 Lx EN).
GM-1000 system NAS node
#TNS-h1083X-E2236-16G
Our Price: $2,649.00
QNAP Accessories
Storage Expansion Card
QNAP QM2 series, 2 x PCIe 2280 M.2 SSD slots, PCIe Gen3 x 4 , 2 x Intel I225LM 2.5GbE NBASE-T port

#QM2-2P2G2T
Our Price: $159.00
Network Expansion Card
Dual-port BASET 10GbE network expansion card; low-profile form factor; PCIe Gen2 x4
TS-470, TS-470 Pro, TS,473, TVS-472XT, TVS-473, TVS-473e, TS-670, TS-670 Pro, TS-673, TS-677, TVS-670, TVS-672XT, TVS-673, TVS-673e, TVS-682, TVS-682T, TS-870, TS-870 Pro, TS-870U-RP, TS-873, TS-877, TS-877XU, TS-877XU-RP, TS-883XU, TS-883XU-RP, TVS-870, TVS-872XT, TVS-872XU, TVS-872XU-RP, TVS-873, TVS-873e, TVS-882, TVS-882BR, TVS-882BRT3, TVS-882ST2, TVS-882ST3, TVS-882T, TS-1270U-RP, TS-1277, TS-1277XU-RP, TS-1283XU-RP, TVS-1272XU-RP, TVS-1282, TVS-1282T, TVS-1282T3, TS-1677XU-RP, TS-1683XU-RP, TVS-1672XU-RP, TS-2483XU-RP, TVS-2472XU-RP
#QXG-10G2T-107
Our Price: $179.00
Interface Expansion
USB 3.2 Gen 2 dual-port PCIe expansion card
NAS with a PCIe slot, Windows 8.x/10, Ubuntu 20.04 LTS Note: 1. Minimum QTS 4.3.6 requirement. 2. USB cable is not included. 3. Follow the compatibility guide: https://www.qnap.com/en/compatibility/
#QXP-10G2U3A
Our Price: $49.00
Cable / Transceiver
SFP28 25GbE twinaxial direct attach cable, 1.5M
For use with SFP28 25GbE
#CAB-DAC15M-SFP28
Our Price: $80.00
SFP28 25GbE twinaxial direct attach cable, 3.0M
For use with SFP28 25GbE (replacement of CAB-DAC30M-SFP28-DEC01)
#CAB-DAC30M-SFP28
Our Price: $90.00
SFP+ 10GbE twinaxial direct attach cable, 1.5M, S/N and FW update
For use with SFP+ 10GbE
#CAB-DAC15M-SFPP
Our Price: $50.00
SFP+ 10GbE twinaxial direct attach cable, 3.0M, S/N and FW update
For use with SFP+ 10GbE (except x85U)
#CAB-DAC30M-SFPP
Our Price: $70.00
RAM
16GB ECC DDR4 RAM, 2666 MHz, UDIMM, T0 version
TS-1886XU-RP
#RAM-16GDR4ECT0-UD-2666
Our Price: $244.00
32GB ECC DDR4 RAM, 2666MHz, UDIMM, S0 version
TS-1886XU-RP, TS-1283XU, TS-h1283XU-RP, TS-h1683XU-RP, TS-h2483XU-RP, TS-h686, TS-h886
#RAM-32GDR4ECS0-UD-2666
Our Price: $449.00
4GB ECC DDR4 RAM, 2666 MHz, UDIMM.
TS-983XU, TS-983XU-RP, TS-883XU, TS-883XU-RP, TS-1283XU-RP, TS-1683XU-RP, TS-2483XU-RP, TS-1886XU-RP, TS-h686, TS-h886, TNS-h1083X
#RAM-4GDR4ECP0-UD-2666
Our Price: $119.00
8GB ECC DDR4 RAM, 2666 MHz, UDIMM
TS-h686, TS-h886
#RAM-8GDR4ECT0-UD-2666
Our Price: $199.00