QNAP QGD-1602

Smart Edge Switch with 2.5GbE and 10GbE Capability
QNAP Products
QGD Smart Edge Switches
QNAP QGD-1602-C3758-16GB-US 16- port switch Intel® Atom® C3758 8C 2.2 GHz processor, 16GB DDR4 SODIMM RAM (2 x SODIMM Slot Max 64GB)
8 2.5GbE ports (2.5G/1G/100M), 8 1GbE ports, 2 SFP+ 10GbE(10G/1G), Intel Atom® C3758, 16GB DDR4 SODIMM RAM (Max 64GB), Equipped with QTS, 2 X 2.5″ SSD/HDD, 2 x PCIe Gen 3 slots, 2 X USB3.0
#QGD-1602-C3758-16G-US
Our Price: $1,279.00
QNAP QGD-1602-C3558-8GB-US 16- port switch, Intel® Atom® C3558 4C 2.2 GHz processor, 8GB DDR4 SODIMM RAM (2 x SODIMM Slot Max 64GB)
8 2.5GbE ports (2.5G/1G/100M), 8 1GbE ports, 2 SFP+ 10GbE(10G/1G), Intel Atom® C3558, 8GB DDR4 SODIMM RAM (Max 64GB), Equipped with QTS, 2 X 2.5″ SSD/HDD, 2 x PCIe Gen 3 slots, 2 X USB3.0
#QGD-1602-C3558-8G-US
Our Price: $949.00
Click here to jump to more pricing!
Features:
Upgraded performance for smoother virtualization
The QGD-1602 provides a full upgrade of network speeds, performance and memory, which not only greatly enhances the network transmission speeds of edge devices, but also optimizes the capabilities of running multiple virtual machines and containers for highly-efficient virtualization applications.
20 Gbps
Internal bandwidth capacity
---
Sturdy hardware with Intel QAT for optimized performance
The QGD-1602 uses Intel® Atom® C3000 series multi-core 2.2GHz processors, has two SATA drive bays, and provides and two M.2 NVMe SSD slots for SSD caching to increase IOPS performance. Two PCIe Gen3 x2 slots allows users to install 10GbE network cards, QM2 dual-port M.2 SSD/10GbE cards, USB 3.2 Gen 2 (10Gbps) cards, or Wireless Adapters to boost core functionality. The QGD-1602 also supports Intel® QuickAssist Technology (Intel® QAT) to greatly enhance IPsec VPN performance.
Note: Intel® QAT is supported when using QTS 4.4.3 (or later).
---
The First Switch Series with VM Support
The Guardian supports QNAP's QTS operating system and is the world's first switch series that can host virtual machines, containers, and provide other cloud applications - enabling diverse networking and storage solutions. In addition to QuWAN, QVR Pro, HybridMount, and other applications, the included App Center also supports VMs for running many open-source software applications. The Guardian provides SMBs with not only an all-in-one networking solution for IP surveillance, storage expansion, network security, and wireless LAN management, but also a SD-WAN solution for connecting to other QNAP devices at multiple sites. The dual-processor Guardian enables you to independently run the networking management interfaces (QSS - QNAP Switch System) and QTS. The Guardian provides a user-friendly web interface, QuNetSwitch, to help SMBs deploy a flexible and secure IT infrastructure.
Note: QTS and QSS can work independently without interference to ensure continuous operation. For example, when restarting QTS, the QSS connections will not be interrupted; when rebooting QSS, the VMs on QTS will keep running.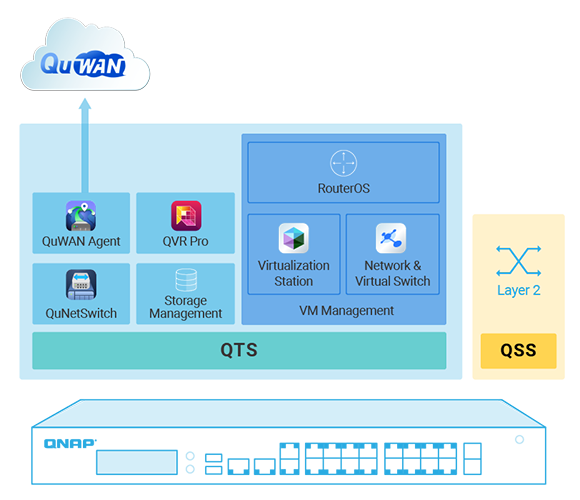 ---
Deploy a multi-site VPN with SD-WAN solution
The QGD-1602 and other QNAP solutions now support QuWAN – QNAP's SD-WAN solution. QuWAN provides full mesh IPsec VPN topology between QNAP devices based in multiple sites to fulfill enterprise video, VoIP, ERP system data, and filing needs. QuWAN adopts software-defined networking to achieve optimum network connectivity, and supports cloud-centric management for deploying a resilient IT Infrastructure.
QuWAN Orchestrator

Manage the network using a centralized management cloud platform.

QuCPE Server

The high-performance core VPN Server at the HQ.

NAS

Add branch offices to the VPN Infrastructure with your existing NAS.
QGD Switch

Fulfill surveillance and VoIP applications at small business sites (such as stores).




QHora Router

Provides easy-to-use VPN functions for remote workers.

QVPN

Mobile users can connect to SSL VPN using their PCs, laptops or mobile phones.
---
Faster wired and wireless transmission
The QGD-1602 has eight 2.5GbE ports and eight Gigabit ports for connecting various high-speed devices. Two in-built 10GbE SFP+ ports can serve as uplink ports to the Internet and core networks or simply be connected to routers and LAN Fiber switches. The additional two 5GbE and two Gigabit host management ports can be connected to multiple hosts or LAN devices to improve LAN efficiency. The switching capacity of QGD-1602 is 96Gbps, guaranteeing the full potential of each port. By installing an 802.11ac Wireless Adapter and the WirelessAP Station App, the QGD-1602 can work as an access point for connecting multiple edge devices and offer wireless speeds up to 2533Mbps.

---
20GbE Internal Bandwidth for Virtualized Applications
QTS can directly access to and control the data processed in QSS using Virtual Switches. The QGD-1602 provides 20GbE internal bandwidth to accelerate computing between end devices and hosts. The additional two 5GbE and two Gigabit host management ports can also be connected to multiple hosts for deploying multiple virtual machines.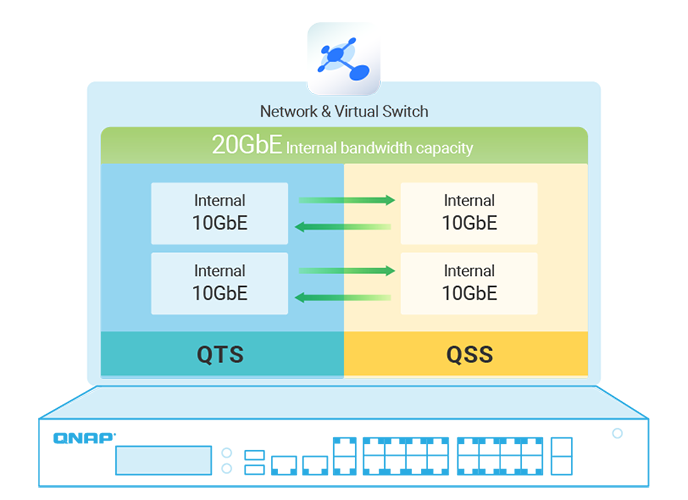 ---
QuNetSwitch: Layer 2 Management with User-friendly Web GUI
The QGD-1602 provides comprehensive Layer 2 management features (including VLAN, LACP, and LLDP) for efficient control of networks through IP grouping and bandwidth management. Powerful security functions (including IGMP Snooping, static MAC, QoS, and Wake-on-LAN) are also suitable for simple networking environments and easy deployment. Aside from the QNAP Switch System (QSS), the QGD-1602 also offers the user-friendly web interface software QuNetSwitch (via QTS) to help IT staff control Layer 2 management networks. The overview dashboard and statistical analysis area displays all the information about the switch and devices at a glance, making centralized management of devices intuitive and easy.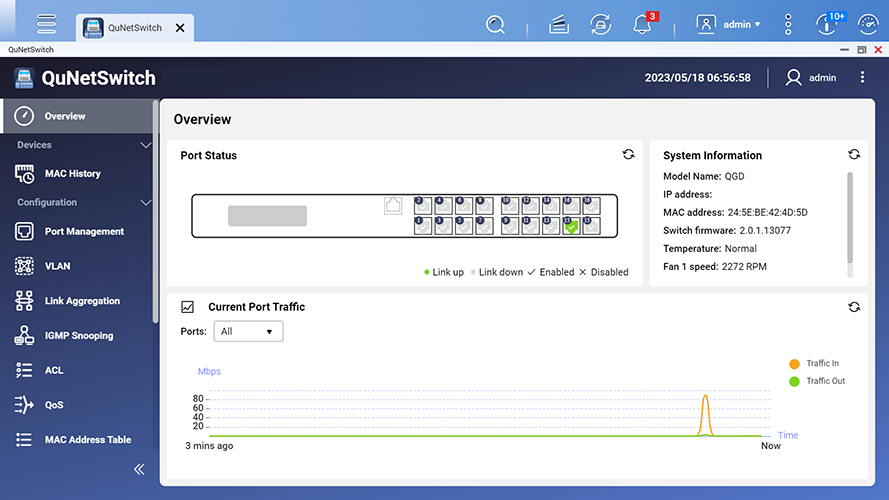 Port Management
VLAN
Port Trunking
QoS

Port status
Port statistics
Port configuration
Jumbo frame support
IEEE 802.3x flow control
Auto-negotiation of speed and duplex modes

VLAN configuration
Port-based private VLAN
IEEE 802.1Q-based VLAN

Port trunking
LACP groups

Bandwidth control
Traffic classification

IGMP
Security
Management
Advanced Applications

Access Control Lists (ACL): ACL by IP address, ACL by MAC
Static MAC address
Rate limits

Link Layer Discovery Protocol (LLDP): LLDP remote device
Interfaces: Web UI, Telnet, Command Line Interface (CLI)
SNTP, DNS, DHCP client entry

Port mirroring
Loop protection to avoid broadcast loops
Wake-on-LAN
---
The Guardian Smart Edge Switch meets your business needs.
The QGD-1602 is a central networking solution that offers Web-based management, and innovative virtualization applications to solve various networking problems.

Virtual Router x Virtual Firewall = Enhanced Cybersecurity
The QGD-1602 can be transformed into a secure router with a firewall via virtual router and virtual firewall software by installing MikroTik RouterOS and OpenWrt. Flexibly configure routing functions and separate or protect local networks and apply multiple security policies. You can also easily manage all networking devices with Zabbix network management software.

Zabbix = Centralized Network Management Platform
The QGD-1602 supports Zabbix Network Monitoring Software that auto-detects connected SNMP-compliant servers/devices, and monitors network status. Zabbix provides a Dashboard and Analysis Reports for efficient large-scale network management.
Hardware Specifications:
QGD-1602-C3558-8G
QGD-1602-C3758-16G
Management Type
Web Managed
Number of Ports
18
10GbE SFP+
2


10G/1G

2.5GbE (RJ45)
8
1GbE (RJ45)
8
PCIe Slot
Slot 1: PCIe Gen3 (x4 slot, x2 speed)
Slot 2: PCIe Gen3 (x4 slot, x2 speed)
USB 3.2 Gen 1 port
2
Management Port
2 x 5GbE ; 2 x 1GbE
USB 3.2 Gen 2 (10Gbps) Port
Optional via PCIe adapter
Power Supply Description
Internal Power Supply Unit
Max. Power Consumption
100W
Input Power Type
AC
Input Voltage Range
100-240VAC, 50/60 Hz
MAC Address Table
32K
Total Non-Blocking Throughput
48Gbps
Switching Capacity
96Gbps
Management Interface
Web
Fan
System: 3 x 4 cm (12V DC)
Supported Standards
IEEE 802.3u 100Tx Fast Ethernet
IEEE 802.3ab 1000BASE-T Gigabit Ethernet
IEEE 802.3bz 2.5G/5G BASE-T Multi-Gig Ethernet
IEEE 802.3an 10GBASE-T 10G Ethernet
IEEE 802.3ae 10GBASE-SR
IEEE 802.3ae 10GBASE-LR
IEEE 802.3z 1000Base-X
IEEE 802.3x Full-duplex flow control
IEEE 802.1q Virtual LANs (VLAN)
IEEE 802.1p QoS Protocol for Traffic Prioritization
Form Factor
Rackmount
LED Indicators
Per Port: Link/Activity/Speed
Per System: Warning/Fan
LCD Management
Buttons
Device PSU power button
Host power button
Host reset button(load default)
Switch reset button
Dimensions (HxWxD)
1.74 × 17.13 × 12.9 inch
Weight (Net)
9.63 lbs
Weight (Gross)
12.17 lbs
Operating Temperature
0°C to 40°C (32°F to 104°F)
Relative Humidity
5% to 95% non-condensing, wet bulb: 27°C (80.6°F)
Certifications
CE, FCC, VCCI, BSMI RCM, CCC
Electromagnetic Compliance
CLASS A, UL62368
Jumbo Frames
QTS Built-in
CPU
Intel® Atom® C3558 quad-core 2.2 GHz processor
Intel® Atom® C3758 8-core 2.2 GHz processor
CPU Architecture
64-bit x86
Intel QAT Support
Internal Network Bandwidth
2 x 10GbE
Floating Point Unit
Encryption Engine
(AES-NI)
(AES-NI)
System Memory
8 GB (1 x 8 GB)
16 GB (1 x 16 GB)
Maximum Memory
64 GB
Memory Slot
2 x SODIMM DDR4
Flash Memory
4GB (Dual boot OS protection)
Drive Bays
2 x 2.5-inch SATA 6Gb/s, 3Gb/s
Drive Compatibility
2.5-inch bays:
2.5-inch solid-state drives
2.5-inch hard disk drives
Hot-swappable
M.2 SSD Slots
2 (NVMe, PCIe Gen3 x 1)
SSD Cache Acceleration Support
File System: Internal Hard Drive+
EXT4
File System: External Hard Drive
EXT3, EXT4, NTFS, FAT32, HFS+, exFAT (optional license)
Warranty
2 Years
Note: Use only QNAP memory modules to maintain system performance and stability. For NAS devices with more than one memory slot, use QNAP modules with identical specifications.
Warning: Using unsupported modules may degrade performance, cause errors, or prevent the operating system from starting.
QNAP reserves the right to replace partial parts or accessories if the original is no longer available from its manufacturer/supplier. Any replacement would be fully tested and verified to meet strict compatibility and stability guidelines and will deliver identical performance to the original.
The terms HDMI, HDMI High-Definition Multimedia Interface, HDMI trade dress and the HDMI Logos are trademarks or registered trademarks of HDMI Licensing Administrator, Inc.
Product images are for illustrative purposes only and may differ from the actual product. Due to differences in monitors, colors of products may also appear different to those shown on the site.
Designs and specifications are subject to change without notice.
Pricing Notes:
Pricing and product availability subject to change without notice.
QNAP Products
QGD Smart Edge Switches
QNAP QGD-1602-C3758-16GB-US 16- port switch Intel® Atom® C3758 8C 2.2 GHz processor, 16GB DDR4 SODIMM RAM (2 x SODIMM Slot Max 64GB)
8 2.5GbE ports (2.5G/1G/100M), 8 1GbE ports, 2 SFP+ 10GbE(10G/1G), Intel Atom® C3758, 16GB DDR4 SODIMM RAM (Max 64GB), Equipped with QTS, 2 X 2.5″ SSD/HDD, 2 x PCIe Gen 3 slots, 2 X USB3.0
#QGD-1602-C3758-16G-US
Our Price: $1,279.00
QNAP QGD-1602-C3558-8GB-US 16- port switch, Intel® Atom® C3558 4C 2.2 GHz processor, 8GB DDR4 SODIMM RAM (2 x SODIMM Slot Max 64GB)
8 2.5GbE ports (2.5G/1G/100M), 8 1GbE ports, 2 SFP+ 10GbE(10G/1G), Intel Atom® C3558, 8GB DDR4 SODIMM RAM (Max 64GB), Equipped with QTS, 2 X 2.5″ SSD/HDD, 2 x PCIe Gen 3 slots, 2 X USB3.0
#QGD-1602-C3558-8G-US
Our Price: $949.00
Storage Expansion Card
Dual M.2 PCIe SSD expansion card; supports up to two M.2 2280/22110 formfactor M.2 PCIe (Gen3 x4) SSDs; PCIe Gen3 x4 host interface; Low-profile bracket pre-loaded, Low-profile flat and Full-height are bundled
TVS-hx74, TVS-1282T3, TS-hx87XU-RP, TS-1655
#QM2-2P-344A
Our Price: $149.00
Dual M.2 PCIe SSD expansion card; supports up to two M.2 2280/22110 formfactor M.2 PCIe (Gen3 x4) SSDs; PCIe Gen3 x8 host interface.
Low-profile bracket pre-loaded, Low-profile flat and Full-height are bundled
#QM2-2P-384A
Our Price: $169.00
Other Accessories
USB 3.0 to single port RJ45 5GbE/2.5GbE/1GbE/100MbE adapter, bus powered, USB type-c, 20cm USB-C to USB-A cable
#QNA-UC5G1T
Our Price: $89.00
QNAP Rail Kit for 2U Rackmount Models
QGD-1600P, TL-R1200C-RP, TL-R1200S-RP, TL-R1220Sep-RP, TL-R1620Sep-RP, TL-R400S, TR-004U, TS-1231XU(-RP), TS-1232PXU-RP, TS-1232XU(-RP), TS-1232BU(-RP), TS-1253DU-RP, TS-1253U(-RP), TS-1263U(-RP), TS-1263XU(-RP), TS-1273AU-RP, TS-1273U(-RP), TS-1277XU-RP, TS-1283XU-RP, TS-1673AU-RP, TS-1886XU-RP, TS-h1886XU-RP, TS-431U, TS-431XU(-RP), TS-431XeU, TS-432PXU-RP, TS-432XU(-RP), TS-451DeU, TS-453BU(-RP), TS-453DU(-RP), TS-463U(-RP), TS-463XU(-RP), TS-831XU(-RP), TS-832PXU(-RP), TS-832XU(-RP), TS-853B
#RAIL-B02
Our Price: $99.00
Network Expansion Card
Single-port (10Gbase-T) 10GbE network expansion card, PCIe Gen3 x4, Low-profile bracket pre-loaded, Low-profile flat and Full-height bracksts are bundled
All NAS models with a PCIe slot.
#QXG-10G1T
Our Price: $139.00
Dual-port SFP28 25GbE network expansion card; low-profile form factor; PCIe Gen4 x8
PCIe supported NAS
#QXG-25G2SF-CX6
Our Price: $449.00
Single port 2.5GbE 4-speed Network card
PCIe supported NAS and Windows 10/ Windows Server 2016 & 2019 /Linux PCs. Visit https://www.qnap.com/go/compatibility for the compatibible NAS.
#QXG-2G1T-I225
Our Price: $59.00
Dual port 2.5GbE 4-speed Network card
PC/Server or NAS with a PCIe slot
#QXG-2G2T-I225
Our Price: $79.00
Interface Expansion
USB 3.2 Gen 2 dual-port PCIe expansion card
NAS with a PCIe slot, Windows 8.x/10, Ubuntu 20.04 LTS Note: 1. Minimum QTS 4.3.6 requirement. 2. USB cable is not included. 3. Follow the compatibility guide: https://www.qnap.com/en/compatibility/
#QXP-10G2U3A
Our Price: $65.00
RAM
16GB ECC DDR4 RAM, 2666 MHz, SO-DIMM, T0 version
TS-h973AX, TS-x73A
#RAM-16GDR4ECT0-SO-2666
Our Price: $300.00
16GB DDR4-2666, SO-DIMM, 260 pin, T0 version
TVS-472XT, TVS-672XT, TVS-872XT, TVS-x72N, TS-h973AX, TS-x73A, TVS-x72X, TVS-675, TVS-675, TS-435XeU
#RAM-16GDR4T0-SO-2666
Our Price: $270.00
QNAP 32GB DDR4 RAM, 3200 MHz, SODIMM, K0 version
TVS-hx74
#RAM-32GDR4K0-SO-3200
Our Price: $399.00
8GB ECC DDR4 RAM, 2666 MHz, SO-DIMM, T0 version
TS-h973AX, TS-x73A
#RAM-8GDR4ECT0-SO-2666
Our Price: $220.00
8GB DDR4-2666, SO-DIMM, 260 pin, T0 version
TS-h973AX, TS-x73, TVS-x72XT, TVS-x72X, TVS-x72N, TS-832PX, TS-932X, TS-932PX, TS-332X, TVS-675, TS-932PX, TVS-951X, TS-435XeU, TVS-675
#RAM-8GDR4T0-SO-2666
Our Price: $190.00