QNAP QSW-M2106-4C

10GbE and 2.5GbE Layer 2 Web Managed Switch for SMB Network Deployment
QNAP Products
QNAP Web Managed Switches
QNAP QSW-M408S 6-port layer 2 managed switch. 6 x 2.5GbE (1G/100M) ports and 4 x 10G SFP+/ NBASE-T (10G/5G/2.5G/1G/100M) combo ports. Easy management with web browser.
#QSW-M2106-4C-US
Our Price: $469.00
Click here to jump to more pricing!
Package Content
QNAP QSW-M2106-4C Switch
1 x Power cord
1 x Power adaptor
Quick Installation Guide
Overview:
The QSW-M2106-4C is a Layer 2 Web Managed Switch with four 10GbE SFP+/RJ45 combo ports and six 2.5 Gigabit ports. Supporting Layer 2 switching and network management via a user-friendly web user interface, the QSW-M2106-4C offers flexible deployment in hybrid high-speed network environments and provides an entry-level network management solution that is usable even by non-IT professionals. With high performance, user-friendly management, and a desktop form factor, the QSW-M2106-4C enables cost-effective upgrading to 2.5GbE or 10GbE networking while optimizing bandwidth and ensuring secure network maintenance.
10GbE connectivity
Includes four 10GbE SFP+/ RJ45 combo ports. Compatible with 10GbE and NBASE-T technologies to support five speeds (10G / 5G / 2.5G / 1G / 100M) for high-speed networks.
2.5GbE connectivity
Six 2.5GbE RJ45 ports allow you to immediately multiply your network speed by 2.5 times while using existing Cat 5e cables.
User-friendly management interface
The QNAP Switch System (QSS) is easy to use and provides an overview dashboard, port management and setting guide, making central network management intuitive.
RSTP
One of the few web-managed switches that supports Rapid Spanning Tree Protocol (RSTP). Easily and efficiently deploy small/medium-scale networks that support expansion, redundancy, and loop prevention.
Layer 2 network
Provides Layer 2 management features (such as LACP, VLAN, ACL and LLDP) for IT staff to efficiently control network bandwidth and enhance security.
Online firmware update
QSS can be updated with just one click, helping IT staff ensure their network security.
Features:
Flexible deployment with multiple 10G SFP+ fiber and Gigabit ports
The QSW-M2106-4C provides four 10GbE SFP+/RJ45 combo ports and six 2.5 Gigabit ports for connecting various devices and enabling hybrid high-speed networks. With SFP+ interfaces, Direct Attach Copper (DAC) cables can be used for connecting directly to SFP+ devices. You can also use RJ45 ports to connect 10GBASE-T/NBASE-T™ devices through RJ45 Category 6 (or better) cabling. The QSW-M2106-4C is backward compatible with other Ethernet devices.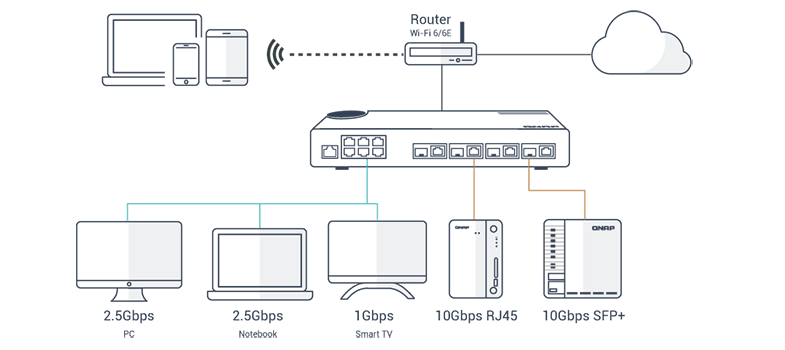 | | CAT 5e | CAT 6 | CAT 6A & CAT 7 |
| --- | --- | --- | --- |
| 100M | | | |
| 1G | | | |
| 2.5G | | | |
| 5G | | | |
| 10G | | (55m) | |
Note:
10GbE SFP+ ports are backward compatible with 1GbE SFP; the 10GbE RJ45 (copper) combo ports support up to five speeds (10G / 5G / 2.5G / 1G / 100M); the 2.5GbE RJ45 (copper) ports support up to three speeds (2.5G / 1G / 100M).
If the distance between the switch and the device is less than 45 meters (148 feet), a Cat 6 cable can be used to achieve 10Gb/s speeds.
---
Fully embrace High-Speed Networking with QNAP!
QNAP offers comprehensive, budget-friendly storage and networking solutions that provide an array of connectivity possibilities. Easily and flexibly upgrade your workplace or home network now to handle bandwidth-hungry applications.
A switch that supports 2.5GbE/10GbE
QNAP 2.5GbE/10GbE switches support 2.5G/10G and allow connecting multiple workstations and devices for high-speed collaboration in device-dense environments.
A fast NAS
A QNAP NAS with multiple 2.5GbE ports and Port Trunking allows you to combine multiple ports for greater bandwidth potential.


Note: Managed Switch series support Port Trunking.

Upgrade desktops and servers
Servers and desktops can install QNAP PCIe network cards that support 10G/5G/2.5G/1G/100M Multi-Gig.
Add a 5GbE/10GbE port to laptops
Laptops and upgrade-limited computers can use the portable QNAP USB 3.2 Gen 1 to 5GbE adapter or QNAP Thunderbolt 3 to 10GbE adapter, allowing you to connect to 5G/2.5G/1G/100M networks.
---
QSS: Human-centered settings guide
The QSW-M2106-4C adopts QNAP Switch System (QSS) featuring an easy-to-use Web GUI with Layer 2 management and value-added functions to simplify network set up and management.
Overview Dashboard
View real-time system information, port connection status and port traffic.
Port Management
View port status, port packet statistics, and configure port speeds.
Setting Guide
Quickly learn how to set up the network using the introduction and step-by-step guide.
Exclusive Status Chart Referencing
Refer to four major status charts during each configuration to avoid going back and forth between different setting pages.
Online Firmware Check and Update
Keep your QNAP switch secure with one-click firmware updates.
---
Optimize Network Performance with bandwidth and packet control
The QSW-M2106-4C provides bandwidth and packet control functions (such as LACP, VLAN, QoS, and IGMP Snooping) to boost network performance through IP grouping and bandwidth management.
| LACP | VLAN | QoS | IGMP Snooping |
| --- | --- | --- | --- |
| Link Aggregation (LAG) combines multiple network connections to increase throughput and protect against connection failure. | Virtual Networks (VLAN) allows groups of devices from different networks to be combined into a single network. | QoS (Quality of Service) helps prioritize bandwidth usage to optimize network resource allocation. | IGMP snooping assists in minimizing bandwidth loss and preventing network information leakage. |
---
Powerful security and system functions
The QSW-M2106-4C has powerful security and system functions (including ACL, LLDP, RSTP and Flow Control) to help administrators enhance network reliability using access controls, troubleshooting, loop prevention and avoiding packet loss.
| ACL | LLDP | RSTP | Flow Control |
| --- | --- | --- | --- |
| Access Control List filters packets based on rules to offer firewall-like security protection. | Link Layer Discovery Protocol allows devices to advertise device information to their directly connected peers/neighbors, simplifying troubleshooting processes. | Rapid Spanning Tree Protocol, RSTP ensures a loop-free topology for Ethernet networks by blocking or forwarding traffic. | Flow Control balances the traffic between a sender and a receiver to avoid network congestion. |
---
Desktop form factor for easy use in offices
With a compact and modern design, the QSW-M2106-4C stands out with its textured surface design. The flexible DC power connector enables universal deployment of the QSW-M2106-4C and each port can be easily identified. Being fully plug-and-play, devices can be simply connected to the QSW-M2106-4C and immediately used.
Hardware Specifications:
QSW-M2106-4C
Management Type
Web Managed
Number of Ports
10
10GbE SFP+/RJ45 Combo Ports
4
2.5GbE (RJ45)
6
Power Supply Description
Adapter
Max. Power Consumption
36W
Input Power Type
DC
Input Voltage Range
12V/3A
MAC Address Table
16K
Total Non-Blocking Throughput
55Gbps
Switching Capacity
110Gbps
Management Interface
Web
Console
RJ45
Energy Efficient Ethernet (IEEE 802.3az complaint)
Fan
PWM double ball bearing fan x 1
Supported Standards
IEEE 802.3 Ethernet
IEEE 802.3u 100BASE-T
IEEE 802.3ab 1000BASE-T
IEEE 802.3bz 2.5G/5GBase-T
IEEE 802.3an 10G BASE-T
IEEE 802.3z 1000BASE-SX/LX
IEEE 802.3ae 10G Fiber
IEEE 802.3x Full-Duplex Flow Control
IEEE 802.1Q VLAN Tagging
IEEE 802.1w RSTP
IEEE 802.3ad LACP
IEEE 802.1AB LLDP
IEEE 802.3az Energy Efficient Ethernet
(IEEE 802.1p Class of Service)
Form Factor
Desktop
LED Indicators
Per Port: Speed/Link/Activity
Per System: Power/Status
Buttons
Reset button
Dimensions (HxWxD)
42.5 x 290 x 127 mm
Weight (Net)
2.54 lbs
Weight (Gross)
3.86 lbs
Operating Temperature
0˚C to 40°C (32°F to 104°F)
Relative Humidity
5%–95% (non-condensing)
Certifications
CE, FCC, VCCI, BSMI
Electromagnetic Compliance
CLASS B
Jumbo Frames
9K
Warranty
2 Years
Note: Use only QNAP memory modules to maintain system performance and stability. For NAS devices with more than one memory slot, use QNAP modules with identical specifications.
Warning: Using unsupported modules may degrade performance, cause errors, or prevent the operating system from starting.
The terms HDMI, HDMI High-Definition Multimedia Interface, HDMI trade dress and the HDMI Logos are trademarks or registered trademarks of HDMI Licensing Administrator, Inc.
Product images are for illustrative purposes only and may differ from the actual product. Due to differences in monitors, colors of products may also appear different to those shown on the site.
Designs and specifications are subject to change without notice.
Pricing Notes:
Pricing and product availability subject to change without notice.
QNAP Products
QNAP Web Managed Switches
QNAP QSW-M408S 6-port layer 2 managed switch. 6 x 2.5GbE (1G/100M) ports and 4 x 10G SFP+/ NBASE-T (10G/5G/2.5G/1G/100M) combo ports. Easy management with web browser.
#QSW-M2106-4C-US
Our Price: $469.00