QNAP TAS-268

2-bay digital storage for home users featuring HDMI playback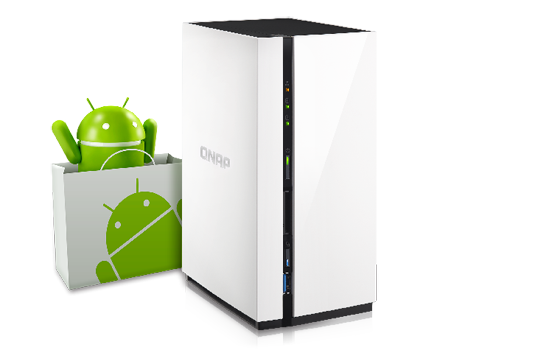 Sorry, this product is no longer available and has been replace with TS-228A.
Overview:
The TAS-268 is an all-in-1 network storage center for file storage, backup, remote access and multimedia playback. Powered by an ARM v7 dual-core processor with 2GB RAM, the compact TAS-268 delivers quiet and energy-saving operation as a home NAS, and serves as a personal cloud storage as well as media center for entertainment.
Organize & manage files and backup tasks in one centralized location
Synchronize files between computers, laptops, and mobile devices
Remotely access your files securely from your personal cloud
Stream your multimedia library via DLNA to other devices and your TV
Enjoy direct media playback via HDMI with HD* videos and photos
Compact, streamlined chassis ideal for a desktop or living room environment
Light, compact, and tool-less design
The TAS-268's mini-tower design takes up less desktop space, making it ideal for homes and small/home offices. Compared to a traditional NAS cooling fan, the TAS-268 houses a compact and quiet exhaust that helps dissipate heat with less noise and dust. With the tool-less design, you can easily remove the TAS-268's side cover to add or replace hard drives.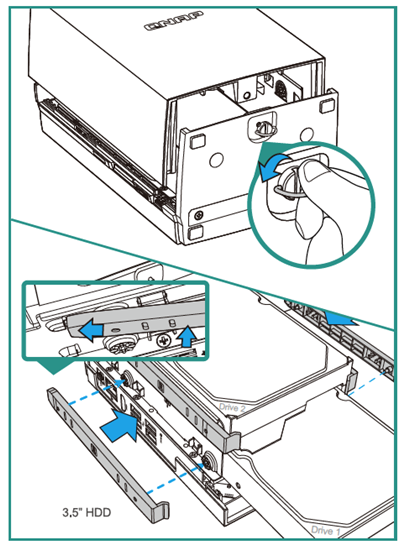 TAS plus NAS to fulfill more tasks
In addition to working independently, the TAS-268 can also be used with another QNAP NAS to handle more applications.
QTS RTRR/rsync functions can help back up files on the TAS-268 to another NAS, securing data with double protection.
With the Android interface displayed via HDMI, you can use apps like Qphoto, Qmusic and Qvideo to browse multimedia files on another QNAP NAS, or install the Vmobile app to monitor IP cameras from the Surveillance Station of another NAS.
With another NAS (with QTS 4.2 or later), you can use File Station to directly mount shared folders from a remote TAS-268 by FTP, WebDAV, and CIFS/SMB.
Various VPN apps available in Google Play can help stream media contents from blocked sites, or create a secure OpenVPN tunnel between the TAS-268 and another NAS to process remote backup tasks.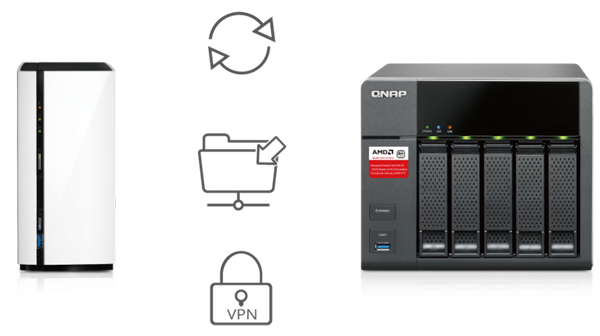 * Supports HD and 4K H.265 / H.264 file format. To support 4K H.264 video playback, you must update the model firmware to QTS 4.1.4 Build 1023 (or newer).
Features:
QTS facilitates central management and file sharing
The QTS operating system provides a web-based user interface to help you easily manage files on the TAS-268. You can install various apps based on your needs to fulfill tasks like storage, backup, management and multimedia applications. File Station allows you to upload, download and manage files anywhere with a web browser. All of your photos, music and videos can be indexed by the built-in Media Library, and easily managed and shared with the Photo Station, Music Station and Video Station. The energy-saving Download Station is your 24/7 download center, allowing you to quickly download files to enrich your collection.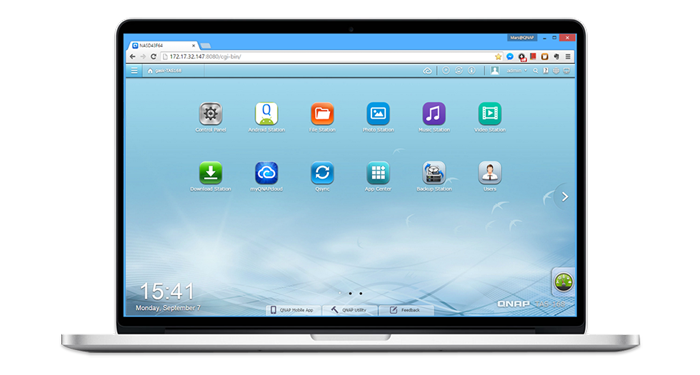 File synchronization across devices and clouds
Qsync utility turns your TAS-268 into a safe, large-capacity data center for file synchronization. Any file uploaded to the TAS-268 will be made available for all linked devices, such as computers, laptops or mobile devices. Qsync is especially useful for frequent travelers to manage files and always have the most up-to-date files on different devices. You can also install the Cloud Drive Sync app from QTS App Center to easily sync files with Google Drive and Dropbox cloud storage.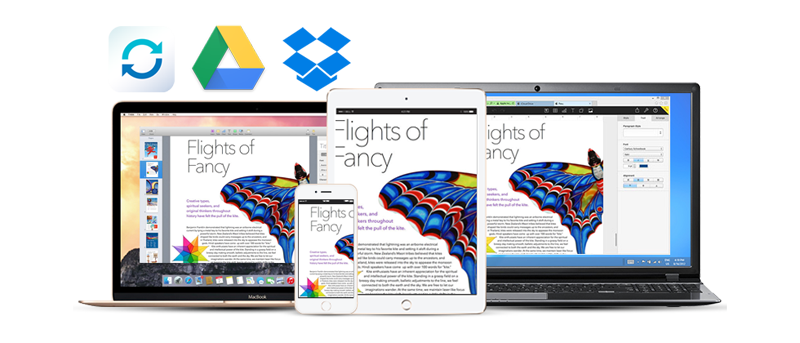 Cross-platform file sharing, centralized data storage
The TAS-268 supports SMB/CIFS, NFS, and AFP protocols for file sharing across Windows, Mac, Linux/UNIX networks. Data, logs and ISO images of CDs and DVDs can be centrally stored on the TAS-268 and protected by an integrated antivirus solution.

Well-rounded backup & disaster recovery solutions
QNAP NetBak Replicator supports real-time and scheduled data backup on Windows, and Time Machine is also supported for Mac data backup. The TAS-268's front-panel USB port features a one-touch-copy function for you to instantly back up data from external drives to the TAS-268 with just one click, or alternatively to back up data from the TAS-268 to external drives. Disaster recovery solutions including RTRR, rsync and cloud storage backup (Dropbox and Google Drive) are also included.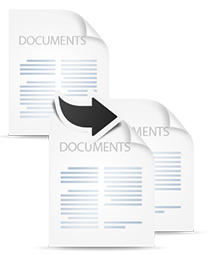 A personal cloud without limits
In contrast to the bounded storage space and potential security issues with public cloud services, the TAS-268 is advantageous for establishing a secure and large-capacity private cloud. The myQNAPcloud service allows remote access to files stored on the TAS-268 and supports automatic port forwarding for UPnP routers, My DDNS service and CloudLink, allowing you to easily access files, share multimedia, and check your system status from anywhere.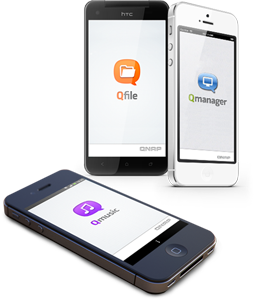 Access and enjoy from your tablets and smartphones
The TAS-268 is your private cloud storage that virtually enlarges the capacity of your mobile devices. Qfile allows you to access, upload, download, manage, and share stored files easily as if you are carrying all of your files in your pocket. If Qfile is installed on an iOS device, users can also browse videos & photos stored on the TAS-268 and play via Apple TV. Qmanager lets you monitor & manage the TAS-268 remotely and efficiently without turning on your PC, and you can enjoy and share music, photos and videos on the TAS-268 anywhere and anytime with the Qmusic, Qphoto and Qvideo apps.
File management: Create a personal cloud for file management, backup and sharing
The TAS-268 is an ideal file center for centrally managing your files and backups. You can use the Qfile mobile app to upload files, and then use File Station to browse, manage and share; back up files from external devices via USB one-touch-copy function, use NetBak Replicator or Time Machine for Windows and Mac backups, or back up files to cloud storage; and synchronize files across devices by using the Qsync utility.
Media stream via DLNA
You can use DLNA-compatible devices such as Smart TVs, Sony PS4 or Microsoft Xbox 360 to enjoy HD quality videos stored on the TAS-268. Enjoy your home entertainment in an easy way.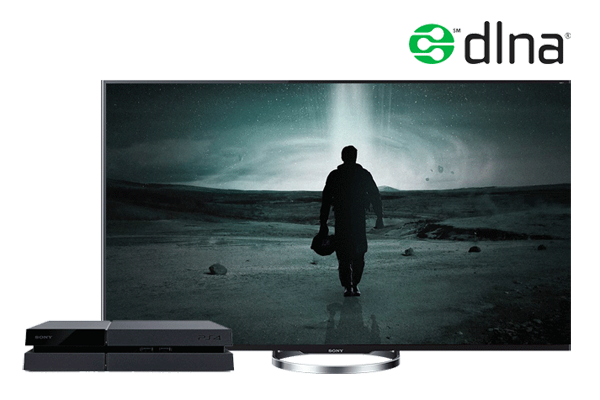 Plug in a keyboard & mouse, and browse your stored media files on TV
By plugging in a USB keyboard, mouse and HDMI display, you can directly manage, edit and play files stored on the TAS-268 without needing an additional PC. On the HDMI display you will find your familiar Android interface, and you can start using various QNAP apps including Qfile, Qmanager, Qphoto, Qvideo, Qmusic, MyNAS, and Kodi player. The Android experience is your TAS experience, so download the popular Android apps* to the TAS-268, and enjoy videos, apps and file management on a monitor or TV for the best visual comfort.

Media streaming: Use apps to steam audio and videos
Google Play provides various media apps including YouTube, TED, Twitch and other video apps. You can install and stream movies, cartoons, TV series, news, and sports at anytime. Your entertainment can be greatly enriched by the countless apps available.
Support Google Play & Qmarket
The TAS-268's Android system provides the Google Play store and Qmarket. You can find various music, movies, books, and Android apps and games on Google Play, and also download QNAP apps and access other app marketplaces from Qmarket.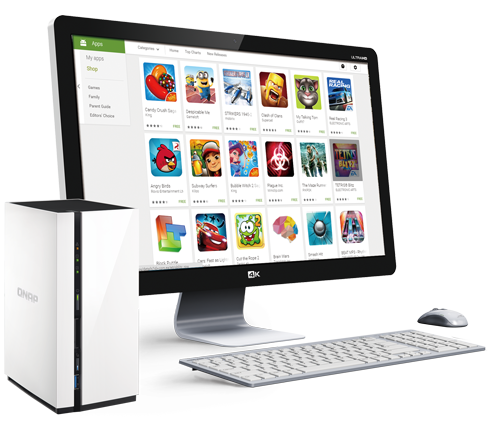 * The media player of TAS is implemented over the Android OS with Google Play supported. However, not all of the Android apps will be supported on TAS.
* Some of the TV-channel apps might not be running smoothly over this Android platform e.g. Netflix, Hulu and HBO Go.
Specifications: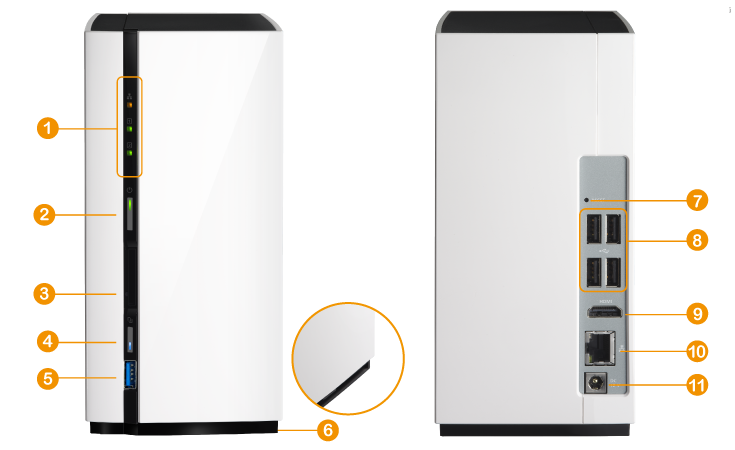 1. LED Indicators: LAN, HDD, Status, USB
2. Power Button
3. SD Card Reader
4. USB One-touch-copy Button
5. USB 3.0 port x 1
6. Exhaust for heat dissipation
7. Password & Network Settings Reset Button
8. USB 2.0 port x 4
9. HDMI portx 1
10. Gigabit LAN port x 1
11. DC 12V Power Connector
TAS-268 Specifications
CPU
ARM 1.1 GHz dual-core processor
Memory
2GB DDR3
Flash Memory
4GB
Hard Disk Drive
2 x 3.5" SATA 3Gb/s
RAID Management
RAID 0, RAID 1, JBOD, Single disk
LAN Port
1 x Gigabit RJ-45 Ethernet port
LED Indicators
HDD 1-2, LAN, Status, USB
USB
1 x USB 3.0 (Front)
4 x USB 2.0 (Rear)
Buttons
Power/Status, Reset, USB One-Touch-Backup
Alarm Buzzer
System warning
Form Factor
Mini-tower
Dimensions
187.7 x 90 x 125 mm
7.36 x 3.54 x 4.92 inch
Weight
Net: 0.7 Kg (1.54lbs)
Gross: 1.88 Kg (4.14lbs)
Temperature
0 - 40˚C
Relative Humidity
5 - 95% RH non-condensing
Power Supply
External Power Adapter, 60W, 100-240V
Power Consumption (HDD Standby)
HDD standby:6.05W
In operation:13.24W
(with 2 x 2TB HDDs intalled)
Fan
Yes
Package Contents

TAS-268
Ethernet cable x 1
Power cord x 1
AC Adapter: SP-2BAY-ADAPTOR
Wireless Mini Keyboard with Touchpad: KB-RF001
Quick Installation Guide
Software Specifications:
Operating System

Supported Clients

Windows XP and Windows Server 2003 onward, Apple Mac OS X onward, Linux & UNIX

Supported Browsers

Chrome, IE 10+, Firefox, Safari

Multilingual Support

Chinese (Traditional & Simplified), Czech, Danish, Dutch, English, Finnish, French, German, Greek, Hungarian, Italian, Japanese, Korean, Norwegian, Polish, Portuguese (Brazil), Romanian, Russian, Spanish, Swedish, Thai, Turkish

File System

Internal hard drive: EXT4
External hard drive: EXT4, EXT3, NTFS, FAT32, HFS+

Networking

TCP/IP: IPv4
Gigabit NICs with jumbo frame (failover, multi-IP settings, port trunking/NIC teaming )
Proxy client, proxy server
DHCP server
Protocols: CIFS/SMB, AFP (v3.3), NFS(v3), FTP, FTPS, SFTP, TFTP, HTTP(S), Telnet, SSH, iSCSI, SNMP, SMTP, and SMSC
UPnP & Bonjour discovery

Security

Network access protection with auto-blocking: SSH, Telnet, HTTP(S), FTP, CIFS/SMB, AFP
CIFS host access control for shared folders
Importable SSL certificate
Instant alert via E-mail, SMS, and beep

Storage Management

Single Disk, JBOD, RAID 0, 1
Bad block scan and hard drive S.M.A.R.T.
Bad block recovery
RAID recovery
Bitmap support

Power Management

Internal hard drive standby mode
Scheduled power on/off
Automatic power on after power recovery
USB and network UPS support with SNMP management

Access Right Management

Batch users creation
Import/export users
User quota management
Local user access control for CIFS, AFP, FTP, and WebDAV
Application access control for Photo Station, Music Station, Video Station, and Multimedia Station
Subfolder permissions support for CIFS/SMB, AFP, FTP, and File Station

myQNAPcloud Service

Private cloud storage and sharing with myQNAPcloud id (qid)
Free host name registration (DDNS)
Auto router (via UPnP) configuration
Web-based file manager with HTTPS 2048-bit encryption
Cloudlink for remote access without complicated router setup

Qsync

Syncs files among multiple devices with SSL support
Selective synchronization for syncing specific folders only
Share team folder as a file center for team collaboration
Shares files by links via e-mail
Policy settings for conflicted files and file type filter support
Version control: up to 64 versions.
Incremental synchronization for HDD space saving
Supports Windows & Mac OS

Web Administration

Multi-window, multi-tasking based system management
Personalized desktop
Smart toolbar and dashboard for neat display on system status
Login screen with personalized photo-wall style
Smart fan control
Dynamic DNS (DDNS)
SNMP (v2 & v3)
Resource monitor
Network recycle bin for file deletion via CIFS/SMB, AFP and File Station
- Automatic cleanup
- File type filter
Comprehensive logs (events & connection)
Syslog client/server
System settings backup and restore
Restore to factory default
Mobile app: Qmanager for remote system monitoring & management

File Server

File sharing across Windows, Mac, and Linux/UNIX
Windows ACL
Advanced folder permissions for CIFS/SMB, AFP, FTP
Shared folder aggregation (CIFS/SMB)

FTP Server

FTP over SSL/TLS (Explicit)
FXP support
Passive ftp port range control

File Station

Supports ISO Mounting (Up to 256 ISO Files)
Support thumbnail display of multimedia files
Supported share download link and upload link
Drag-n-drop Files via Chrome and Firefox Browsers
Photo, music, and video preview and playback with hardware accelerated transcoding     
File Compression (ZIP or 7z)

Backup Station

Remote replication server (over rsync)
Real-time remote replication (RTRR) to another QNAP NAS or FTP server
Works as both RTRR server & client with bandwidth control
Real-time & scheduled backup
Compression, file filter, and transfer rate limitation
Desktop backup with QNAP NetBak Replicator for Windows
Apple Time Machine backup support
Data backup to multiple external storage devices
Synchronizes with cloud storage: Amazon S3, ElephantDrive, Dropbox, and Google Cloud Storage
Third party backup software support: Veeam backup & replication, Acronis True Image, Arcserve backup, emc retrospect, Symantec Backup Exec, etc.

Cloud Drive Sync Station (Beta)

Photo Station

Show photos in thumbnails, list, timeline, or folder view
Supports virtual/smart album
Validity control for sharing albums
Tags photos with text, color, and rating
Slideshows with background music and different transition effects
Animated thumbnails for videos
Geotags photos and display them on Google maps
Shares slideshows link to social websites or through email
Supports Facebook friends login
Supports modification on photo taken date

Music Station

Plays or Shares Music Collections with Web Browser
Automatic Classification via Media Library
Internet Radio (MP3)
Up to 8 Music Alarms

iTunes Server

Audio and video sharing for Windows & Mac iTunes

Video Station

Show photos in thumbnails, list, timeline, or folder view
Supports virtual/smart collection
Validity control for sharing collections
Tags videos with text, color, and rating
Animated thumbnails for videos
Shares video collection link to social websites or through email
Sorting videos automatically into defined classifications
Display movie information from IMDB

DLNA Server

Supports DLNA/UPnP TVs and Players such as PlayStation 3 and Xbox 360
Support CUE indexing file

Download Station

PC-less BT, FTP/FTPS, and HTTP/HTTPS download (up to 500 Tasks)
BT download with Magnet Link and PT support
Scheduled download and bandwidth control
RSS subscription and download (broadcatching)
Bulk download with wildcard settings
BT search
Proxy support for BT download
PC utility: Qget for downloads browsing and management
Mobile app: Qget for downloads browsing and management

Android Station

Playbacks videos, music, photos on tv with Kodi via hdmi output
Watch various online contents such as Flickr, Picasa, Shoutcast, etc.
Web browser
Supports USB U.S. keyboard and mouse for Windows.
Apple keyboard and mouse is not supported.
Download Apps from Google Play™ for fun.

Note:
The playback and quality of some video files may be affected due to the current CPU and GPU's decoding capability.
Up to 7.1 channel audio passthrough can be supported for PCM
Up to 5.1 channel audio passthrough can be supported for DTS and Dolby.

Mobile App

Qfile: iOS, Android, Window phone& Tablets
Qmanager: iOS, Android Phone
Qmusic:  iOS, Android Phone
Qget: Android Phone
Vmobile: iOS, iPad, Android Phone
* The data encryption functions may not available in accordance with the legislative restrictions of some countries.
Design and specifications are subject to change without notice.
Utilities:
Various handy utilities are available for you to work smartly with your Turbo NAS. These utilities help increase your productivity and make it absolutely easy with connecting the Turbo NAS, setting up the system, data backup and synchronization, downloading files, and so on.
Qfinder
Connect and set up NAS easily
Qfinder is a utility, available for Windows, Mac, and Linux, to quickly find and access the Turbo NAS over the LAN. Install the Finder on your computer, open it, and double click your Turbo NAS name, and the login page is ready for you.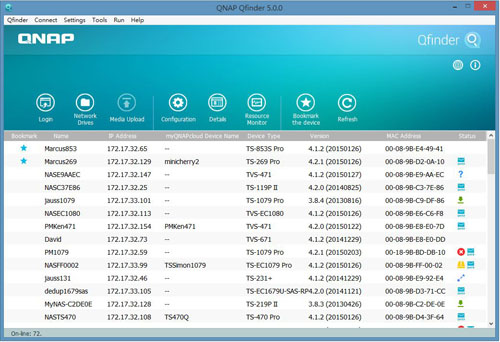 Easily access the NAS by Storage Plug & Connect
Windows version of Qfinder provides a convenient way to connect to the Turbo NAS and map a network drive or a virtual disk. By creating a shared folder on the Turbo NAS and mapping it as a network drive, you can use it as an additional drive and store files on it as it is a local drive of the computer.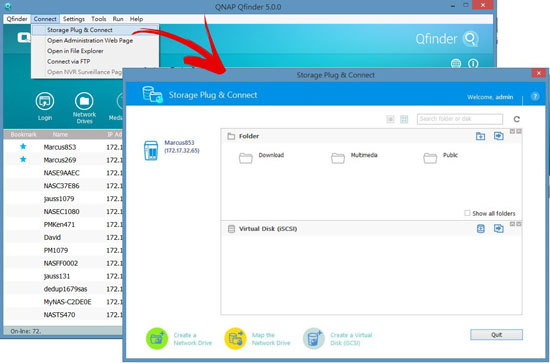 myQNAPcloud Connect
NAS Connection by VPN
myQNAPcloud Connect helps you access the published services of the Turbo NAS quickly and securely on the Internet. myQNAPcloud Connect application is designed for Windows PC users. By installing the myQNAPcloud Connect, you will be able to connect to the Turbo NAS and easily manage files by drag-and-drop within the Windows Explorer.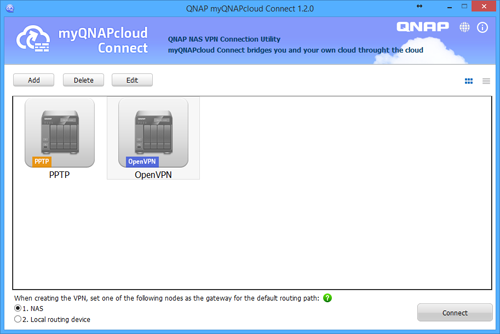 Qsync
Synchronize files anytime, anywhere
Qsync is a useful tool to synchronize files in multiple computers. It creates a specific "Qsync folder" in your devices that you can simply drop files in, and synchronizes the files to all your devices linked to the Turbo NAS.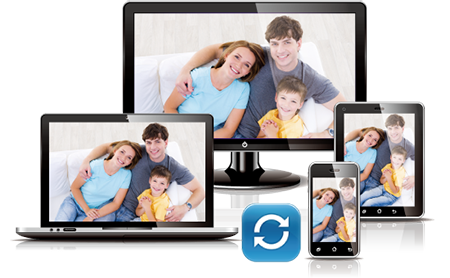 Sync in multiple ways
Full Sync
Whenever you add, edit, delete or rename a file on one computer, the change applies to all others linked with the Turbo NAS, so you have exactly identical contents on all your devices.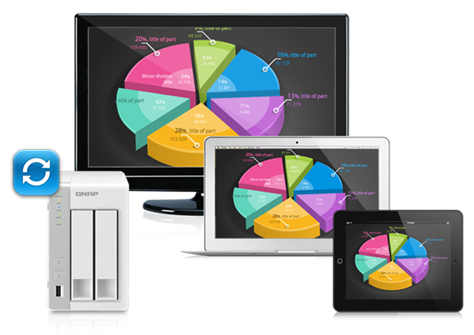 Smart Sync
It allows you to remove files on one computer without affecting the copies stored on others that are linked with the Turbo NAS. However, when someone updates the files you deleted from another computer, you can still retrieve them in the Qsync folder.








Advanced Selective Sync
With both Full Sync or Smart Sync options, you can choose to only sync specific sub-folders within the Qsync folder, useful if your computers have limited storage.



Share files and folders easily
Quickly share files with download links
You can create download links to share files with people, even if they don't have an account on the Turbo NAS. This greatly reduces the time in creating user account and password for users.
Share folders for collaboration
Your life is connected with different groups of people. You can create sub-folders within the Qsync folder, and share each with different groups of Turbo NAS users as a file exchange center. Everyone in the same sub-folder is always kept up-to-date with the latest version of the files.



QNAP NetBak Replicator
Backup data on PC
The QNAP NetBak Replicator, provided with any Turbo NAS unit free of charge, helps you easily back up files from Windows PC - entire disk drives, documents, pictures, music, videos, fonts, emails, and more - to the Turbo NAS. The operation is very simple. You can do the backup task in just a few clicks using NetBak Replicator by the setting of real-time synchronization, scheduled backup and auto-backup from multiple PCs to the Turbo NAS.
NetBak Replicator also supports backing up to a remote server via FTP and WebDAV through the Internet. Imagine that you can backup new photos whenever on vacation. Even you are away from home, the convenient backup supports your memories.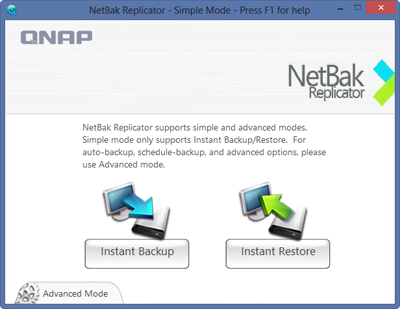 vsphere Client plug-in
Manage QNAP NAS within vSphere Client
The Turbo NAS supports vSphere Client Plug-in that allows managing VMware datastores on the Turbo NAS directly from the vSphere client console. In a large-scale server virtualization environment, management is centralized and straightforward. Administrators can easily control the status of the Turbo NAS and datastores and create additional datastores to multiple ESXi hosts in just a few clicks.
Note: The TS-x51 series doesn't support vSphere Client plug-in.


Q'center Virtual Appliance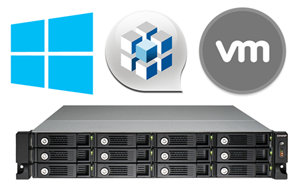 Deploy Q'center as virtual appliance
Q'center is a powerful QNAP NAS management system. The Q'center Virtual Appliance can be easily deployed in Microsoft Hyper-V or VMware ESXi to increase its flexibility and connectivity for large storage environments.
Minimum requirements:108 GB free disk space, 1 GB memory and 4 virtual CPUs
Supported platforms: VMware ESXi (ESXi 5.0, ESXi 5.1, ESXi 5.5), VMware Fusion 7, VMware Workstation 11, Microsoft Windows Server 2012 R2 with Hyper-V 3.0.
Use Q'center to monitor multiple NAS.
With Q'center, you can view the status and system information of multiple QNAP NAS units at the same time, inspect system resource usage, monitor disk/volume health and perform other management tasks. With these features, Q'center can better assist IT administrators and QNAP NAS users in system resource allocation and future capacity planning.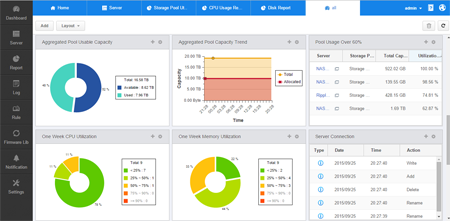 QNAP Snapshot Agent
In QTS 4.2, the Storage Manager's Snapshot function supports iSCSI LUNs to rapidly back up and restore data. When creating a LUN snapshot, QNAP Snapshot Agent for Windows Server or VMware vCenter allows the NAS to communicate with the remote server when taking snapshots and ensures Application-consistent LUN snapshots.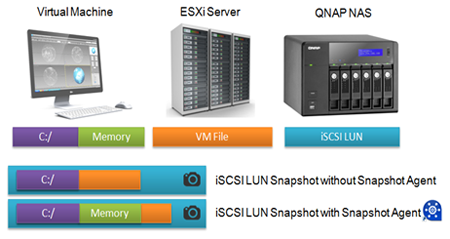 VSS Hardware Provider also allows NAS ROW (Redirect on Write) instead of Windows COW (Copy on Write) to increase backup efficiency and to offload the snapshot to the NAS for reducing the performance impact on the Windows server.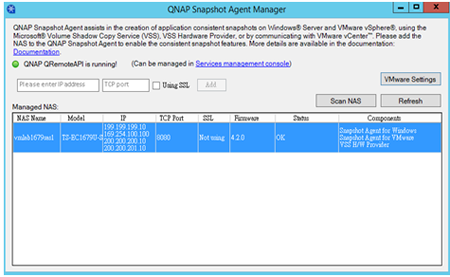 Qsnap

Take screenshots, easy and fast
Qsnap is a handy utility assisting you to quickly capture screenshots on your PC, and easily edit, save, and share, enabling quick note-taking or productive communication in your work and life.

Hotkey capturing: Taking PC screenshots without complicated mouse operations.
Easy editing: Add emphasis or remove unnecessary elements with a range of editing tools.
Instant sharing: Simply drag and drop the screenshots to instant messengers and emails as attachments to share.