QNAP HS-251+

Quad-core silent & fanless NAS with HDMI-out for the best audiovisual experience

Sorry, this product is no longer available. Replace by the TS-253A.
Overview:
Silent, dust-free, and more powerful
The HS-251+, powered by a quad-core Intel Celeron 2.0GHz processor, was created as a silent NAS solution that allows users to enjoy files and media with no distractions, providing a perfect match for home theater enthusiasts and audiophiles looking to maximize their audiovisual experience and users who wish to constantly run their systems without any background noise. Coupled with the support of HDMI connectivity for 1080p video playback and hardware transcoding capability, the HS-251+ is an ideal companion at home for multimedia entertainment. Being fanless, the HS-251+ has no internal moving parts for improved reliability and remains clean and dust-free even after long-term usage. The HS-251+ is best used with SSDs or WD® Red™ & Seagate® NAS drives as a reliable storage solution.

Modern & stylish
Created for the living room with a revolutionary fanless architecture, the HS-251+ features a modern set-top design that fits alongside your HDTV, games consoles and other elements of your digital lifestyle. Underneath the stylish & compact brushed metal aluminum body, the HS-251+ is packed full of cutting-edge features & apps to provide day-to-day entertainment, storage, and backup needs. The HS-251+ is easy to use and maintain. With its accessible layout, adding and removing drives are remarkably easy even for beginners.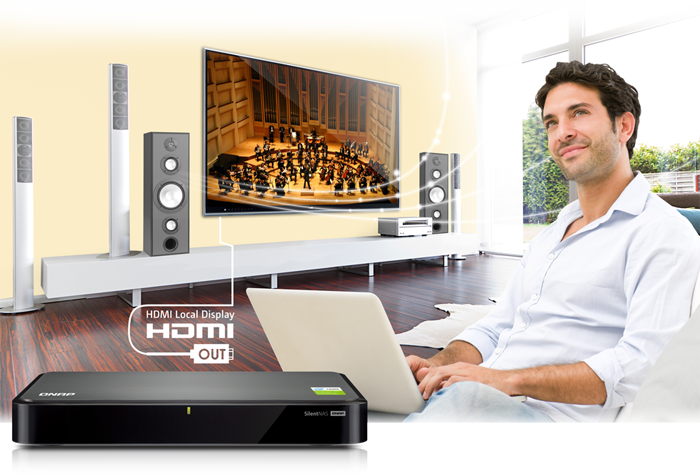 Quad-core CPU driving higher performance
Powered by a 22nm 64-bit quad-core Intel Celeron 2.0GHz processor with 2GB energy-efficient DDR3L RAM, coupled with the support of dual LAN ports, the HS-251+ is a powerful NAS with higher performance to deliver up to 224MB/s read & write speeds. The HS-251+ can also automatically increase the processor's clock rate from 2.0GHz to 2.42GHz when needed for CPU-intensive tasks.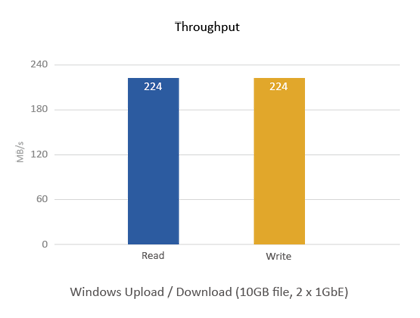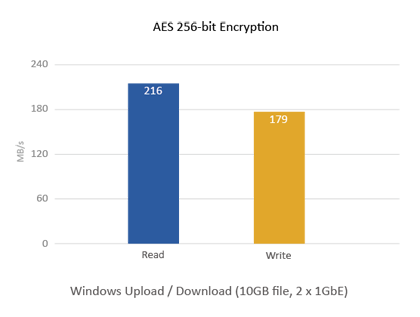 Test Environment
NAS:
OS: QTS 4.1.4
Volume type: RAID 1; 2 x Seagate ST1000NM0033
Network environment: direct connection between NAS and PC, 1GbE LAN (MTU 1500)

Client PCs:
Intel Core i7-4770 3.40GHz CPU; DDR3L 1600Hz 16GB; WD 1TB WD10EZEX; Intel Gigabit CT (MTU 1500);Windows 7Professional 64bit SP1
* Tested in QNAP lab. Figures could vary by environments.
Economical storage expansion
The HS-251+ offers a high performance yet affordable storage solution to fulfill the needs of archiving rapidly growing data & large files. It supports online capacity expansion by connecting a QNAP expansion enclosure, allowing you to expand the raw storage capacity on demand and making itself an ideal large-capacity file center for personal media collections*.
The maximum raw storage capacity available by connecting a QNAP expansion enclosure:
QNAP NAS Model
QNAP Expansion Enclosure
No. of RAID Expansion Enclosure
Total HDD No. (NAS + Enclosure)
Max. Raw Capacity (TB)***
HS-251+
UX-800P
1
10
80
UX-500P
1
7
56
*To expand the storage space with an UX expansion enclosure, please create a separate static volume or storage pool on the UX expansion unit.
**The maximum capacity is calculated by using 8TB HDDs.
Features:
Intuitive and modern QTS NAS operating system
Thanks to the intuitive user interface of QTS 4.2, your NAS experience is smarter, smoother and spectacular. Its modern flat design streamlines loading times, and the intelligent desktop and multi-window operation make controlling every aspect of your HS-251+ – from system operations to multimedia features – fully accessible and easy to use. QTS enables you to:
Centralize your data, files and backups.
Sync files across computers, tablets, mobile devices and clouds, and share files across different groups and communities.
Collect, enjoy and share your large photo, music and video collections.
Stream HD movies & family videos to various network players.
Access, manage and enjoy all your files with your tablets & smartphones.
Expand the functionality of the HS-251+ by installing more than 100 apps on demand from the QNAP App Center.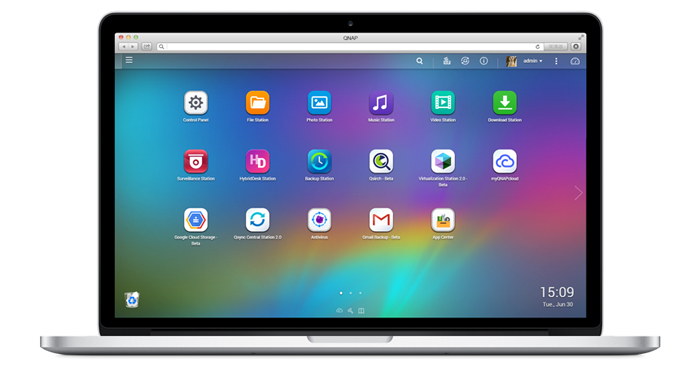 Enjoy best audiovisual experience on TV via HDMI with free remote control
QNAP HD Station integrates the powerful Kodi media player and web browser. With HDMI connectivity, you can connect the HS-251+ to a HDTV or a Hi-Fi amplifier to enjoy your rich multimedia content with the best audiovisual experience. The splendid user interface and support for 7.1-channel audio passthrough* bring smooth playback of 1080p videos **. You can even watch YouTube videos, surf the web and manage the HS-251+ using Google Chrome or Mozilla Firefox with multilingual keyboard input. The HD Station supports multi-tasking and user authentication so only authorized users can access the stored data via HDMI monitors.
The HS-251+ is packed with QNAP remote control for you to conveniently control the HD Station via the built-in IR receiver of the HS-251+. You can also turn your mobile devices into remote controls by installing the Qremote app. The HD Station also supports YouTube Pairing, allowing you to select a YouTube™ video on your smartphone, tablet or computer and play it on HDTV via the HS-251+.
*A receiver with HDMI support is required for decoding multi-channel surround sound.
** The quality of video and music delivery can vary according to hardware and network environments.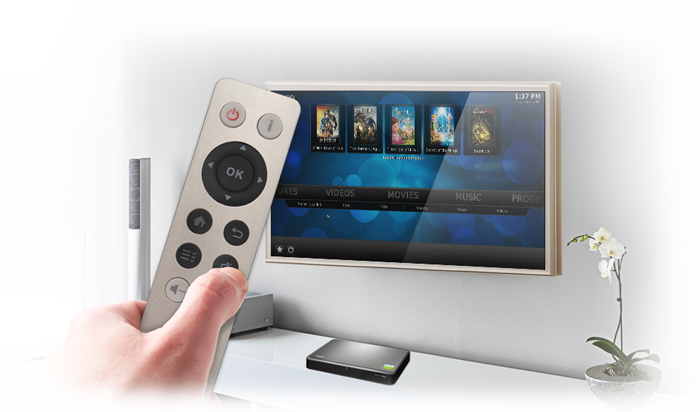 Real-time & offline HD video transcoding
The HS-251+ is the perfect video storage center for you to store your movies & home video collection, delivering superior on-the-fly 1080p video transcoding to convert your videos to formats that can be smoothly played on PCs, mobile devices and Smart TVs. It allows multiple devices to simultaneously view different videos stored on the HS-251+. The HS-251+ allows enjoying videos on multiple devices even those lack computing power and limited file format support without complicated and time-consuming file conversion.
With the HS-251+'s offline transcoding support, if you can only connect to the Internet with limited bandwidth, you can still enjoy smooth videos by selecting a lower resolution to play the videos via File Station, Video Station, or the Qfile app for iOS® & Android™ without affecting the HS-251+'s performance running other applications.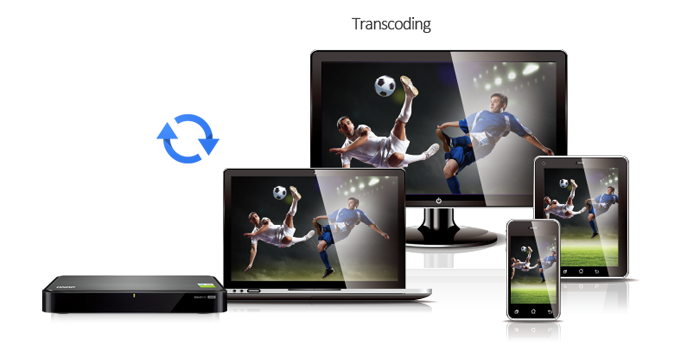 Build your media center and access anywhere
From enjoying your media on HDTVs, smartphones and tablets to syncing files between different computers and mobile devices, the HS-251+ can be depended on to be the cornerstone of all your home digital needs and becomes your personal cloud so you are always connected to your data. Take advantage of the myQNAPcloud service, which allows you to remotely access your HS-251+ wherever you are. Instantly stream or share your multimedia contents and share them with your friends.

Archive your photo memories. Share your life.
The HS-251+ acts as your photo vault for you to back up your favorite photos. The Photo Station makes photo sharing simple, and you can designate your own access right controls. Simply upload your photos to the HS-251+ to create & organize your photo albums through a web browser, and share with your family and friends through social networking sites such as Facebook®, Google+™, Twitter® and Pinterest®. Your mobile devices are useful too, allowing you to instantly upload photos to the HS-251+ with the Qfile or Qphoto mobile apps available on iOS® or Android™ devices. Now, you can just take as many photos as you want and trust your precious photo collections with the HS-251+!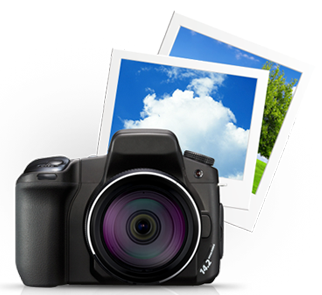 Build your home music library and enjoy music anywhere
The Music Station helps categorize your music collection, and displays album covers to easily organize your personal playlists. Through the Music Station you can enjoy your music anywhere anytime with a few clicks. Thousands of local & global online Internet radio stations are built-into Music Station for you to enjoy as well. You can also install the Qmusic app on mobile devices to listen to your terabytes of music collection wherever you go.

Enjoy media freely with multi-zone multimedia control
Use your HS-251+ as a multi-zone multimedia system to fill every corner of your house with your choice of media. You can centrally manage and stream photos, music and videos from the HS-251+ to different rooms from a single device using Bluetooth & USB devices connected to the HS-251+ (for music streaming only), HDMI, DLNA, Apple TV and Chromecast™*. Every family member in different zones can enjoy the convenience and simplicity for media playback and multimedia storage.
Alternatively, to enjoy multimedia yourself, you can choose DLNA-compatible devices, use the Qfile app on an iOS device to browse videos/photos and play on the TV via Apple TV, or transform the HS-251+ into a powerful streaming machine with DLNA, Roku, Amazon Fire TV, and Google TV support with the support of Plex Media Server.
*To stream multimedia via Chromecast, you must first install the multimedia extension pack from the QTS App Center.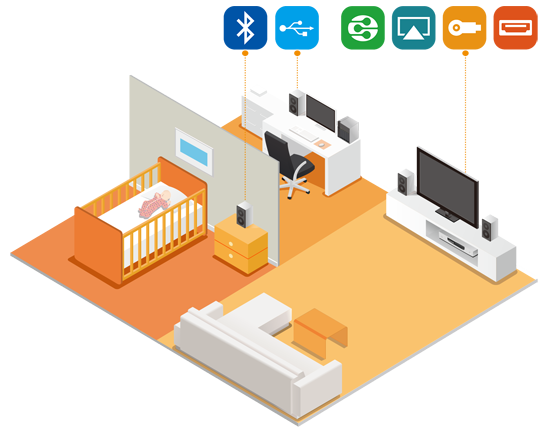 Qsirch – A smarter, faster way to search
Quickly and easily find documents, photos, videos, and music with Qsirch, QNAP's new NAS search application lets you find what you need by real-time, natural search. Simply type in as much as you know about what you are trying to find, including bits of the file name or even words/phrases in the document, and Qsirch will display a list of matches, complete with thumbnails, as you type. Qsirch even remembers your search history so you can quickly navigate to files you've previously searched for. Qsirch is a huge productivity boost – it greatly reduces the amount of time spent looking for files on the NAS so you can focus on other tasks.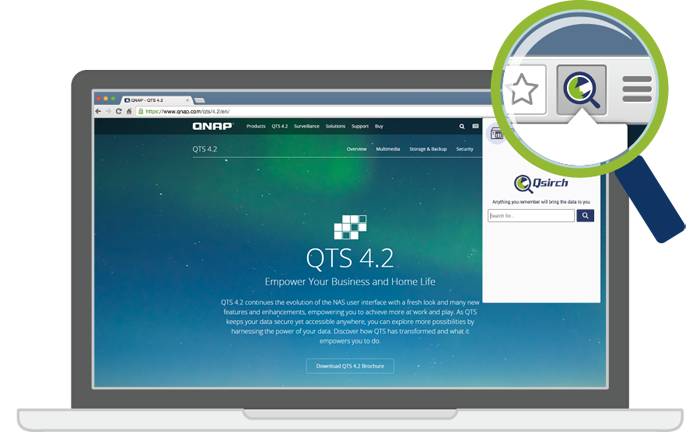 Back up & protect your data
The high performance & cross-platform compatibility of the HS-251+ allows you to centralize and protect your important with a range of backup options. Time Machine is fully supported to help Mac OS X users create a more efficient and convenient backup solution. QNAP NetBak Replicator is QNAP's license-free backup software that allows you to back up your files from multiple Windows PCs in real time or by schedule. You can also gain a disaster recovery solution with the RTRR (Real Time Remote Replication) feature with backup versioning support by replicating data in multiple shared folders from the HS-251+ to another NAS over the network to ensure the safety of your important data. Your data can also be easily backed up to a FTP server, external disk, or to online cloud storage services including Amazon S3, Amazon Glacier, Microsoft Azure, ElephantDrive, Dropbox, Google Drive, Google Cloud Storage, and more.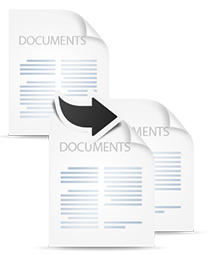 File synchronization across devices and clouds
Qsync utility turns your HS-251+ into a safe, large-capacity data center for file synchronization. Any file uploaded to the HS-251+ will be made available for all linked devices, such as computers, laptops or mobile devices. Qsync is especially useful for frequent travelers to manage files and always have the most up-to-date files on different devices. Qsync provides multiple ways of file synchronization and group file sharing, greatly enhancing the flexibility of team projects and collaboration. It also supports centralized configuration, and allows you to remotely erase the Qsync folder on a lost device to avoid data breaches, and even restore it after you have retrieved the device. You can also install the Cloud Drive Sync app from QTS App Center to easily sync files with Google Drive and Dropbox cloud storage.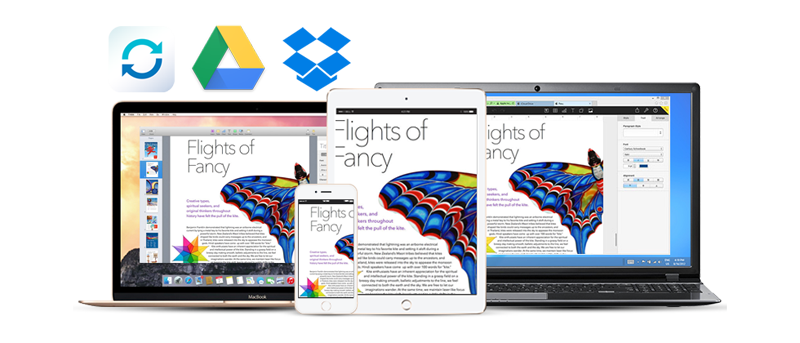 Fanless, revolutionary thermal design and power efficient
Instead of a fan, the HS-251+ features a remarkable thermal design that intelligently dissipates heat, allowing us to create a sleek, modern design without the bulk of conventional NAS systems. This innovative thermal design helps keep the HS-251+ running smoothly even under the heaviest loads. The HS-251+ is also eco-friendly, with power saving features including S3 system sleep mode, or hard disk standby when not in use, and power management scheduling options.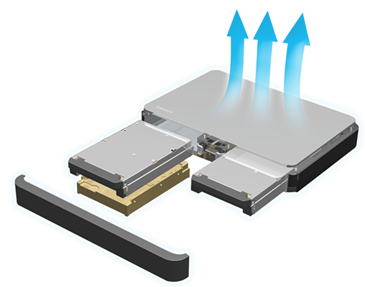 24/7 download center
The HS-251+ is a perfect download center for high speed BT, Magnet, PT (Private Trackers), eMule, FTP, and HTTP downloads. After the download tasks are set, you can turn off your computer, and the HS-251+ will continue downloading as many HD videos as you want. With the Qget mobile app, you can easily search download sources, download contents to the HS-251+, and manage download tasks on your mobile devices.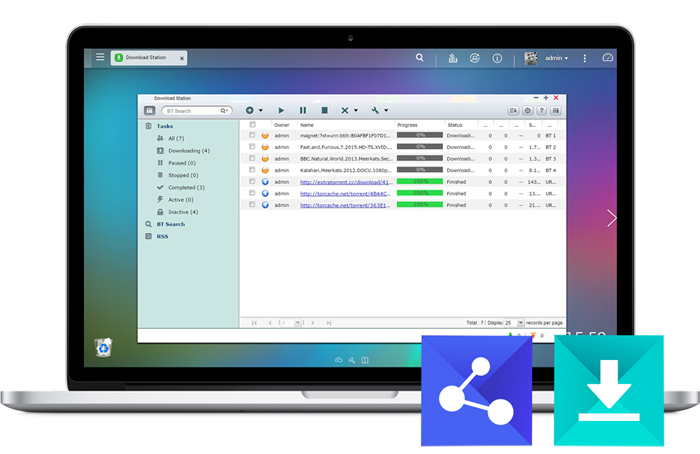 Surveillance Station- protect your home and valuables
The HS-251+ provides a professional Surveillance Station for real-time monitoring, video & audio recording and playback with a wide range of customizable settings. With the user-friendly interface and the expandable IP camera channel licenses, the Surveillance Station builds a professional surveillance center for you to safeguard your property and valuables. You can also install the Vmobile app on your iOS® or Android™ devices to manage the monitoring of cameras anytime, anywhere, to safeguard your home environment, or install the Vcam mobile app to turn your device into a network camera to instantly record to your HS-251+. The HS-251+ offers 2 free IP camera channels and you can expand up to 40 channels by purchasing additional licenses.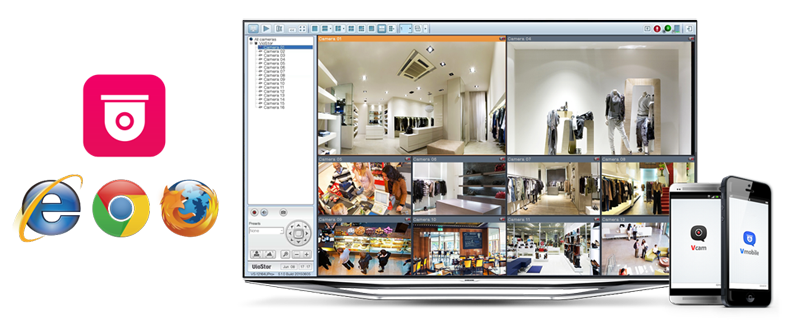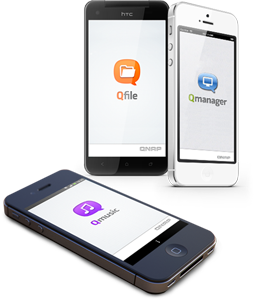 Access and enjoy with your mobile devices
The HS-251+ is your private cloud storage that virtually enlarges the capacity of your smart mobile devices. Qfile allows you to access, upload, download, manage, and share stored files easily as if you are carrying tons of files in your pocket. If Qfile is installed on an iOS device, users can also browse videos & photos stored on the HS-251+ and play on a TV via Apple TV. Qmanager lets you monitor & manage the HS-251+ remotely and efficiently without turning on your PC. You can take and share digital notes with Qnotes, and enjoy and share music, photos and videos on the HS-251+ anywhere and anytime with Qmusic, Qphoto and Qvideo apps.
Add near-unlimited functionality with QNAP's App Center
In addition to these preinstalled apps, the HS-251+ has a built-in App Center that provides various install-on-demand apps developed by QNAP and third-party developers, including tools for backup/sync, business, content management, communications, downloading, entertainment, and much more. It is also a centralized location for managing & updating installed apps. QNAP's development platform embraces the open source spirit and allows you and other developers to create their own apps, adding near-unlimited opportunities for the HS-251+.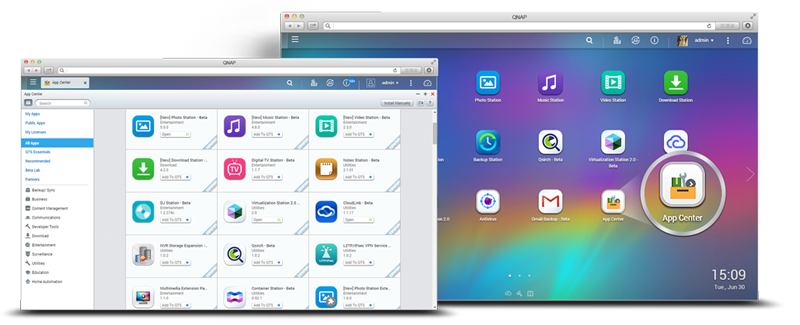 NAS management can be just that easy.
The HS-251+ provides comprehensive system tools to increase management efficiency.

Instant Alert Notifications
With the SMTP and SMS settings on the Turbo NAS, system administrators will get notifications from SMS or emails when any error occurs.

Resource Monitor
A graphical interface is presented for easily monitoring the CPU usage, memory usage, disk usage status, bandwidth usage, and running processes of the Turbo NAS.

Wake on LAN
Administrators can turn on the Turbo NAS within LAN. It saves more energy and improve security.

Scheduled Power on/off
Administrators can flexibly set up the time of turning on/off for the Turbo NAS, maximum 15 sets of schedules are allowed for turning on, off, or rebooting.

S.M.A.R.T. & Advanced Hard Drive Health Scan (HHS)
The Turbo NAS supports HDD S.M.A.R.T. (Self-Monitoring Analysis and Reporting Technology) which monitors the hard drive status, and sends out alert notifications through email for administrators to take precautions. Moreover, the HHD Health Scanning technology can examine the hard drive status and prevent possible data loss.

Comprehensive Event Logs
The Turbo NAS supports Syslog server that collects logs from various connected devices over the Internet and saves the data, enabling centralized log management with greater efficiency.
Additional features for home offices
The HS-251+ supports various applications for home offices as an all-in-one Turbo NAS with cost-efficiency.

FTP Server
The Turbo NAS supports FTP server to share large size files, coming with user-defined settings including bandwidth limitation, number of connections, and write-only permission.

Web Server
The Turbo NAS supports Web server which allows numerous websites built on the same server conveniently. Administrators can manage up to 32 websites on the single one Turbo NAS with reduced IT cost.

RADIUS Server
The Turbo NAS supports RADIUS server which provides centralized authorization management for computers to connect and use a network service.

VPN Server
The Turbo NAS supports VPN server which provides an easy way for IT administrators to build up a secure private network and allows the staff to log on from outside the office and access business resources securely such as files and Internet connections.

Print Server
The Turbo NAS can be used as a Printer server to send remote printing request via the Internet (max. 3 USB printers), and supports IPP (Internet Printing Protocol), Samba, print job management and Bonjour printing for Mac OS X.

Plex Media Server
The HS-251 can be used as a Plex Media Server to stream your content to any Smart TV or Plex clients, such as smartphones and tablets.
Specifications:
HS-251+ Specifications
CPU
Intel Celeron 2.0GHz quad-core processor (burst up to 2.42GHz)
DRAM
2GB DDR3L RAM
Flash Memory
512MB DOM
Hard Disk Drive
2 x 3.5" or 2.5" SSD or NAS SATA Hard Drives
Hard Disk Tray
2 x Hot-swappable tray
LAN Port
2 x Gigabit RJ-45 Ethernet port
LED Indicators
Status, LAN
USB
2 x USB 3.0 port
2 x USB 2.0 port
Support USB printer, pen drive, and USB UPS etc.
HDMI
1
Buttons
Power/Status, reset
Alarm Buzzer
System warning
IR Receiver
V (QNAP RM-IR002 Remote Control)
Secure Design
Kensington security slot for theft prevention
Form Factor
Compact
Dimensions
41.3 (H) x 302 (W) x 220 (D) mm
1.62 (H) x 11.89 (W) x 8.66 (D) inch
Weight
Net: 1.56 kg / 3.44 lb
Gross: 2.62 kg / 5.78 lb
Temperature
0 - 40˚C
Relative Humidity
5 - 95% RH non-condensing, wet bulb: 27˚C
Power Supply
External Power Adapter, 60W, 100-240V
Power Consumption (W)
S3 sleep mode: 0.6W
HDD standby: 7.1W
In operation:15.8W
(with 2 x 3TB WD WD30EFRX NAS HDD installed)
Package Contents

HS-251+
Ethernet cable x 2
Power cord x 1
AC Adapter: SP-2BAY-ADAPTOR
Flat head screw x 8 (for 3.5" HDD)
Flat head screw x 6 (for 2.5" HDD)
Infrared (IR) Remote Control: RM-IR002
Quick Installation Guide
Software Specifications:
Operating System

Supported Clients

Windows 7 (32/64-bit), Windows 8 (32/64-bit), Windows Server 2003/2008 R2/2012/2012R2
Apple Mac OS X
Linux & UNIX

Supported Browsers

Microsoft Internet Explorer 10+
Mozilla Firefox 8+
Apple Safari 4+
Google Chrome

Multilingual Support

Chinese (Traditional & Simplified), Czech, Danish, Dutch, English, Finnish, French, German, Greek, Hungarian, Italian, Japanese, Korean, Norwegian, Polish, Portuguese (Brazil), Romanian, Russian, Spanish, Swedish, Thai, Turkish

File System

Internal Hard Drive: EXT4
External Hard Drive: EXT3, EXT4, NTFS, FAT32, HFS+

Networking

TCP/IP (IPv4 & IPv6: Dual Stack)
Dual Gigabit NICs with jumbo frame (failover, multi-IP settings, port trunking/NIC teaming)
Service binding based on network interfaces
Squid Proxy server
Proxy client
DHCP client, DHCP server
Protocols: CIFS/SMB, AFP (v3.3), NFS(v3), FTP, FTPS, SFTP, TFTP, HTTP(S), Telnet, SSH, iSCSI, SNMP, SMTP, and SMSC
UPnP & Bonjour Discovery
USB Wi-Fi Adapter Support

Security

Network access protection with auto-blocking: SSH, Telnet, HTTP(S), FTP, CIFS/SMB, AFP
CIFS host access control for shared folders
FIPS 140-2 validated AES 256-bit volume-based and shared folder data encryption2
AES 256-bit external drive encryption2
Importable SSL certificates
Instant alerts via email, SMS, beep, push service, and LCD panel3
2-step verification

Storage Management

QNAP flexible Volume/LUN with thin provisioning and space reclaim
RAID 0, RAID 1
Supports storage pools
Online volume expansion
Online storage pool expansion
Online RAID capacity expansion and online RAID level migration
SMART data migration
Storage expansion via QNAP UX-500P/UX-800P expansion units
JBOD enclosure roaming
SSD read-only/read-write cache
Bad block scan and hard drive S.M.A.R.T.
Bad block recovery
RAID recovery
Bitmap support

Power Management

Wake on LAN
Internal hard drive standby mode
Scheduled power on/off
Automatic power on after power recovery
USB and network UPS support with SNMP management
System sleep mode (S3)

Access Right Management

Batch users creation
Import/Export users
User quota management
Local user access control for CIFS, AFP, FTP, and WebDAV
Application access control for Photo Station, Music Station, Video Station, and File Station
Subfolder permissions support for CIFS/SMB, AFP, FTP, and File Station

Domain Authentication Integration

Microsoft Active Directory (AD) & Domain Controller support
LDAP server, LDAP client
Domain users login via CIFS/SMB, AFP, FTP, and File Station

myQNAPcloud Service

Private cloud storage and sharing
Free host name registration (DDNS)
Optional myQNAPcloud SSL certificates (DDNS)
Auto router configuration (via UPnP)
Web-based file manager with HTTPS 2048-bit encryption
CloudLink for remote access without any complicated router setup
myQNAPcloud connect for easy VPN connection (Windows VPN utility)

Qsync

Sync files across multiple devices with SSL secure connection
Selective synchronization for only syncing specific folders
Use team folders as a file center for greater team collaboration (maximum sync tasks: 32)
Shares files by links via e-mail
Policy settings for conflicting files and file type filter support
Version control: up to 64 versions.
Unified privilege management
Unified configuration management
Supports central configuration mode
Supports remote erase/restore
Supports shared folders sync
Supports Windows & Mac OS

Web Administration

Multi-window, multi-tasking based system management
Smart toolbar and dashboard for neat system status display
Dynamic DNS (DDNS)
SNMP (v2 & v3)
Resource monitor
Network recycle bin for file deletion via CIFS/SMB, AFP, and File Station
- Automatic Cleanup
- File Type Filter
Comprehensive logs (events & connection)
Syslog client/server
System settings backup and restore
Mobile app: Qmanager for remote system monitoring & management

File Server

File sharing across Windows, Mac, and Linux/UNIX
Windows ACL
Advanced folder permissions for CIFS/SMB, AFP, FTP
Shared folder aggregation (CIFS/SMB)

FTP Server

FTP over SSL/TLS (Explicit)
FXP support
Passive ftp port range control

File Station

Supports mounting a Cloud Drive (such as Google Drive, Dropbox, Microsoft OneDrive, Amazon Cloud Drive, Yandex Disk and Box).
Supports mounting remote shared folders through FTP, WebDAV or Microsoft networking (SMB/CIFS)
Supports opening documents via Office Online, Google Docs or Chrome Extension (Edit Office files in Google Docs, Sheets, and Slides)
Supports ISO Mounting (Up to 256 ISO Files)
Supports thumbnail display of multimedia files
Supports sharing download links and upload links
Supports sharing to other NAS users
Drag-n-drop Files via Chrome and Firefox Browsers
Photo, music, and video preview and playback with hardware-accelerated transcoding
File Compression (ZIP or 7z)
Creation of and sending download links for sharing public files with expiration date and password protection
Supports displaying subtitles (*.SRT, UTF-8 format)
- Video seeking support for video playback during on-the-fly transcoding
- Supports slideshow playback in media viewer
Mobile App: Qfile for file browsing and management

Transcode Management

Transcode video files to 240p, 360p, 480p, 720p and 1080p resolution
Automatic video transcoding for watched folders
Hardware accelerated transcoding support
Embed subtitles into videos for background transcoding

Container Station

Supports LXC and Docker
Supports CPU/Memory management
Download applications from the built-in Docker Hub Registry
Supports one-click installation, container export/import & console mode
Supports mounting NAS shared folders and data-only containers
Supports auto port forwarding
Supports auto-start containers
Supports downloading Docker certificates

Backup Station

Remote replication server (over rsync)
Real-time remote replication (RTRR) to another QNAP NAS or FTP server
Works as both RTRR server & client with bandwidth control
Real-time & scheduled backup
Backup versioning for RTRR
Snapshot support for RTRR/Rsync
Encryption, compression, file filter, and transfer rate limitation
Desktop backup with QNAP NetBak Replicator for WindowsⓇ
Apple Time Machine backup support
Data backup to multiple external storage devices
Synchronizes with cloud storage: Amazon S3, ElephantDrive, Symform, Dropbox, and Google Drive
Third party backup software support: Veeam backup & replication, Acronis True Image, Arcserve backup, emc retrospect, Symantec Backup Exec, etc.

Print Server

Max number of printers: 3
Supports Internet Printing Protocol
Print job display and management
IP-based and domain name-based privilege control

Photo Station

Two browsing modes with gallery and management
Show photos by thumbnails, list, timeline, or folder view
Supports virtual/smart albums
Validity control for sharing albums
Tag photos with text, colors, and ratings
Slideshows with background music and different transition effects
Animated thumbnails for videos
Geotag photos and display them on Google maps
Advanced search by tags, metadata, etc
Supports uploading photos/videos to Picasa, Flickr, Weibo, YouTube
Supports face detection (with the Photo Station Extension)
Supports PDF to image conversion (with the Photo Station Extension)
Share slideshows links to social websites or by email
Supports Facebook friends login
Supports modification on photo taken date
Backup/Restore album configuration

Music Station

Play or share music via web browser
Automatic classification via Media Library
Supported audio formats: AIFF, APE, FLAC, M4A, M4A Apple Lossless (ALAC), MP3, OggVorbis, WAV (PCM, LPCM),WMA, WMA PRO, WMA VBR
Supports streaming music to multiple devices
Supports changing album covers via Google search or uploading photos
Internet radio (MP3)
Up to 8 music alarms
Mobile app: Qmusic for music streaming and management

iTunes Server

Audio and video sharing for Windows & Mac iTunes

Video Station

Show photos by thumbnails, list, timeline, or folder view
Supports virtual/smart collections
Validity control for sharing collections
Tag videos with text, color, and ratings
Animated thumbnails for videos
Share video links to social websites or through email
Sort videos automatically into defined classifications
Display movie information from IMDB
Display movie posters from IMDB or user upload
Supports displaying subtitles (*.SRT,*.ASS, *.SSA)
Supports searching for subtitles online
Supports importing subtitles
Supports adjusting subtitles display style
Supports Facebook friends login
Supports custom video classification
Supports multi-zone video display
Video seeking support for video playback during on-the-fly transcoding
Mobile app: Qvideo for online video browsing and management

Cloud Backup Station

Amazon S3
Amazon Glacier
WebDAV-based cloud storage
Microsoft Azure
OpenStack

AirPlay & Chromecast

Streams videos, photos and music from NAS to Apple TV via File Station, Music Station, Photo Station, Video Station or mobile app (Qfile, Qmusic, Qphoto or Qvideo). Media Streaming add-on app will need to be install at the QTS's App Center.
Streams videos, photos and music from NAS to TV with Chromecast via File Station, Music Station, Photo Station, Video Station or mobile app (Qfile, Qmusic, Qphoto or Qvideo). Media Streaming add-on app will need to be install at the QTS's App Center.

Download Station

PC-less BT, FTP/FTPS, and HTTP/HTTPS, Thunder, FlashGet and qqdl download (up to 500 Tasks)
BT download with Magnet Link and PT support
Scheduled download and bandwidth control
RSS subscription and download (broadcatching)
BT search
Proxy support for BT download
Mobile app: Qget for downloads browsing and management

Notes Station

A handy note-taking tool for everywhere you go via your private cloud.
Direct and quick backup from Evernote with re-editing availability
Supports Google Calendar
Import/Export PDF and .epubfile
RSS live feed and auto update
Online quick preview of multimedia attachments
Notes encrypt/decrypt
Smart snapshot for version control
Background tasks available for multi-tasking users
Collaborate on notes with multiple users
Supports graphical editor for note editing
Three-tier Note structure for easy organizing
full site backup for admin user
Supports keyword searching
Provides Chrome Extension: Notes Station Clipper (Clip web page content to your notes)

HD (HybridDesk) Station 3.0

Playback videos, music, photos on TV with Kodi via HDMI
Watch various online content such as YouTube, Flickr, Picasa, Shoutcast, etc.
Web browsers (Chrome, Firefox)
Supports international keyboards, input and mouse
Supports QNAP Qremote app and the official Kodi remote app
Supports user login permissions
A variety of applications are available including Skype, Plex Home Theater, and more
Up to 7.1 channel audio passthrough is supported
Note: The playback and quality of some video files may be affected by the system's CPU and GPU decoding abilities.

Virtualization Station

Supports Virtual Machine (VM) creation to run operating systems such as Windows, Linux, Unix and Android
Supports VM import and export
Supports VM cloning & snapshots
Supports VM backup and restore
VM console can be displayed via HDMI output - QVM
HTML5-based shared remote console
Supports three different networking modes: Isolated, External-only and Bridged

Signage Station

Supports dynamic content including videos, images, music, and text
Supports multi-user collaboration
Supports searching using keywords
Supports sharing by email and social network
Supports design software: iArtist Lite
Supports account authority management
Supports playback on various browsers (Chrome, Firefox, IE, Safari)
Supports most viewed, latest released and different categories content list

Storage Plug & Connect

Creating and mapping shared folders by QNAP Windows Qfinder
Creation of and connection to iSCSI target/LUN

iSCSI (IP SAN)

iSCSI target with multi-LUNs per target (Up to 256 targets/LUNs combined)
Supports LUN mapping & masking
Online LUN capacity expansion
Support for SPC-3 persistent reservation
Supports MPIO & MC/S
iSCSI LUN backup, one-time snapshot, and restoration
iSCSI connection and management by QNAP Windows Qfinder
Virtual disk drive (via iSCSI initiator)
Stack chaining master
Max No. of virtual disk drives: 8

Surveillance Station

Supports over 3,000 IP cameras
Includes 4 free camera licenses, up to 40 camera channels by purchasing additional licenses3
Instant playback to check recent events
Visual aid by e-map
Playback and speed control using the shuttle bar
Video preview on playback timeline
Intelligent video analytics (IVA) for advanced video searching
Surveillance client for Mac
Mobile surveillance app: Vmobile (iOS and Android)
Mobile recording app: Vcam (iOS and Android)

VPN Server

Secure remote access: PPTP、L2TP/IPsec & OpenVPN VPN services
Max number of clients: 30

VPN Client

Supported VPN protocols: PPTP & OpenVPN services
PPTP Authentication: PAP, CHAP, MS-CHAP, MS-CHAPv2
PPTP Encryption: None, AES 40/128 bit, AES 256 bit
OpenVPN Encryption: None, AES 40/128 bit, AES 256 bit
Transmission package monitor
OpenVPN port control
OpenVPN link compression

DLNA Server

Supports DLNA/UPnP TVs and players such as PlayStation 4 and Xbox One
Supported audio formats4: AIFF, APE, DSD (DSF, DFF), FLAC, M4A, M4A Apple Lossless (ALAC), MP3, Ogg Vorbis, WAV (PCM, LPCM), WMA, WMA PRO, WMA VBR*
Support CUE indexing file for APE, FLAC audio format.
Video and Audio On-the-fly Transcoding3

Q'center (NAS CMS)

Multiple NAS monitoring
Utilization history reports
Unified configuration management
Visual display reports
Monitor NAS behind NAT routers with Q'center Assistant
Virtual appliances supported byMicrosoft Hyper-V and VMware ESXi

App Center

Over 100 official and community software add-ons
1 Not all IPv6 services are supported.
2 Data encryption functions may be unavailable in accordance with the legislative restrictions of some countries.
3 This feature may vary by model.
4 DRM-protected content is not supported.
Design and specifications are subject to change without notice.
Optional Accessories:
Optional Accessories
Expansion Unit

8-Bay Expansion Unit
UX-800P

5-Bay Expansion Unit
UX-500P
Utilities:
Various handy utilities are available for you to work smartly with your Turbo NAS. These utilities help increase your productivity and make it absolutely easy with connecting the Turbo NAS, setting up the system, data backup and synchronization, downloading files, and so on.
Qfinder
Connect and set up NAS easily
Qfinder is a utility, available for Windows, Mac, and Linux, to quickly find and access the Turbo NAS over the LAN. Install the Finder on your computer, open it, and double click your Turbo NAS name, and the login page is ready for you.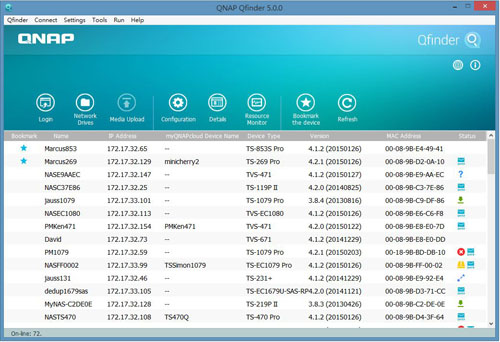 Easily access the NAS by Storage Plug & Connect
Windows version of Qfinder provides a convenient way to connect to the Turbo NAS and map a network drive or a virtual disk. By creating a shared folder on the Turbo NAS and mapping it as a network drive, you can use it as an additional drive and store files on it as it is a local drive of the computer.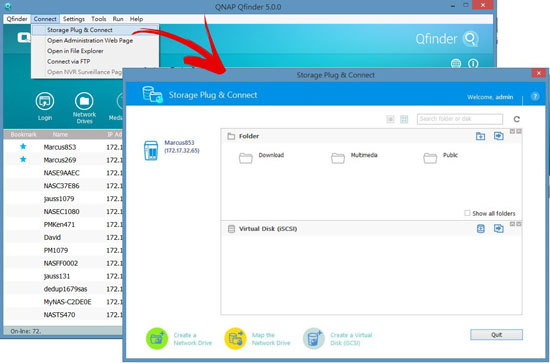 myQNAPcloud Connect
NAS Connection by VPN
myQNAPcloud Connect helps you access the published services of the Turbo NAS quickly and securely on the Internet. myQNAPcloud Connect application is designed for Windows PC users. By installing the myQNAPcloud Connect, you will be able to connect to the Turbo NAS and easily manage files by drag-and-drop within the Windows Explorer.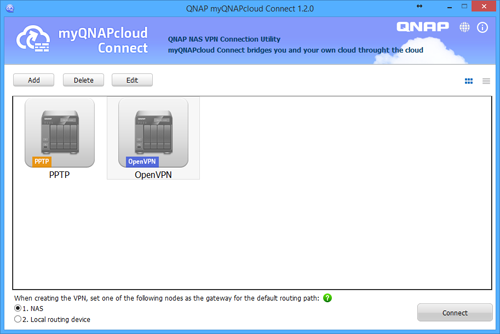 Qsync
Synchronize files anytime, anywhere
Qsync is a useful tool to synchronize files in multiple computers. It creates a specific "Qsync folder" in your devices that you can simply drop files in, and synchronizes the files to all your devices linked to the Turbo NAS.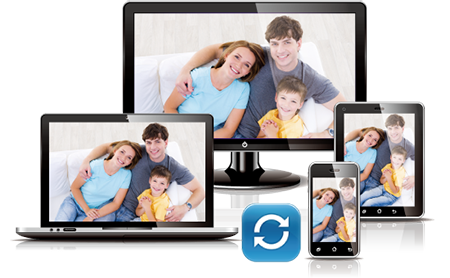 Sync in multiple ways
Full Sync
Whenever you add, edit, delete or rename a file on one computer, the change applies to all others linked with the Turbo NAS, so you have exactly identical contents on all your devices.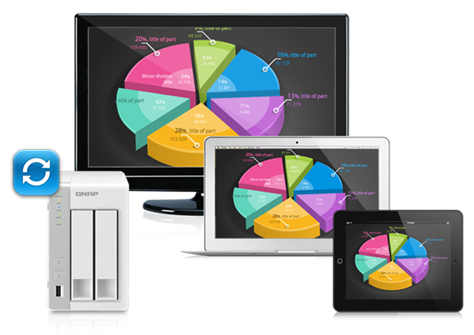 Smart Sync
It allows you to remove files on one computer without affecting the copies stored on others that are linked with the Turbo NAS. However, when someone updates the files you deleted from another computer, you can still retrieve them in the Qsync folder.








Advanced Selective Sync
With both Full Sync or Smart Sync options, you can choose to only sync specific sub-folders within the Qsync folder, useful if your computers have limited storage.



Share files and folders easily
Quickly share files with download links
You can create download links to share files with people, even if they don't have an account on the Turbo NAS. This greatly reduces the time in creating user account and password for users.
Share folders for collaboration
Your life is connected with different groups of people. You can create sub-folders within the Qsync folder, and share each with different groups of Turbo NAS users as a file exchange center. Everyone in the same sub-folder is always kept up-to-date with the latest version of the files.



QNAP NetBak Replicator
Backup data on PC
The QNAP NetBak Replicator, provided with any Turbo NAS unit free of charge, helps you easily back up files from Windows PC - entire disk drives, documents, pictures, music, videos, fonts, emails, and more - to the Turbo NAS. The operation is very simple. You can do the backup task in just a few clicks using NetBak Replicator by the setting of real-time synchronization, scheduled backup and auto-backup from multiple PCs to the Turbo NAS.
NetBak Replicator also supports backing up to a remote server via FTP and WebDAV through the Internet. Imagine that you can backup new photos whenever on vacation. Even you are away from home, the convenient backup supports your memories.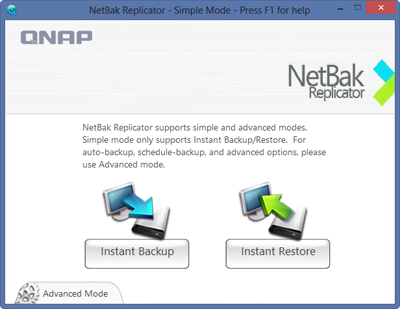 vsphere Client plug-in
Manage QNAP NAS within vSphere Client
The Turbo NAS supports vSphere Client Plug-in that allows managing VMware datastores on the Turbo NAS directly from the vSphere client console. In a large-scale server virtualization environment, management is centralized and straightforward. Administrators can easily control the status of the Turbo NAS and datastores and create additional datastores to multiple ESXi hosts in just a few clicks.
Note: The TS-x51 series doesn't support vSphere Client plug-in.


Q'center Virtual Appliance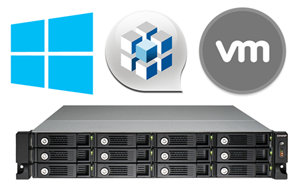 Deploy Q'center as virtual appliance
Q'center is a powerful QNAP NAS management system. The Q'center Virtual Appliance can be easily deployed in Microsoft Hyper-V or VMware ESXi to increase its flexibility and connectivity for large storage environments.
Minimum requirements:108 GB free disk space, 1 GB memory and 4 virtual CPUs
Supported platforms: VMware ESXi (ESXi 5.0, ESXi 5.1, ESXi 5.5), VMware Fusion 7, VMware Workstation 11, Microsoft Windows Server 2012 R2 with Hyper-V 3.0.
Use Q'center to monitor multiple NAS.
With Q'center, you can view the status and system information of multiple QNAP NAS units at the same time, inspect system resource usage, monitor disk/volume health and perform other management tasks. With these features, Q'center can better assist IT administrators and QNAP NAS users in system resource allocation and future capacity planning.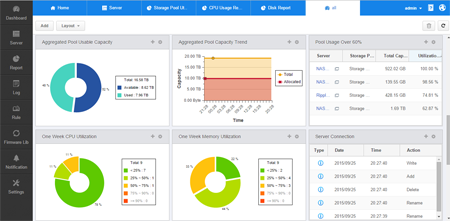 QNAP Snapshot Agent
In QTS 4.2, the Storage Manager's Snapshot function supports iSCSI LUNs to rapidly back up and restore data. When creating a LUN snapshot, QNAP Snapshot Agent for Windows Server or VMware vCenter allows the NAS to communicate with the remote server when taking snapshots and ensures Application-consistent LUN snapshots.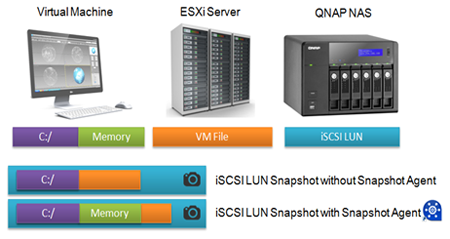 VSS Hardware Provider also allows NAS ROW (Redirect on Write) instead of Windows COW (Copy on Write) to increase backup efficiency and to offload the snapshot to the NAS for reducing the performance impact on the Windows server.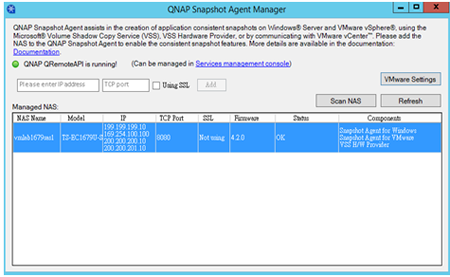 Qsnap

Take screenshots, easy and fast
Qsnap is a handy utility assisting you to quickly capture screenshots on your PC, and easily edit, save, and share, enabling quick note-taking or productive communication in your work and life.

Hotkey capturing: Taking PC screenshots without complicated mouse operations.
Easy editing: Add emphasis or remove unnecessary elements with a range of editing tools.
Instant sharing: Simply drag and drop the screenshots to instant messengers and emails as attachments to share.