QNAP QG-103N

7-in-1 power bank with mobile NAS functions and more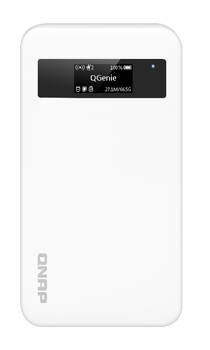 This product is no longer available. Please Contact Us for a replacement.
Overview:
QGenie is a power bank that can charge your mobile devices, coupled with a mobile NAS function to centrally store your photos, music and files. With QGenie, you can create a personal cloud for convenient remote file access and sharing on the go. QGenie also enables you to easily back up and retrieve your phonebook from mobile devices, share Internet access as a wireless access point (AP), and is ideal as an in-vehicle media center for streaming music to a car stereo from a Bluetooth-enabled mobile phone and playing various media formats across different mobile devices, allowing you to enjoy the utmost convenience when outside.
Power bank
Phonebook backup
Mobile NAS
Personal Cloud
Wireless AP for IP sharing
In-vehicle media center
USB 3.0 SSD (32G)
Quickly charge your mobile devices
With a 3000mAh power capacity, QGenie can serve as a power bank to charge your mobile devices via USB connection* at an outstanding conversion rate of up to 90%. A fully-charged QGenie can provide approximately 1.5 times the battery capacity of the average smartphone, 2 times that of an MP4 player, and takes less than 2 hours to fully charge those devices.
*The charging time may vary due to environment and devices used.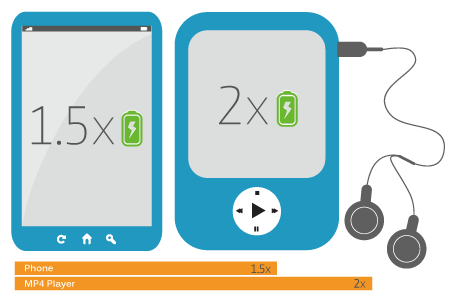 * Tested in QNAP lab. Figures could vary by environments.
7 types of circuit protection mechanisms

Over-temperature
protection

Overcharge
protection

Overvoltage
protection

Overcurrent
protection

Over-discharge
protection

Advanced
SDP/DCP support

Short circuit
protection
Innovative charging design
Charge QGenie and another mobile device at the same time with just one adaptor.

Phonebook Backup - Never lose your important contacts again
QGenie provides a hassle-free, 3-step solution to back up the contacts on your mobile devices, and to restore them at any time by using the Qfile mobile app. With scheduled backup, you don't need to worry about losing your important contacts when your phone breaks or is lost. QGenie also allows contacts to be restored across Android and iOS devices, making it ideal for those who have multiple phones or when they switch to a new one.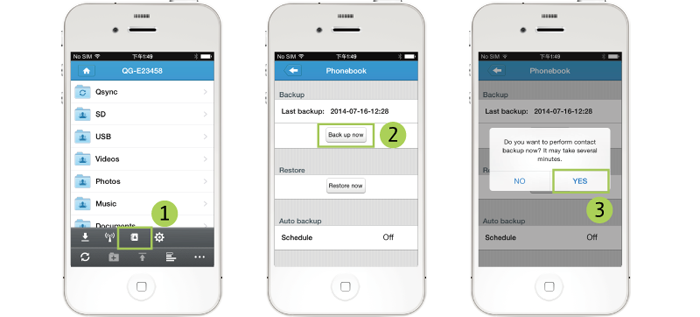 Mobile NAS – File storage & sharing on the go
With just two simple steps, you can start experiencing the convenience of NAS and enjoy centralized file storage, backup, and sharing anytime by using the Qfile mobile app. The pocket-sized QGenie makes file sharing on the go simple & easy by allowing connections from up to 20 devices including PCs, Macs, Android, and iOS devices via wireless LAN and also by supporting simultaneous file access by up to 8 devices.
*To fully enjoy the functions of QGenie, please update your Qfile to version 1.6.0 or above.
| | |
| --- | --- |
| Step 1: Install Qfile from App Store or Google Play | Step 2: Connect to the QGenie Wi-Fi ID, and use Qfile to search for QGenie |
You can take photos with your mobile devices and upload to the organized file folders on QGenie manually or automatically for easy sharing with your family and friends without the need of sending emails or exchanging USB drives. When fully-charged, QGenie can provide service for more than 10 hours – more than enough for the average day's use.
Personal Cloud - Easily access files anywhere
You can take QGenie anywhere and enjoy your private media collection across multiple devices wirelessly via the Qfile mobile app. The built-in myQNAPcloud service allows you to remotely access all of the files stored on QGenie and connected USB drives while you are away, allowing you to build up a cost-effective private cloud.

Wireless AP - IP sharing with multiple devices
You can quickly share Internet access with QGenie through wired or Wi-Fi connections, smartphone hotspots, or an LTE/4G/3G dongle wirelessly and securely to multiple devices. It can save in Internet costs if you are traveling with multiple devices but have a limited Internet plan that can only serve one device. In addition, if you are using QGenie with a smartphone hotspot, it not only delivers stronger Internet signals but also charges your smartphones at the same time for worry-free usage.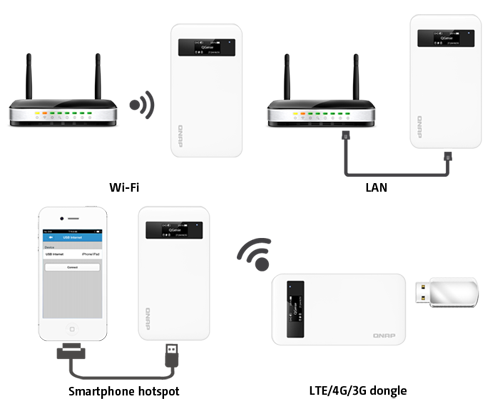 Share multimedia in a vehicle
With support for various media formats (including MKV, WMV, and RMVB), QGenie works perfectly as an in-vehicle media server that allows you to easily share multimedia with other passengers. You can also stream music stored on QGenie with a Bluetooth-enabled smartphone to the car stereo.
Portable USB storage
When connected to a PC or Mac, QGenie automatically turns into a high-performance portable 32GB SSD, providing extremely fast file transfer speeds of up to 120MB/s read and 40MB/s write via USB 3.0. By using SD cards and USB drives, QGenie is expandable up to 2TB capacity to store additional data and files. You can also connect QGenie to a Smart TV to enjoy your photos, music, and videos in your living room.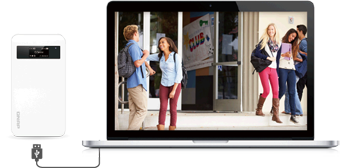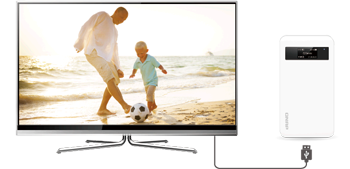 Seamless synchronizes with the Turbo NAS
QGenie can work with a QNAP Turbo NAS for flexible expansion capabilities. You can conveniently copy files from QGenie to the Turbo NAS with the USB one-touch-copy function and vice versa. When connecting to a PC or Mac with Qsync enabled, all of the files on QGenie can be automatically synchronized with your Turbo NAS, offering a scalable expansion solution to fulfill your needs in archiving rapidly-growing data and files.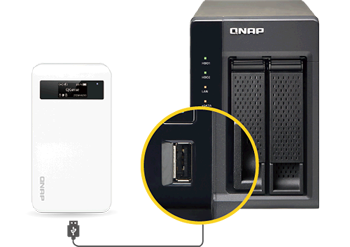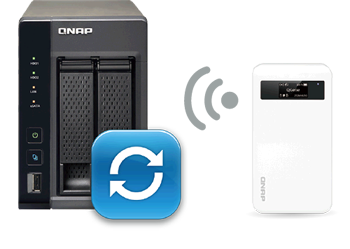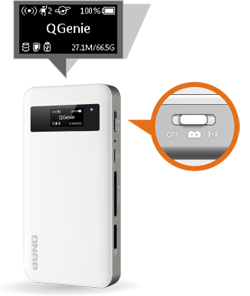 Advanced OLED display and convenient switches
The clear OLED display keeps you updated on QGenie's condition, providing a detailed overview on system, network, battery, and USB SSD status. With the easy-to-use slide switch design, you can conveniently turn on/off the QGenie and switch between Wi-Fi and power bank functionality to meet your various needs.
Perfect companion for professional photographers
Professional photographers can quickly run out of SD card storage space. With its SD card slot, QGenie is a convenient mobile card reader allowing you to quickly copy the contents to QGenie to make room for even more photos without a PC or Mac.


Easily set up network with Qfile
With just 3 steps, you can connect to a Wi-Fi connection and share the Internet with your mobile devices.
Step 1: Connect your mobile device to QGenie by using Qfile.
Step 2: Go to [Setting], choose [Internet] and then [Wireless Internet].
Step 3: QGenie will display all the available Wi-Fi connections, choose the one you want to connect to (and enter the password if necessary), and select [OK].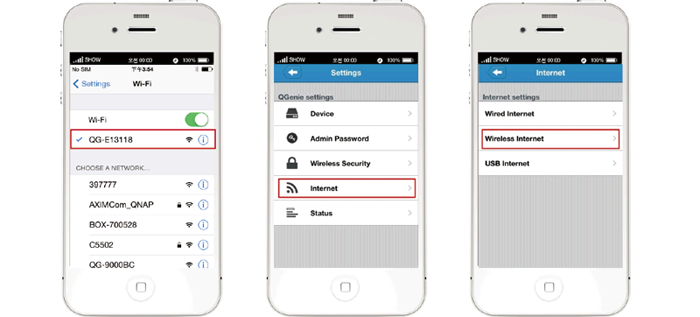 Specifications:
QG-103N Specifications
CPU
MIPS 24KEc 600MHz
Memory
64MB RAM
Flash Memory
16MB
Internal SSD
32GB
WiFi
802.11n 1T1R 150Mbps
LAN Port
1 x 100Megabit RJ-45 Ethernet port
OLED Display
Yes
LED Indicators
Power, Battery
USB
1 x USB 3.0 port
SD Card Slot
1 x SDXC
Buttons
Info, Reset
Mode Switch
WiFi Sharing/Power Bank/Off
Form Factor
Pocket size
Dimensions
115 (H) x 58.5 (W) x 17.5 (D) mm
Temperature
0-40˚C / 32-104°F
Weight
112 g
Power Consumption (W)
0-45˚C
Temperature
5~95% RH non-condensing, wet bulb: 27˚C
Humidity
No
Package Contents

QG-103N
USB Cable
Quick installation guide
Software Specifications:
Operating System

Supported Clients

Windows XP, Vista, Windows 7 (32/64-bit), Windows 8 (32/64-bit), Windows Server 2003/2008 R2/2012
Apple Mac OS X
Linux & UNIX

Wired Internet Sharing

ADSL/VDSL (PPPoE)
Cable Modem (DHCP)
Hotel/Office LAN (DHCP)
User Defined Network (Static)

Supported Browsers

Microsoft Internet Explorer 10+
Mozilla Firefox 8+
Apple Safari 4+
Google Chrome

Apps/Utilities

Qfile (iOS/Android)
Qsync (Windows)
Qfinder (Windows)

Access Right Management

Guest/Admin Mode
Access Password Protection

Multimedia Formats (**)

Photos: JPG, GIF, PNG, TIFF, BMP
Documents: DOC, DOCX, PPT, PPTX, XLS, XLSX, KEY, NUMBERS, PAGES, TXT, RTF, PDF
Audio: MP3, AAC, M4A, AIF, WAV, WMA, OGG, APE, FLAC
Video: WMV, AVI, MKV, RM, RMVB, XVID, MP4, MOV, 3GP, MPG, M4V

File System

FAT32, NTFS, exFAT, HFS+, ext2, ext3, ext4 (up to 2TB)

File Access/Discovery Protocols

Qfile API
WebDAV
Network Neighborhood (CIFS/Samba)
UPnP Discovery
Bonjour Discovery

Wireless Internet Sharing

Hotel/Office/Home WiFi (DHCP)

USB Internet Sharing

iPhone Tethering (iOS 6, iOS7)
Android Tethering (4.0/4.1/4.2/4.3/4.4)
4G/3G/LTE USB Modem

Security

WiFi Protection: WPA / WPA2 / WEP

Multilingual Support

Management

Firmware Upgrade
Factory Default
Dashboard-based Resource Monitor
* Not all services are supported.
** The support of all formats comes from the mobile devices or 3rd party software. QGenie and Qfile don't encode/decode the multimedia data
Utilities:
Various handy utilities are available for you to work smartly with your Turbo NAS. These utilities help increase your productivity and make it absolutely easy with connecting the Turbo NAS, setting up the system, data backup and synchronization, downloading files, and so on.
Qfinder
Connect and set up NAS easily
Qfinder is a utility, available for Windows, Mac, and Linux, to quickly find and access the Turbo NAS over the LAN. Install the Finder on your computer, open it, and double click your Turbo NAS name, and the login page is ready for you.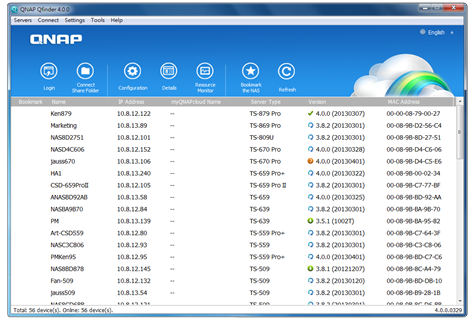 Easily access the NAS by Storage Plug & Connect
Windows version of Qfinder provides a convenient way to connect to the Turbo NAS and map a network drive or a virtual disk. By creating a shared folder on the Turbo NAS and mapping it as a network drive, you can use it as an additional drive and store files on it as it is a local drive of the computer.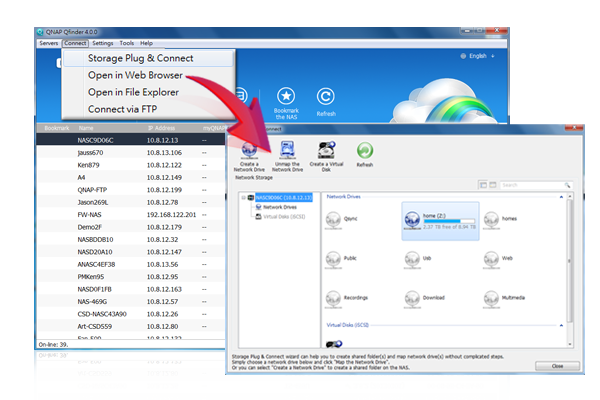 myQNAPcloud Connect
NAS Connection by VPN
myQNAPcloud Connect helps you access the published services of the Turbo NAS quickly and securely on the Internet. myQNAPcloud Connect application is designed for Windows PC users. By installing the myQNAPcloud Connect, you will be able to connect to the Turbo NAS and easily manage files by drag-and-drop within the Windows Explorer.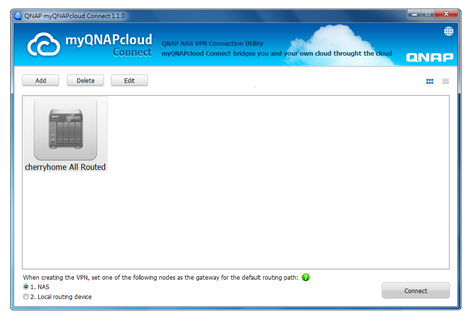 Qsync
Synchronize files anytime, anywhere
Qsync is a useful tool to synchronize files in multiple computers. It creates a specific "Qsync folder" in your devices that you can simply drop files in, and synchronizes the files to all your devices linked to the Turbo NAS.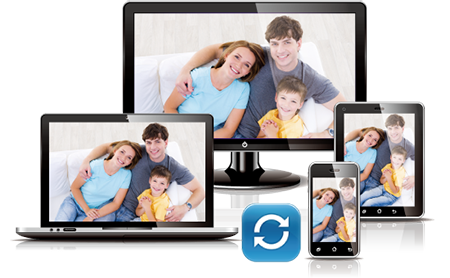 Sync in multiple ways
Full Sync
Whenever you add, edit, delete or rename a file on one computer, the change applies to all others linked with the Turbo NAS, so you have exactly identical contents on all your devices.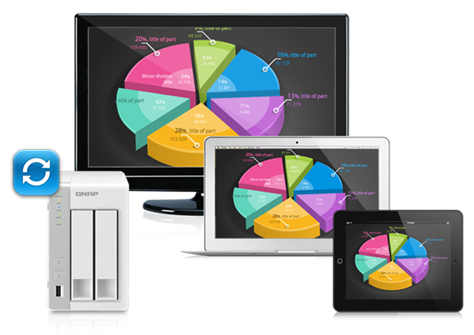 Smart Sync
It allows you to remove files on one computer without affecting the copies stored on others that are linked with the Turbo NAS. However, when someone updates the files you deleted from another computer, you can still retrieve them in the Qsync folder.







Advanced Selective Sync
With both Full Sync or Smart Sync options, you can choose to only sync specific sub-folders within the Qsync folder, useful if your computers have limited storage.



Share files and folders easily
Quickly share files with download links
You can create download links to share files with people, even if they don't have an account on the Turbo NAS. This greatly reduces the time in creating user account and password for users.
Share folders for collaboration
Your life is connected with different groups of people. You can create sub-folders within the Qsync folder, and share each with different groups of Turbo NAS users as a file exchange center. Everyone in the same sub-folder is always kept up-to-date with the latest version of the files.


QNAP NetBak Replicator
Backup data on PC
The QNAP NetBak Replicator, provided with any Turbo NAS unit free of charge, helps you easily back up files from Windows PC - entire disk drives, documents, pictures, music, videos, fonts, emails, and more - to the Turbo NAS. The operation is very simple. You can do the backup task in just a few clicks using NetBak Replicator by the setting of real-time synchronization, scheduled backup and auto-backup from multiple PCs to the Turbo NAS.
NetBak Replicator also supports backing up to a remote server via FTP and WebDAV through the Internet. Imagine that you can backup new photos whenever on vacation. Even you are away from home, the convenient backup supports your memories.


QGet
Download Station monitor widget
QGet is a powerful utility for download management. The software is available for Windows and Mac computers, allowing the management of BT, HTTP, and FTP download tasks of Download Station on multiple Turbo NAS servers.
QGet enables you to add, remove, or watch your BT download jobs from LAN or WAN. You can manage your download tasks in school or at work. QGet supports intuitive drag and drop of torrent files, HTTP or FTP URL to the software interface for convenient adding of download tasks.


vsphere Client plug-in
Manage QNAP NAS within vSphere Client
The Turbo NAS supports vSphere Client Plug-in that allows managing VMware datastores on the Turbo NAS directly from the vSphere client console. In a large-scale server virtualization environment, management is centralized and straightforward. Administrators can easily control the status of the Turbo NAS and datastores and create additional datastores to multiple ESXi hosts in just a few clicks.
Note: The TS-x51 series doesn't support vSphere Client plug-in.


Qsnap

Take screenshots, easy and fast
Qsnap is a handy utility assisting you to quickly capture screenshots on your PC, and easily edit, save, and share, enabling quick note-taking or productive communication in your work and life.

Hotkey capturing: Taking PC screenshots without complicated mouse operations.
Easy editing: Add emphasis or remove unnecessary elements with a range of editing tools.
Instant sharing: Simply drag and drop the screenshots to instant messengers and emails as attachments to share.