QNAP REXP-1000 Pro

SAS/SATA/SSD RAID Expansion Enclosure for Turbo NAS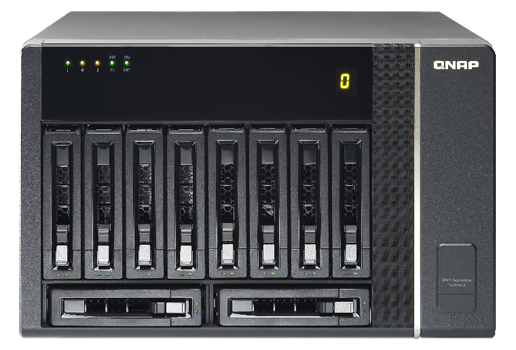 Sorry, this product is no longer available, Please contact us for a replacement.
Overview:
The QNAP REXP-1000 Pro expansion enclosure is designed for expanding the storage space on the Turbo NAS and can support maximum 240TB raw capacity* by connecting multiple expansion enclosures via high-speed mini SAS cables. This is especially useful for large data applications, such as video surveillance, data archiving, and TV broadcast storage.
Package Content
QNAP REXP-1000 Pro 10-Bay SAS RAID Expansion Enclosure
1.6' / 0.5m SAS Cable
Power Cord
40 x Flat Head Screws for 2.5" HDDs
40 x Flat Head Screws for 3.5" HDDs
Highlights:
Plug and use, seamless capacity expansion
Missing mode protection
High density, high efficiency and high scalability
Flexibly manage storage with the QTS Storage Manger
Backup storage for the Turbo NAS
Supports SAS/SATA 6Gbps HDD and SSD
* Supported Turbo NAS models and maximum number of applicable expansion enclosures.
Supported NAS models
TS-EC1080 Pro
TS-EC880 Pro
TS-1079 Pro
TS-879 Pro
TS-870 Pro
TS-870
TS-670 Pro|
TS-670
TS-470 Pro
TS-470
RAM of NAS
>= 4GB
>= 4GB
2GB
2GB
2GB
2GB
Maximum number of connected REXP-1600U-RP
4*
4*
2
2
2
2
Maximum number of hard drives
50
48
30
28
26
24
Maximum raw capacity
300 TB
288 TB
180 TB
168 TB
156 TB
144 TB
Maximum RAID group size in NAS
60 TB
48 TB
60 TB
48 TB
36 TB
25 TB
Maximum RAID group size in REXP-1600U-RP
60 TB
Maximum number of RAID groups per storage pool
128
Maximum storage pool size
200 TB
192 TB
120 TB
112 TB
104 TB
96 TB
Maximum number of storage pools per system
128
Maximum Flexible Volume size
200 TB
192 TB
120 TB
112 TB
104 TB
96 TB
Maximum iSCSI LUN size
200 TB
192 TB
120 TB
112 TB
104 TB
96 TB
*The TS-EC880 Pro and TS-EC1080 Pro are shipped with 2GB RAM which supports a maximum of two REXP-1000 Pro expansion enclosures. Upgrading to 4GB RAM allows them to support up to four REXP-1000 Pro.
**The maximum capacity is calculated by 6TB HDDs.
Plug and use, seamless capacity expansion
Simply connect a REXP-1000 Pro to a Turbo NAS* and power it on. The Turbo NAS will detect the hard drives in the REXP-1000 Pro as newly installed local drives. The Turbo NAS capacity can be expanded seamlessly by using the powerful QTS Storage Manager.
* Optional purchase of SAS expansion card and QTS 4.1.0 (or newer) are required for the Turbo NAS.

Missing mode protection
When the disconnection of a RAID expansion enclosure is detected, the Turbo NAS blocks IO access to protect data. The system can recover from the missing mode to the normal state with data staying intact.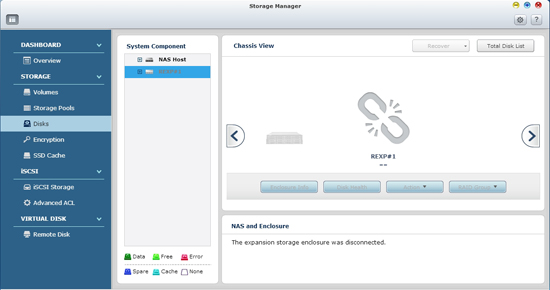 High density, high efficiency and highly scalable
The REXP-1000 Pro supports 10 hard drives and 50TB raw capacity, and has two SAS wide ports (IN port and OUT port) for host connectivity and daisy-chain respectively. Each SAS wide port combines four SAS channels (maximum 8 SAS channels supported per expansion enclosure). The solution delivers unprecedented performance of up to 24Gbps per host connection.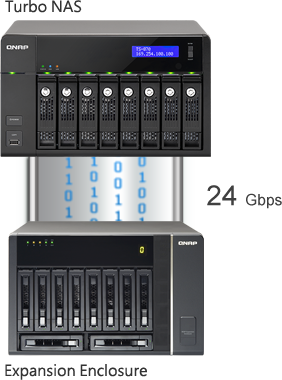 Powerful QTS Storage Manager
The QTS Storage Manager neatly presents tools and options for managing system storage with an intuitive graphical user interface, which simplifies the process of NAS capacity expansion and REXP-1000 Pro management. IT administrators can easily monitor the health status of REXP-1000 Pro and the disks within it. When cascading multiple expansion enclosures in a rack, the Locate Disk and Locate Enclosure functions assist IT administrators for quick maintenance.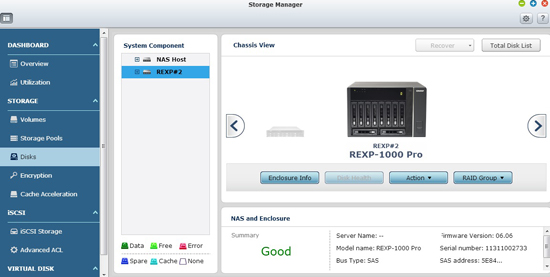 An excellent backup solution for the Turbo NAS
In addition to expanding an existing volume, IT administrators can use the REXP-1000 Pro as a budget-friendly external storage to perform speedy and secure backup tasks for the Turbo NAS. The QNAP RTRR (Real-Time Remote Replication) or rsync service lets IT administrators back up the Turbo NAS data to the REXP-1000 Pro on a real time or scheduled basis.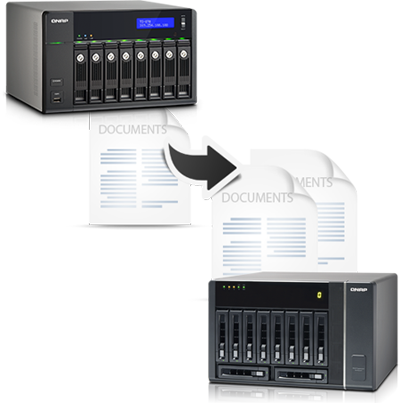 Flexible drive type and capacity
The REXP-1000 Pro offers high flexibility in hard drive selection. IT administrators can choose enterprise-level SAS HDDs with high performance and high reliability for mission critical applications, low-cost but high-capacity SATA HDDs for large data archiving, or high-speed and high stability SSDs for I/O intensive operations.
| | | |
| --- | --- | --- |
| | | |
| SAS | SATA | SSD |
| 2.5 "/3.5" | 2.5 "/3.5" | |
Specifications:
REXP-1000 Pro Specification
Host Interface
Two SAS 6Gbps 4x wide port (IN port, OUT port)
Hard Drive
10 x 3.5-inch SAS/SATA 6Gb/s, SAS/SATA 3Gb/s hard drive or 2.5-inch SAS/SATA, SSD hard drive
LED Indicators
Front panel: Status, fan error, system over heat, SAS link, SAS error, enclosure ID
Form Factor
Tower
Dimensions
217.5(H) x 327(W) x 321.2(D) mm
8.54(H) x 12.87(W) x 12.65(D) inch
Weight
Net weight (NAS only) : 9.24 kg/20.37 lb
Gross weight (with packing and accessories) : 13.78 kg/30.38 lb
Sound Level
Standby: 24.5 dB
In operation: 34.6 dB
Power Supply
ATX 350W, Input: 110-240 Vac~, 47-63Hz, 5A
Power Consumption
Sleep mode: 63.6W
In operation: 169.52W
(with 10 near line SAS hard drive installed)
Temperature
0-40°C
Relative Humidity
5~95% RH non-condensing, wet bulb: 27˚C.
COM Port
Reserved for system maintenance
Fan
2 x 12 cm smart cooling fan
Package contents

REXP-1000 Pro
Hardware Installation CD
0.5m SAS cable
Power cord x 1
Flat head screw x 40 (for 2.5" HDD)
Flat head screw x 40 (for 3.5" HDD)
Quick Installation Guide
Optional Accessories:
Accessories(optional purchase)
Order P/N
Product descriptions
CAB-SAS10M-8088
Mini SAS external cable (SFF-8088 to SFF-8088), 1.0 m
CAB-SAS05M-8088
Mini SAS external cable (SFF-8088 to SFF-8088), 0.5 m
Utilities:
Various handy utilities are available for you to work smartly with your Turbo NAS. These utilities help increase your productivity and make it absolutely easy with connecting the Turbo NAS, setting up the system, data backup and synchronization, downloading files, and so on.
Qfinder
Connect and set up NAS easily
Qfinder is a utility, available for Windows, Mac, and Linux, to quickly find and access the Turbo NAS over the LAN. Install the Finder on your computer, open it, and double click your Turbo NAS name, and the login page is ready for you.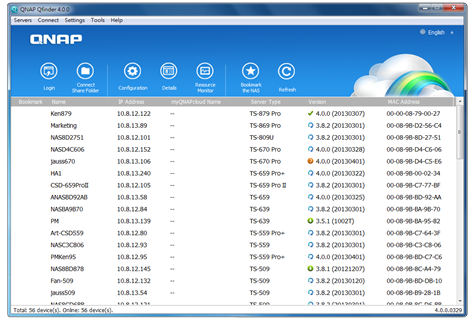 Easily access the NAS by Storage Plug & Connect
Windows version of Qfinder provides a convenient way to connect to the Turbo NAS and map a network drive or a virtual disk. By creating a shared folder on the Turbo NAS and mapping it as a network drive, you can use it as an additional drive and store files on it as it is a local drive of the computer.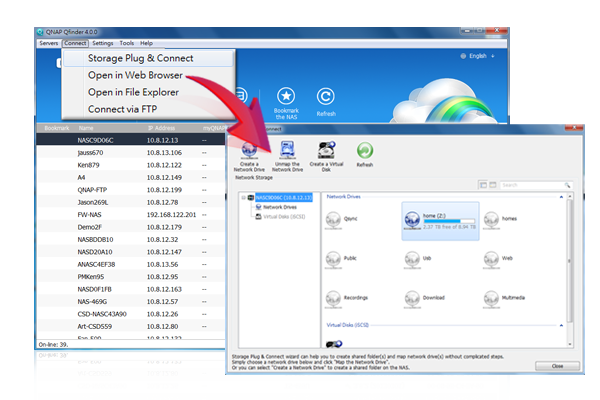 myQNAPcloud Connect
NAS Connection by VPN
myQNAPcloud Connect helps you access the published services of the Turbo NAS quickly and securely on the Internet. myQNAPcloud Connect application is designed for Windows PC users. By installing the myQNAPcloud Connect, you will be able to connect to the Turbo NAS and easily manage files by drag-and-drop within the Windows Explorer.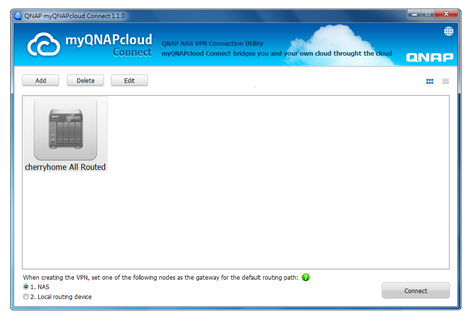 Qsync
Synchronize files anytime, anywhere
Qsync is a useful tool to synchronize files in multiple computers. It creates a specific "Qsync folder" in your devices that you can simply drop files in, and synchronizes the files to all your devices linked to the Turbo NAS.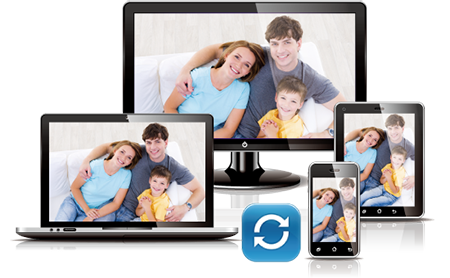 Sync in multiple ways
Full Sync
Whenever you add, edit, delete or rename a file on one computer, the change applies to all others linked with the Turbo NAS, so you have exactly identical contents on all your devices.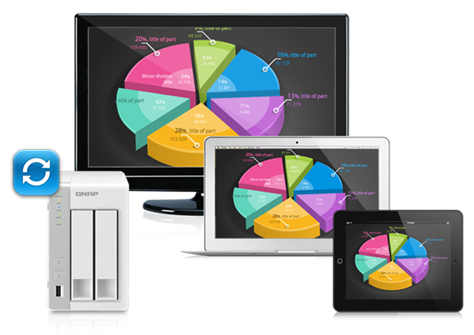 Smart Sync
It allows you to remove files on one computer without affecting the copies stored on others that are linked with the Turbo NAS. However, when someone updates the files you deleted from another computer, you can still retrieve them in the Qsync folder.







Advanced Selective Sync
With both Full Sync or Smart Sync options, you can choose to only sync specific sub-folders within the Qsync folder, useful if your computers have limited storage.



Share files and folders easily
Quickly share files with download links
You can create download links to share files with people, even if they don't have an account on the Turbo NAS. This greatly reduces the time in creating user account and password for users.
Share folders for collaboration
Your life is connected with different groups of people. You can create sub-folders within the Qsync folder, and share each with different groups of Turbo NAS users as a file exchange center. Everyone in the same sub-folder is always kept up-to-date with the latest version of the files.


QNAP NetBak Replicator
Backup data on PC
The QNAP NetBak Replicator, provided with any Turbo NAS unit free of charge, helps you easily back up files from Windows PC - entire disk drives, documents, pictures, music, videos, fonts, emails, and more - to the Turbo NAS. The operation is very simple. You can do the backup task in just a few clicks using NetBak Replicator by the setting of real-time synchronization, scheduled backup and auto-backup from multiple PCs to the Turbo NAS.
NetBak Replicator also supports backing up to a remote server via FTP and WebDAV through the Internet. Imagine that you can backup new photos whenever on vacation. Even you are away from home, the convenient backup supports your memories.


QGet
Download Station monitor widget
QGet is a powerful utility for download management. The software is available for Windows and Mac computers, allowing the management of BT, HTTP, and FTP download tasks of Download Station on multiple Turbo NAS servers.
QGet enables you to add, remove, or watch your BT download jobs from LAN or WAN. You can manage your download tasks in school or at work. QGet supports intuitive drag and drop of torrent files, HTTP or FTP URL to the software interface for convenient adding of download tasks.


vsphere Client plug-in
Manage QNAP NAS within vSphere Client
The Turbo NAS supports vSphere Client Plug-in that allows managing VMware datastores on the Turbo NAS directly from the vSphere client console. In a large-scale server virtualization environment, management is centralized and straightforward. Administrators can easily control the status of the Turbo NAS and datastores and create additional datastores to multiple ESXi hosts in just a few clicks.
Note: The TS-x51 series doesn't support vSphere Client plug-in.


Qsnap

Take screenshots, easy and fast
Qsnap is a handy utility assisting you to quickly capture screenshots on your PC, and easily edit, save, and share, enabling quick note-taking or productive communication in your work and life.

Hotkey capturing: Taking PC screenshots without complicated mouse operations.
Easy editing: Add emphasis or remove unnecessary elements with a range of editing tools.
Instant sharing: Simply drag and drop the screenshots to instant messengers and emails as attachments to share.