QNAP TBS-453A

4-Bay M.2 SSD NASbook: A Compact yet Versatile Quad-core M.2 SSD NAS

Sorry, this product is no longer available, please contact us for a replacement.
Overview:
Compact, near-silent, and versatile, the 4-bay M.2 SSD NASbook TBS-453A is ideal for office meetings and multimedia applications. Featuring a quad-core Intel® 1.6GHz processor, a built-in 4-port network switch, and using up to 4 M.2 SSDs for storage, the TBS-453A not only provides full-fledged NAS functions with RAID protection, but also can act as a switch and share network access with multiple users regardless of being powered on or off. Coupled with its dual HDMI output and 4K H.264 video display & transcoding abilities, the TBS-453A can easily be carried to meetings to present stored files and quality multimedia content. The TBS-453A also supports the open-source Linux® platform that allows you to directly utilize feature-rich Linux® apps, enjoying a private cloud combining storage and IoT applications.
Package Content
4-Bay M.2 SSD NASbook: A Compact yet Versatile Quad-core M.2 SSD NAS
2 x Ethernet Cables
65W AC Adapter
Power Cord
6 x Flat Head Screws
4 x M.2 SSD Heatsinks
Quick Installation Guide (QIG)
Infrared (IR) Remote Control
Built-in 4-port LAN switch, combined with advanced virtual switch functionality for maximized network flexibility
Dual HDMI output with duplicated and extended desktop options
Use the TBS-453A as a PC with exclusive QvPC Technology and 4K (H.264) support
Supports Linux® OS with direct output via HDMI
Store, backup, and share files with snapshots and versioning
Wide range 10V ~ 20V DC power input
Expand the total raw storage capacity with a UX-800P/UX-500P expansion enclosure
Build a karaoke system with the OceanKTV app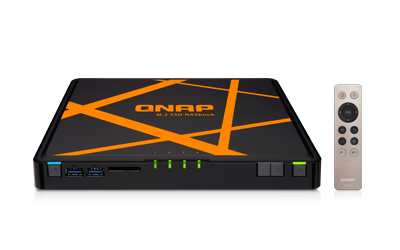 Specifications:
TBS-453A Specifications
Ordering P/N
TBS-453A-4G
TBS-453A-8G
Processor
14nm Intel® Celeron® N3150 quad-core 1.6GHz, burst up to 2.08GHz
Floating Point Unit
Hardware Encryption Acceleration
(AES-NI)
GPU
8th generation Intel HD Graphics
System Memory
4GB (2 x 2GB)
8GB (2 x 4GB)
Maximum Memory
8GB
Memory Slot
2, SODIMM DDR3L-1600 (*For dual-DIMM configurations, you must use a pair of identical DDR3L RAM modules.)
Flash
4GB
Drive Type
4 x M.2 2280/2260/2242 SATA 6Gb/s SSDs
Pre-installed M.2 SSDs
-
-
Raw Capacity
Optional purchase
Optional purchase
Default Capacity (Factory Configuration)
Optional purchase
Optional purchase
Network
5 x Gigabit LAN ports (Port 1 and any of the four ports from 2-1 to 2-4 are available to the 2 built-in network cards, and the remaining three ports can work as switch ports.)
USB Port
4 x USB 3.0 & 1 x USB 2.0 ports
Support USB printer, pen drive, and USB UPS, etc.
Video Output
2 x HDMI, up to 4K 2160P 30Hz Ultra HD support
Audio Input
2 x 3.5mm microphone jack (dynamic microphone only)
Audio Output
1 x built-in speaker, 1 x line out jack (for amplifier or headphone amplifier)
LED
Status/Power, USB, SSD 1-4
Button
Power, USB one-touch-backup, Reset, Volume Up, Volume Down
IR Receiver
, support QNAP RM-IR002, RM-IR003 and MCE-compatible Remote Control(DM)
Security
Kensington security slot
Dimension (HxWxD)
25 x 230 x 165 mm / 0.98 x 9.06 x 6.50 inch
Weight
724g / 1.60lbs.
724g / 1.60lbs.
Power Consumption (W)
System sleep mode: 0.98W
SSD standby: 13.05W
In operation: 15.2W
Sound Level**
Sound pressure (LpAm) :10.8 dB(A)
Working Temperature
0-40˚C
Relative Humidity
5~95% RH non-condensing, wet bulb: 27˚C
Power
DC10V-20V wide input range
Fan
Compact internal fan
Package Contents
NASbook, 65W 19V AC adapter, power cord, quick installation guide, Ethernet cable x 2, remote control, SSD installation kit

| | | | |
| --- | --- | --- | --- |
| 1. | Button for USB One Touch Copy | 10. | HDMI 2 |
| 2. | USB 3.0 (One Touch Copy) | 11. | HDMI 1 |
| 3. | USB 3.0 | 12. | USB 3.0 |
| 4. | SD Card Reader | 13. | Line Out, MIC In 1 & 2 |
| 5. | SSD 1 - 4 | 14. | LAN Port 2-1, 2-2, 2-3, 2-4 |
| 6. | Volume Down | 15. | LAN Port 1 |
| 7. | Volume Up | 16. | DC Input 10V-20V |
| 8. | Power Button / Status LED | 17. | USB 2.0 |
| 9. | Kensington Lock | 18. | Speaker |
*The SSD's available capacity may vary depending on whether over-provisioning is applied by the SSD manufacturer.
** Refer to ISO 7779 ; Maximum HDD loaded ; Bystander Position ; Average data from 1 meter in front of operating NAS
Pricing Notes:
Pricing and product availability subject to change without notice.
QNAP Products
Accessories
QNAP 8GB DDR3L RAM, 1600 MHz, SO-DIMM
For TS-x51, 451U, x53, x53U series, TS-453mini, IS-453S, TBS-453A (suggest to use the same size memory for both memory slots) and TVS-x63 series, TS-563, TS-x63U, TVS-x63, TS-251+,TS-451+, TS-x53BU, TS-963X, TS-x31P3
#RAM-8GDR3L-SO-1600
Our Price: $180.00
QNAP 4GB DDR3L RAM, 1600 MHz, SO-DIMM
For TS-x51, 451U, x53, x53U series (suggest to use the same size memory for both memory slots) and TVS-x63 series
#RAM-4GDR3L-SO-1600
Our Price: $100.00
QNAP 2GB DDR3L RAM, 1600 MHz, SO-DIMM
For TS-x51, 451U, x53, x53U series (suggest to use the same size memory for both memory slots) and TVS-x63 series
#RAM-2GDR3L-SO-1600
Our Price: $70.00