QNAP TS-1231XU-RP

Cost-effective quad-core NAS with dual 10GbE SFP+ ports and redundant power supplies

Sorry, this product is no longer available, please contact us for a replacement.
Overview:
The powerful quad-core TS-1231XU-RP includes two 10GbE SFP+ ports to fully support 10GbE high-speed networks at a budget price with maximized ROI. The TS-1231XU-RP provides versatile all-in-one functionalities and unique features including VJBOD (Virtual JBOD) - an economical way to utilize unused NAS storage space for expanding the storage capacity of other QNAP NAS - and Container Station - that allows users to rapidly develop and deploy Internet of Things (IoT) apps. The TS-1231XU-RP is a cost-effective storage solution designed for growing businesses looking for backup, restoration, private cloud, storage for virtualization, and to future-proof their IT infrastructure for 10GbE networks.
10GbE readiness, SSD cache, and hardware-accelerated encryption engine
VJBOD allows using the TS-1231XU-RP to expand the storage capacity of other QNAP NAS
Containerized virtualization and IoT app development with Container Station
Build a private cloud to centrally organize & manage files and backup tasks
Secure access with VPN Server & VPN Client
Quickly find files using a real-time, natural search with Qsirch
Scalable design allowing the connection of two QNAP expansion enclosures (UX-1200U-RP) to increase the total storage capacity up to 36 drives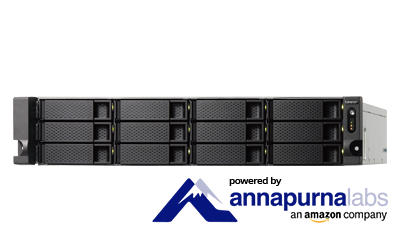 Specifications:
TS-1231XU-RP Specifications
Ordering P/N
TS-1231XU-RP-4G
CPU
AnnapurnaLabs, an Amazon company Alpine AL-314 Quad-Core 1.7 GHz ARM® Cortex-A15 CPU
Hardware Encryption Accleration
System Memory
4GB DDR3 (1 x 4GB)
Maximum Memory
16GB
Memory Slots
2 x SODIMM DDR3
(Note: For dual-DIMM configurations, you must use a pair of identical DDR3 RAM modules.)
Flash Memory
512MB
Drive Type
12 x 3.5"/2.5" SATA 6Gb/s HDDs/SSDs
10GbE LAN
2 x 10 Gigabit SFP+ LAN ports
GbE LAN
2 x Gigabit RJ45 LAN ports
USB
4 x USB 3.0 ports
PCIe Slot
1 x PCIe Gen2 (x2)
LED
Status/Power, LAN, HDD 1-12
Button
Power, Reset
Other
Kensington security slot, console port
Dimension (HxWxD)
89 x 482 x 534 mm
3.5 x 18.98 x 21.02 inch
Weight
Net: 12.99 kg (28.64 lbs.)
Gross: 14.93 kg (32.92 lbs.)
Operating Temperature
0-40˚C
Relative Humidity
5~95% RH non-condensing, wet bulb: 27˚C
Noise Level
47.6 dB(A)*
Power Consumption
HDD standby: 48W
In operation: 88.27W
(with 12 x 2TB HDDs installed)
Power
ATX 250W, 100-240V AC, 5A-2.5A, 50Hz-60Hz (x2)
Fan
2 x 7cm system fan (12V DC)
*Refer to ISO 7779 ; Maximum HDD loaded ; Bystander Position ; Average data from 1 meter in front of operating NAS
Pricing Notes:
Pricing and product availability subject to change without notice.
QNAP Products
Accessories
QNAP 8GB DDR3 RAM, 1600 MHz, SO-DIMM
TS-431XU, TS-431XU-RP, TS-831XU, TS-831XU-RP, TS-1231XU, TS-1231XU-RP, TS-1635, TS-531X, TS-831X, TS-531P, TVS-871, TVS-671, TVS-471, IS-400 Pro, TS-531P, TVS-871T, TS-x31P2, TS-431x2, TS-431X, TS-431XeU, TS-x31P3
#RAM-8GDR3-SO-1600
Our Price: $180.00
QNAP 4GB DDR3 RAM, 1600 MHz, SO-DIMM
TS-431XU, TS-431XU-RP, TS-831XU, TS-831XU-RP, TS-1231XU, TS-1231XU-RP, TS-1635, TS-531X, TS-831X, TS-531P, TVS-871, TVS-671, TVS-471, IS-400 Pro, TS-531P, TVS-871T,TS-x31P2, TS-431x2, TS-431X, TS-431XeU
#RAM-4GDR3-SO-1600
Our Price: $100.00
QNAP 2GB DDR3 RAM, 1600 MHz, SO-DIMM
TS-x69 Pro, x69L, x69U, TVS-x71 series, IS-400 Pro
#RAM-2GDR3-SO-1600
Our Price: $70.00
QNAP Rail Kit for 2U Rackmount Models
QGD-1600P, TL-R1200C-RP, TL-R1200S-RP, TL-R1220Sep-RP, TL-R1620Sep-RP, TL-R400S, TR-004U, TS-1231XU(-RP), TS-1232PXU-RP, TS-1232XU(-RP), TS-1232BU(-RP), TS-1253DU-RP, TS-1253U(-RP), TS-1263U(-RP), TS-1263XU(-RP), TS-1273AU-RP, TS-1273U(-RP), TS-1277XU-RP, TS-1283XU-RP, TS-1673AU-RP, TS-1886XU-RP, TS-h1886XU-RP, TS-431U, TS-431XU(-RP), TS-431XeU, TS-432PXU-RP, TS-432XU(-RP), TS-451DeU, TS-453BU(-RP), TS-453DU(-RP), TS-463U(-RP), TS-463XU(-RP), TS-831XU(-RP), TS-832PXU(-RP), TS-832XU(-RP), TS-853B
#RAIL-B02
Our Price: $99.00