QNAP TS-431KX

Budget-friendly quad-core 1.7GHz 10GbE SFP+ NAS for SMB and startup offices high-speed network storage environment
QNAP Products
SMB Products
QNAP TS-431KX ARM-based NAS with Hardware Encryption, Quad Core 1.7GHz, 2GB RAM, 1 x 10GbE(SFP+), 2 x 1GbE
Annapurna Labs AL214 4-core 1.7GHz, 2GB DDR3L RAM (Max. 8GB), SATA 6Gb/s, 1x10GbE (SFP+), 2x GbE LAN, HDD hot-swappable
#TS-431KX-2G-US
Our Price: $489.00
Click here to jump to more pricing!
Package Content
QNAP TS-431KX Storage
2 x Ethernet cable
1 x Power cords
Flat head screw (for 3.5" HDD)
Flat head screw (for 2.5" HDD)
Adapter
2 x Drive tray keys
Quick Installation Guide
Overview:
The quad-core TS-431KX provides four drive bays for high-capacity storage and memory expansion up to 8GB RAM. With the built-in 10GbE SFP+ port, the TS-431KX delivers high bandwidth required for intensive data transmission. Coupled with the QNAP 10GbE switch, you can easily build a high-speed 10GbE network environment with an affordable budget. The TS-431KX provides comprehensive local, off-site and cloud backup and supports Snapshot technology to help you create a reliable backup and disaster recovery plan. In the event of a system crash or accidental deletion of files, you can quickly restore the system to its normal state. The TS-431KX comes with lockable drive trays, ensuring the drives will not be accidentally removed or fall out and cause data loss.
Available Models
TS-431KX-2G-
AnnapurnaLabs AL-214 quad-core 1.7GHz processor, 2 GB RAM (expandable to 8 GB)

Single-port 10GbE connectivity enhances transfer speed for intensive data transmission and shortens backup time.

HBS (Hybrid Backup Sync) can backup and sync your data to other NAS, servers, and cloud storage for comprehensive backup and disaster recovery.

Snapshots fully record system status and data, allowing you to protect files and data from accidental deletion and malware attacks.

Supports LXC and Docker® containers for rapidly deploying application services across platforms, including cloud, servers, and PCs.

Hot-swapping design allows you to remove hard drives without powering off the NAS to ensure continuous operations.

Supports VJBOD (Virtual JBOD) technology to expand the storage space of another QNAP NAS.
Features:
High-speed 10GbE network environment
Powered by AnnapurnaLabs AL-214 quad-core 1.7 GHz processor with 2 GB DDR3L RAM (single memory slot, expandable to 8 GB), the TS-431KX features one 10 GbE SFP+ port and two Gigabit ports for high-speed data transfer. Coupled with QNAP QSW series network switch, you can easily upgrade your network environment to 10GbE affordably to enjoy streamlined workflow.
---
Easily Create a High-speed Network Environment
10GbE improves overall network performance and everyday tasks with ten times the bandwidth of 1GbE. From 10GbE NAS, to switches, to network adapters, QNAP provides a complete range of everything needed to upgrade to 10GbE environments.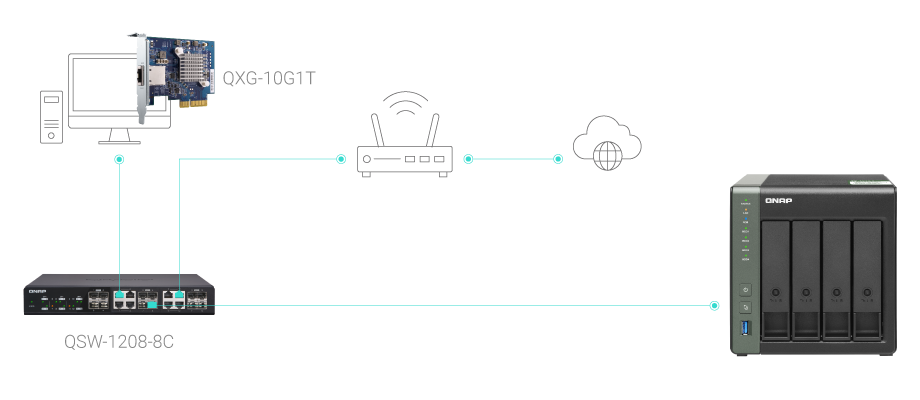 ---
Multi-Point File Backup, Access, and Sync
HBS (Hybrid Backup Sync) consolidates data backup, recovery, and data synchronization, integrated with the TS-431KX high-speed 10GbE connectivity, you can easily backup or sync data to another QNAP NAS, remote server or cloud storage to build a reliable disaster recovery solution. Qsync turns the TS-431KX into a secure, high-capacity data center for file synchronization. Any file uploaded to the TS-431KX will be made available for all linked devices, such as computers, laptops, and mobile devices. You can also sync shared folders or create team folders to enhance team collaboration. ---
Protect data against malware with Snapshots
Snapshots help protect your data by fully recording the NAS system state and metadata. If a file is accidentally deleted or modified, you can use snapshots from the Storage & Snapshots Manager or the File Station to quickly restore files to its previously-recorded state. QNAP snapshots are block-based and only record modified data. Not only does this save storage space, but it also reduces the time required to back up and restore data. The TS-431KX supports up to 32 snapshots per volume or LUN, and up to 64 snapshots in total.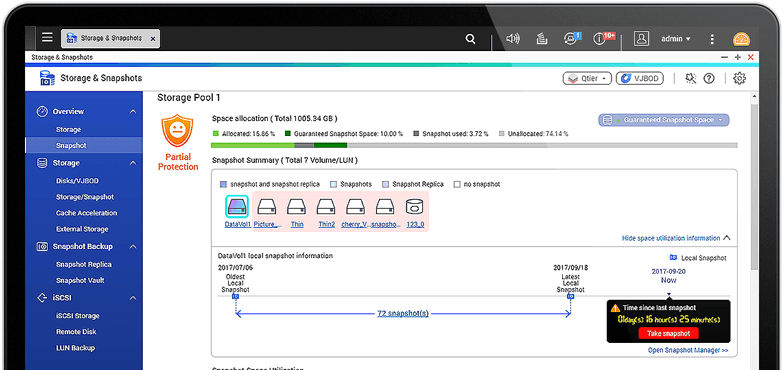 ---
Take full control of NAS system status and data security
Notification Center consolidates all QTS system events and alerts, providing you with a single-app solution for notifications. Security Counselor can evaluate and recommend TS-431KX security settings to improve NAS security.
Stay informed at all times
The Notification Center offers a single-app solution for the QTS system events and alert notifications. The center management system removes the need to configure different app settings and helps you streamline management processes and save time.
NAS security portal
Security Counselor checks for weaknesses and offers recommendations to secure your data against multiple cyberattack methods. It also integrates anti-virus and anti-malware software to ensure comprehensive protection of your QNAP NAS.
---
Comprehensive surveillance solution for 24/7 security
Surveillance Station features a user-friendly interface, supports over 3,000 compatible IP cameras, and provides expandable IP camera channel licenses, allowing you to build a comprehensive surveillance system for real-time monitoring, video and audio recording and playback. You can use the Vmobile app on your mobile devices to manage the monitored channels anytime anywhere. You can also use the QUSBCam2 App to add USB cameras into the Surveillance Station to view real-time images, store recordings for playback, enabling you to build a surveillance system economically.
3,000+
Compatible IP cameras
2
Free IP camera channels
QUSBCam2
Use USB webcams as IP cameras
---
Host container applications
Container Station integrates both LXC and Docker® lightweight virtualization technologies. You can download apps from the built-in Docker Hub®, easily import or export container apps, manage access controls and rapidly deploy application services across several platforms including the cloud, servers, and PCs.
---
Boost productivity with QNAP applications
QNAP File Station provides centralized file management allowing you to view and manage files on your TS-431KX and other storage or devices (such as USB storages or mobile devices). Qfiling can help you automate file organization, while Qsirch can accelerate file searches. You can also use the Qfile mobile app to access NAS files from a mobile device.

Qfiling
Qfiling automates file organization. Files are automatically archived into folders based on your settings.

Qsirch
Qsirch quickly finds images, music, videos, documents, emails, and other files based on keywords, colors and other different filters.

Qfile
Qfile mobile app allows you to access NAS files from a mobile device anytime anywhere while allowing you to upload and backup files on your phone to a NAS.
---
Easy Photo Management with QuMagie-Enabled AI Automated Photo Categorization
QuMagie brings you a brand-new photo management experience. By integrating an AI deep-learning algorithm, QuMagie enables facial recognition, object identification, and geography tagging of photos on your NAS. Similar photos are grouped together in the AI Albums (i.e., People, Things, and Places). Other useful features include a built-in timeline scroll, customizable folder covers, and a powerful search tool, providing you with the ultimate photo management and sharing solution.
---
Protects your sensitive data with file encryption
When sharing sensitive or confidential files on your TS-431KX, you can enhance data security by using File Station to encrypt them into .qenc files and set a password. The file recipients need to download and install QENC Decrypter on their computers and enter the password to decrypt, view and use encrypted .qenc files.
Note: The computer must run on Windows 8 (or later) or macOS 10.12 (or later) versions.
---
Flexible and economical storage expansion
QNAP provides easy storage capacity expansion solutions. Here are several ways to expand your NAS storage to accommodate data and business growth: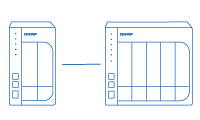 Attach Expansion Enclosures*
Connect 2 RAID expansion enclosures (TR-004 or TR-002) or 2 USB 3.2 Gen 2 JBOD (TL-D800C) and use the QTS Storage & Snapshots Manager to easily handle NAS capacity expansion.
*The expansion enclosure can only be used as an individual storage pool or volume on the NAS. Its storage pool or volume cannot be combined into the connected NAS.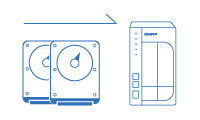 Upgrade RAID Capacity
Hot-swap lower-capacity drives with larger-capacity drives to expand your QNAP NAS capacity so it can grow with your business.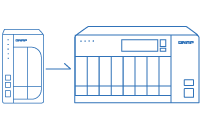 Migrate to a New NAS
Install your NAS hard drives into a larger QNAP NAS and retain all your existing data and configurations.
---
Extend hardware warranty up to 5 years
The TS-431KX is backed by a 2-year warranty at no extra cost. You can purchase a warranty extension to extend your warranty coverage up to five years.
Hardware Specifications:
TS-431KX-2G
CPU
AnnapurnaLabs, an Amazon company Alpine AL214, 4-core, 1.7GHz
CPU Architecture
32-bit ARM
Floating Point Unit
Encryption Engine
System Memory
2 GB SODIMM DDR3 (1 x 2 GB)
Maximum Memory
8 GB (1 x 8 GB)
Memory Slot
1 x SO-DIMM DDR3
Flash Memory
512 MB (Dual boot OS protection)
Drive Bay
4x 3.5-inch SATA 6Gb/s, 3Gb/s
Drive Compatibility
3.5-inch bays:
3.5-inch SATA hard disk drives
2.5-inch SATA hard disk drives
2.5-inch SATA solid state drives
Hot-swappable
SSD Cache Acceleration Support
Gigabit Ethernet Port (RJ45)
2
10 Gigabit Ethernet Port
1 x 10GbE SFP+
Jumbo Frame
Wake on LAN (WOL)

Only the 1GbE port
USB 3.2 Gen 1 port
3
Form Factor
Tower
LED Indicators
Power, Status, LAN, USB, HDD1-4
Buttons
Power, Reset, USB Auto Copy
Dimensions (HxWxD)
6.65 × 6.3 × 8.62 inch
Weight (Net)
4.43 lbs
Weight (Gross)
7.65 lbs
Operating temperature
0 - 40 °C (32°F - 104°F)
Relative Humidity
5-95% RH non-condensing, wet bulb: 27˚C (80.6˚F)
Power Supply Unit
90W Adapter, 100-240V
Power Consumption: HDD Sleep Mode
11.65 W
Power Consumption: Operating Mode, Typical
26.7 W
Tested with drives fully populated.
Fan
1 x 120mm, 12VDC
Sound Level
19.5 db(A)
System Warning
Buzzer
Kensington Security Slot
Max. Number of Concurrent Connections (CIFS)
400
Note: Use only QNAP memory modules to maintain system performance and stability. For NAS devices with more than one memory slot, use QNAP modules with identical specifications. Warning: Using unsupported modules may degrade performance, cause errors, or prevent the operating system from starting.
* Sound Level Test Environment: Refer to ISO 7779; Maximum HDD loaded; Bystander Position; Average data from 1 meter in front of operating NAS. Designs and specifications are subject to change without notice.
Pricing Notes:
Pricing and product availability subject to change without notice.
QNAP Products
SMB Products
QNAP TS-431KX ARM-based NAS with Hardware Encryption, Quad Core 1.7GHz, 2GB RAM, 1 x 10GbE(SFP+), 2 x 1GbE
Annapurna Labs AL214 4-core 1.7GHz, 2GB DDR3L RAM (Max. 8GB), SATA 6Gb/s, 1x10GbE (SFP+), 2x GbE LAN, HDD hot-swappable
#TS-431KX-2G-US
Our Price: $489.00
Cable / Transceiver
Mellanox MFM1T02A-SR 10GbE Transceiver
For use with SFP+ 10GbE (except x85U and 16489U)
#TRX-10GSFP-SR-MLX
Our Price: $129.00
SFP+ 10GbE twinaxial direct attach cable, 1.5M, S/N and FW update
For use with SFP+ 10GbE
#CAB-DAC15M-SFPP
Our Price: $50.00
SFP+ 10GbE twinaxial direct attach cable, 3.0M, S/N and FW update
For use with SFP+ 10GbE (except x85U)
#CAB-DAC30M-SFPP
Our Price: $70.00
RAM
QNAP 4GB DDR3 RAM, 1600 MHz, SO-DIMM
TS-431XU, TS-431XU-RP, TS-831XU, TS-831XU-RP, TS-1231XU, TS-1231XU-RP, TS-1635, TS-531X, TS-831X, TS-531P, TVS-871, TVS-671, TVS-471, IS-400 Pro, TS-531P, TVS-871T,TS-x31P2, TS-431x2, TS-431X, TS-431XeU
#RAM-4GDR3-SO-1600
Our Price: $100.00
QNAP 8GB DDR3 RAM, 1600 MHz, SO-DIMM
TS-431XU, TS-431XU-RP, TS-831XU, TS-831XU-RP, TS-1231XU, TS-1231XU-RP, TS-1635, TS-531X, TS-831X, TS-531P, TVS-871, TVS-671, TVS-471, IS-400 Pro, TS-531P, TVS-871T, TS-x31P2, TS-431x2, TS-431X, TS-431XeU, TS-x31P3
#RAM-8GDR3-SO-1600
Our Price: $180.00