QNAP TS-431X

High-performance business NAS with a built-in 10GbE SFP+ port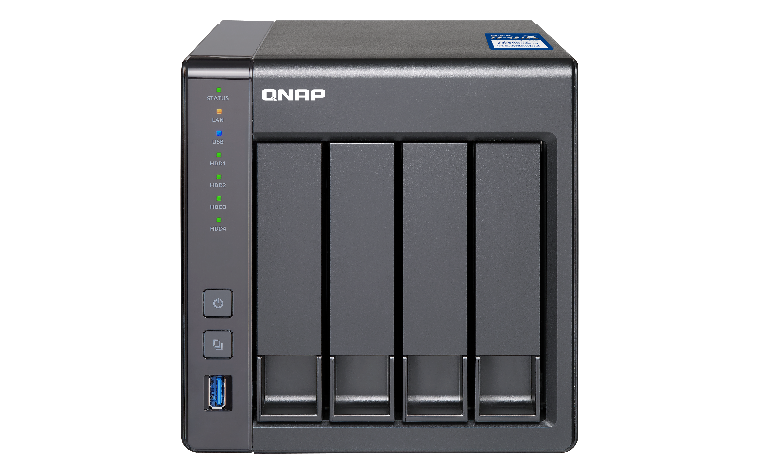 This product is no longer available, please contact us for a replacement!
Click here to jump to more pricing!
Overview:
The TS-431X supports 4 hard drives and comes with a built-in 10GbE SFP+ port for rigorous data processing, providing a cost-effective storage solution for demanding everyday business tasks. Powered by the QTS operating system, the TS-431X provides versatile all-in-one server functionalities and unique features including Container Station, which facilitates Internet of Things (IoT) development, and VJBOD (Virtual JBOD), which allows for expanding NAS capacity with another NAS. The TS-431X is an ideal entry-level NAS for businesses looking for backup, restoration, private cloud, storage for virtualization, and to future-proof their IT infrastructure for 10GbE networks.
10GbE readiness, SSD caching. and hardware-accelerated encryption
Enjoy containerized virtualization and IoT app development with Container Station
Build a private cloud to centrally store, backup, share and restore files
Rich productivity apps including QmailAgent for central mail management, Notes Station for collaborative note-taking, Qsirch full-text search engine, and much more
Use the TS-431X to expand the storage capacity of other QNAP NAS with VJBOD
Secure access with VPN Server & VPN Client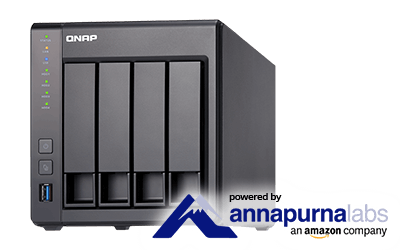 Specifications:
TS-431X Specifications
Ordering P/N
TS-431X-2G
TS-431X-8G
Processor
AnnapurnaLabs, an Amazon company Alpine AL-212 Dual-core 1.7GHz ARM® Cortex-A15 Processor
Hardware Encryption Accleration
System Memory
2GB DDR3 RAM (1 x 2GB)
8GB DDR3 RAM (1 x 8GB)
RAM slot
1 x SODIMM (Max. 8GB)
Flash Memory
512MB NAND flash
Drive Type
4 x 3.5"/2.5" SATA 6Gb/s HDDs/SSDs; Hot-swappable
10GbE LAN
1 x 10 Gigabit SFP+ LAN Port
GbE LAN
2 x Gigabit RJ45 LAN Ports
USB
3 x USB 3.0 port (Front x1; Rear x 2)
LED Indicators
Status/Power, LAN, USB, HDD 1-4
Buttons
Power, Reset, USB One- touch-copy
Security Design
Kensington security slot
System Warning
Buzzer
Form Factor
Tower
Dimension (HxWxD)
169 x 160 x 219 mm
6.65 x 6.3 x 8.62 inch
Weight
Net: 3 kg (6.61 lbs)
Gross: 4.3 kg (9.48 lbs)
Temperature
0-40˚C
Relative Humidity
5~95% non-condensing, wet bulb: 27˚C
Power Supply
External Adapter 90W,12V
Power Consumption
HDD standby: 11.65W
In operation: 26.7W
(with 4 x 1TB HDD installed)
Sound Level
Operating low speed: 19.5 dB(A)
Fan
1 x 12cm smart Fan (12V DC)
* Testing Environment:
Refer to ISO 7779 ; Maximum HDD loaded ; Bystander Position ; Average data from 1 meter in front of operating NAS
Pricing Notes:
Pricing and product availability subject to change without notice.
QNAP Products
Accessories
QNAP 2GB DDR3 RAM, 1600 MHz, SO-DIMM
TS-x69 Pro, x69L, x69U, TVS-x71 series, IS-400 Pro
#RAM-2GDR3-SO-1600
Our Price: $70.00
QNAP 4GB DDR3 RAM, 1600 MHz, SO-DIMM
TS-431XU, TS-431XU-RP, TS-831XU, TS-831XU-RP, TS-1231XU, TS-1231XU-RP, TS-1635, TS-531X, TS-831X, TS-531P, TVS-871, TVS-671, TVS-471, IS-400 Pro, TS-531P, TVS-871T,TS-x31P2, TS-431x2, TS-431X, TS-431XeU
#RAM-4GDR3-SO-1600
Our Price: $100.00
QNAP 8GB DDR3 RAM, 1600 MHz, SO-DIMM
TS-431XU, TS-431XU-RP, TS-831XU, TS-831XU-RP, TS-1231XU, TS-1231XU-RP, TS-1635, TS-531X, TS-831X, TS-531P, TVS-871, TVS-671, TVS-471, IS-400 Pro, TS-531P, TVS-871T, TS-x31P2, TS-431x2, TS-431X, TS-431XeU, TS-x31P3
#RAM-8GDR3-SO-1600
Our Price: $180.00
Power adpator for Intel 2-bay NAS Series
TS-451, TS-451+, TS-453mini, TS-453B, TS-453Be, TS-269 Pro, TS-269L, TS-431, TS-431+, TS-431P, TS-431X, TS-431X2, TS-332X, HS-453DX, TS-431KX, TS-431X3, TS-453D
#SP-2BAY-ADAPTOR-90W
Our Price: $65.00
HDD Tray for 3.5″ and 2.5″ drives without key lock, black, plastic with 6 x screws for 2.5″ HDD & 8 x screws for 3.5″ HDD
TS-251+, TS-451+
#TRAY-35-NK-BLK02
Our Price: $15.00