QNAP TS-451A

Dual-core NAS featuring USB QuickAccess port for direct access to files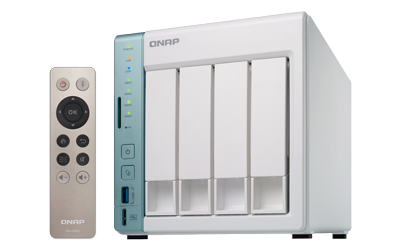 Sorry, this product is no longer available, please contact us for a replacement.
Overview:
The TS-451A provides the innovative USB QuickAccess port that allows you to quickly complete the first-time NAS installation and to then directly access files and data stored on the NAS. It also supports two additional transmission modes: Ethernet NAS mode and iSCSI SAN block-based mode. Combining USB QuickAccess, NAS and iSCSI-SAN into one box, the TS-451A is a powerful but easy-to-use storage solution ideal for backup, synchronization, remote access, and entertainment. It greatly helps to boost productivity and can meet the demands of photographers and audiovisual enthusiasts for direct, quick access to files. The TS-451A is powered by a high-performance 14nm Intel® Celeron® N3060 dual-core 1.6GHz processor, and supports 4K video playback and transcoding.
Excellent system performance, ideal for centralized management, file sharing and backup
USB QuickAccess port for accessing files without needing a network connection
Supports 4K hardware decoding and transcodes 4K H.264 videos on-the-fly or offline
Enjoy the best audio-visual experience with HDMI output and the free remote control
Build a personal karaoke system with OceanKTV
Linux Station supports Ubuntu® with direct output via HDMI
A hybrid approach to virtualization: Virtualization Station & Container Station
Supports Virtual JBOD (VJBOD) to maximize the storage utilization of multiple QNAP NAS units
Specifications:
TS-451A-4G
TS-451A-2G
Processor
14nm Intel® Celeron® N3060 dual-core 1.6GHz (up to 2.48GHz)
Hardware Encryption Accleration
✓,AES-NI
System Memory
4GB DDR3L (2 x 2GB)
2GB DDR3L (2 x 1GB)
Maximum Memory
8GB
Memory Slot
2 x SODIMM DDR3L (For dual-DIMM configurations, you must use a pair of identical DDR3L modules.)
Flash Memory
4GB, pre-loaded with QTS system
Drive Type
4 x 3.5"/2.5" SATA 6Gb/s HDDs/SSDs
GbE LAN
2 x Gigabit RJ45 LAN port
USB Port
3 x USB 3.0 ports (Front: 1, Rear:2)
SD Card Reader
✓
USB QuickAccess
✓ (USB 3.0 Micro-B); USB cable is not included
HDMI
1, max. resolution 3840 x 2160 @ 30Hz
Audio Input
3.5mm Microphone Input jack (for dynamic microphone)
Audio Output
3.5mm Line Out jack (for ampliers or speakers)
LED Indicator
Status/Power,USB,HDD 1,HDD 2,HDD 3,HDD 4
Button
Power/Status, USB one-touch-backup, reset
IR Receiver
✓, supports QNAP RM-IR002 and MCE-compliant remote controls
Others
Kensington security slot,system maintenance port
Dimension
169 x 160 x 219 mm
6.65 x 6.3 x 8.62 inch (HxWxD)
Weight
Net: 3 kg (6.61 lbs)
Gross: 3.6 kg (7.94 lbs)
Operating Temperature
0-40˚C
Relative Humidity
5~95% RH non-condensing, wet bulb: 27˚C
Noise Level
18.1 dB (A)
Refer to ISO 7779 ; Maximum HDD loaded ; Bystander Position ; Average data from 1 meter in front of operating NAS
Power Consumption
System sleep: 0.65W
HDD standby:12.1W
In operation:27W
(with 4 x 2TB HDDs)
Power
96W AC power adapter, 100-240V AC
Fan
1 x 12cm system fan (12V DC)
Package Contents
TS-451A
Ethernet cable x 2
Quick installation guide (QIG)
96W AC Adapter: SP-ADAPTOR-96W01
Power cord x 1
Flat head screw x 16 (for 3.5" HDD)
Flat head screw x 12 (for 2.5" HDD)
IR Remote Control: RM-IR002
Accessories:

1GB DDR3L Memory Module SODIMM
RAM-1GDR3L-SO-1600
$45.00

2GB DDR3L Memory Module SODIMM
RAM-2GDR3L-SO-1600
$70.00

4GB DDR3L Memory Module SODIMM
RAM-4GDR3L-SO-1600
$100.00

8GB DDR3L Memory Module SODIMM
RAM-8GDR3L-SO-1600
$180.00

96W external power adapter for 4 Bay NAS
PWR-ADAPTER-96W-A01
$70.00

HDD Tray (White)
SP-X20-TRAY
$32.00

Infrared (IR) remote control
RM-IR002
$15.00

OceanKTV Audio Box
KAB-001
$125.00

SCR-HDD25A-96
SCR-HDD25A-96
$31.00

SCR-HDD35A-96
SCR-HDD35A-96
$31.00
Pricing Notes:
Pricing and product availability subject to change without notice.
QNAP Products
Accessories
QNAP 1GB DDR3L RAM, 1600 MHz, SO-DIMM
For TS-x51, 451U, x53, x53U series (suggest to use the same size memory for both memory slots) and TVS-x63 series
#RAM-1GDR3L-SO-1600
Our Price: $45.00
QNAP 2GB DDR3L RAM, 1600 MHz, SO-DIMM
For TS-x51, 451U, x53, x53U series (suggest to use the same size memory for both memory slots) and TVS-x63 series
#RAM-2GDR3L-SO-1600
Our Price: $70.00
QNAP 4GB DDR3L RAM, 1600 MHz, SO-DIMM
For TS-x51, 451U, x53, x53U series (suggest to use the same size memory for both memory slots) and TVS-x63 series
#RAM-4GDR3L-SO-1600
Our Price: $100.00
QNAP 8GB DDR3L RAM, 1600 MHz, SO-DIMM
For TS-x51, 451U, x53, x53U series, TS-453mini, IS-453S, TBS-453A (suggest to use the same size memory for both memory slots) and TVS-x63 series, TS-563, TS-x63U, TVS-x63, TS-251+,TS-451+, TS-x53BU, TS-963X, TS-x31P3
#RAM-8GDR3L-SO-1600
Our Price: $180.00
HDD Tray without key lock, white, plastic
TS-120/220/251/451/x31
#SP-X20-TRAY
Our Price: $15.00