QNAP TS-473

Affordable high-end AMD RX-421ND quad-core NAS with PCIe slots for adding M.2 SSD, 10GbE connectivity, and a graphics card
Sorry, this product is no longer available, Please contact us for a replacement.
Overview:
Package Content
TS-473 SAN/NAS Storage System
2 x Ethernet Cables
1 x Power Cord
2 x Flat Head Screws (for M.2 SSD)
12 x Flat Head Screws (for 2.5" HDD)
16 x Flat Head Screws (for 3.5" HDD)
Quick Installation Guide (QIG)
2 x M.2 SSD Heatsinks
The TS-473 is powered by a high-performance and energy-efficient AMD R-Series CPU and provides two PCIe slots for greater functionality. You can install a QNAP QM2 expansion card to add M.2 SSD caching/10GbE connectivity; a compatible wireless card to use the TS-473 as a wireless access point; and an entry-level graphics card (for example: NVIDIA® GeForce® GT1030) to boost system performance for 4K video performance. The TS-473 allows you to flexibly deploy a wide range of applications with a more affordable budget.

Dual M.2 SATA 6 Gb/s SSD slots allow for setting up caching or storage pools, improving file access efficiency.

Two PCIe Gen3 x4 slots support QM2 cards, 10GbE adapters, or wireless network cards.

Supports the NVIDIA® GeForce® GT1030 graphics card, allowing for 4K video transcoding and output.

Qtier™ auto-tiering technology and SSD caching enable 24/7 optimized storage efficiency.br>


Scalable storage supporting virtualization, containerized apps, centralized storage, backup, sharing, and disaster recovery.
Features:
Greater NAS potential with two PCIe slots
The TS-473 features two PCIe (Gen3 x4) slots, allowing for installing single/dual-port 10GbE NICs to accelerate applications that demand higher bandwidth such as virtualization, media workflows, and backup/restoration tasks for an ever-growing amount of data; or a USB 3.1 Gen2 (10Gb/s) expansion card for transferring large media files to and from USB storage. You can also install QM2 cards, wireless network cards or an entry-level graphics card to extend NAS functionality.
AMD R-Series quad-core CPU
Equipped with a next-gen AMD R-Series RX-421ND quad-core 2.1 GHz CPU (Turbo Core up to 3.4 GHz) with up to 64GB dual-channel DDR4 RAM, the TS-473 enables lightning-fast multi-tasking with low power consumption for up to 2347 MB/s throughput with a 10GbE configuration. With a hardware-accelerated AES-NI encryption engine, the TS-473 also provides unmatched encryption performance in its class (up to 2310 MB/s with AES 256-bit full NAS volume encryption) to boost system performance while ensuring the safety of sensitive business data stored on the NAS.
Top-class hardware engineering
The strong and feature-packed hardware bolsters overall system performance. Coupled with a flexible and expandable architecture, the TS-473 can fulfill diverse application needs.
SSD caching and 10GbE connectivity
The TS-473 supports the innovative QM2 PCIe card that allows for adding up to two M.2 SSDs. You can configure SSD caching, or create a RAID 5 tiered storage along with the two M.2 SSDs in the NAS*. As these M.2 SSDs will not occupy any 3.5-inch drive bays, the QM2 card allows you to maximize both your storage capacity and performance. There are also QM2 cards that include 10GbE 10GBASE-T connectivity to provide SSD caching with high-speed network connectivity on a single card.
SSD cache with Qtier™ optimization for around-the-clock acceleration
The TS-473 features SSD caching, and also supports optional M.2 SATA 6Gb/s SSDs (sold separately). Using an SSD cache boosts overall system performance, and is perfect for improving the overall workflow of random IOPS demanding applications such as virtualization. QNAP's Qtier™ technology also continuously optimizes storage efficiency by tiering files and data across M.2 SSD, 2.5-inch SSD, and high-capacity SATA drives based on access frequency. The new Qtier™ 2.0 features IO-awareness that empowers SSD-tiered storage with a cache-like reserved space to handle burst I/O in real time, greatly maximizing the advantages of SSD.
Optimal computing power and 4K video playback with a graphics card
The TS-473 allows for installing a low-power graphics card (powered solely by the PCIe slot) to boost system performance. With a graphics card installed, the TS-473 also enables smoother video editing workflows and supports 4K UHD transcoding to deliver an exceptional multimedia experience. You can also use the QNAP remote control (sold separately) or the Qremote mobile app to use the NAS as a home theater PC.
Use your NAS as a wireless base station
Install a compatible PCIe wireless network card (for example: QNAP QWA-AC2600) on the TS-473 and use with the WirelessAP Station app to use your NAS as a convenient wireless base station. Your mobile devices and PCs can directly connect to your NAS for easy access to its services and Internet connection.
QTS – The intelligent, intuitive and creative NAS operating system
With modularized multiple applications and functions, QTS enhances management efficiency, personal productivity, multimedia, and much more, making your NAS experience easier, efficient, and more flexible! The built-in App Center with hundreds of install-on-demand apps realizes near-limitless NAS functionality. The new Qboost provides a NAS optimization tool that helps accelerate applications, recover system resources, and schedule applications. QTS breaks the barriers of devices, platforms, and geography to bring you optimized cloud experiences and incorporates advanced features.
Multiply your productivity
The app-driven QTS operating system provides solutions for simplifying file backup, management, search, and more. With File Station you can view and manage your files not only from NAS but also from multiple storage devices; the OCR Converter allows you to extract text from images; Qfiling helps automate file organization, and Qsirch helps find files quickly.
Optimized collaboration with seamless file sharing and sync
The TS-473 centrally stores data and various files, and supports SMB/CIFS, AFP and NFS protocols for file sharing across Windows®, Mac®, Linux®/UNIX® networks. Coupled with Qsync - a utility that turns a QNAP NAS into a safe, high-capacity data center for file synchronization - any file uploaded to the TS-473 will be made available for all linked devices, such as computers, laptops and mobile devices. You can sync shared folders and team folders for group file sharing, greatly enhancing the flexibility of team projects and collaboration. Files can be centrally managed using File Station, including files from mobile devices and optical disc drives. File Station also allows you to mount a remote NAS, and transfer files between your NAS and public cloud services for greater convenience.
NAS as a Multi-OS Platform
Virtualization Station and Container Station provide comprehensive solutions for creating virtualized environments to improve business IT infrastructure, workflows, and productivity.
Extensive backup solutions for complete disaster recovery planning
NAP provides flexible backup and disaster recovery solutions to assist organizations in routine backup jobs with greater cost-efficiency and productivity.
The new QVR Pro surveillance solution
QNAP's new QVR Pro surveillance solution allows you to arrange a dedicated, independent storage space for surveillance data on TS-473 and leverage the advantages of scalability and storage manageability from QTS. With QVR Pro, camera management, storage space allocation, camera live viewing and playback is greatly simplified. You can also use the QVR Pro Client mobile app to monitor your cameras from anywhere, or use a USB webcam as an ONVIF network camera with the QUSBCam2 app.
Specifications: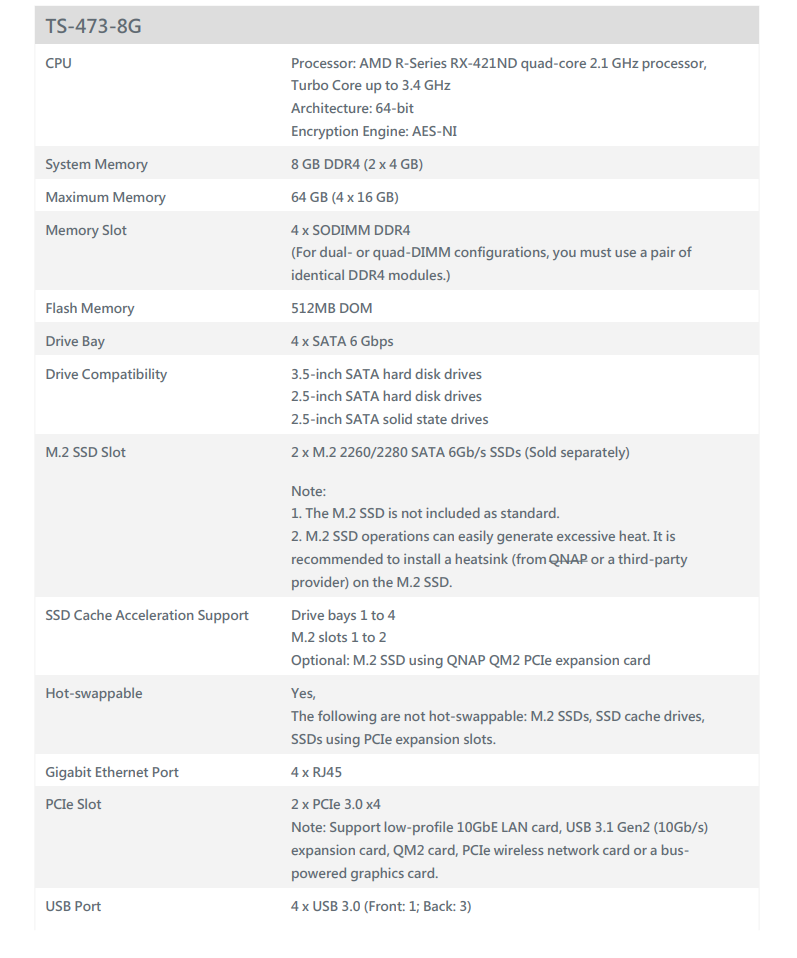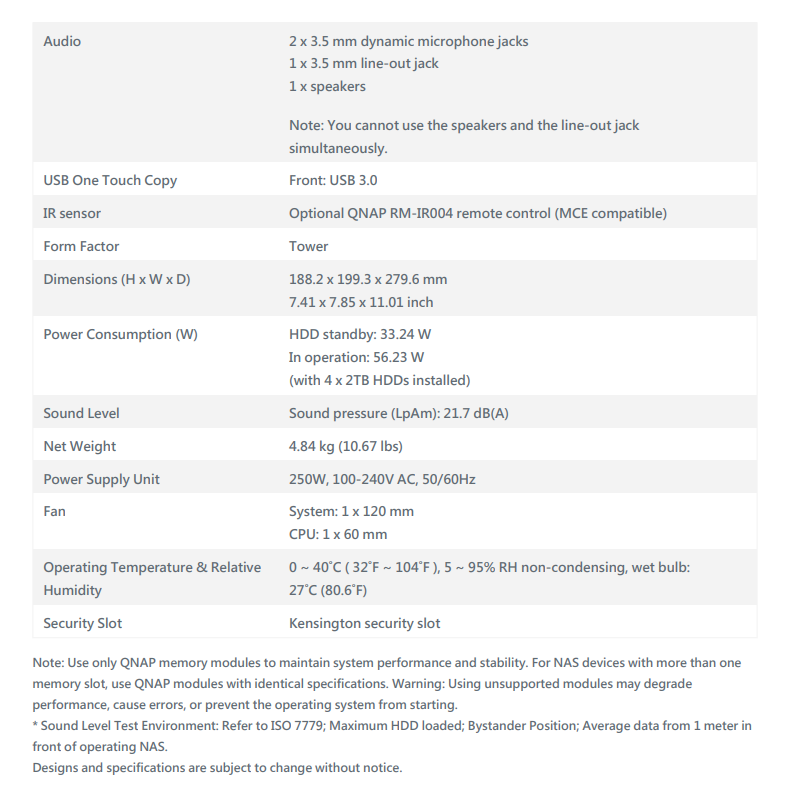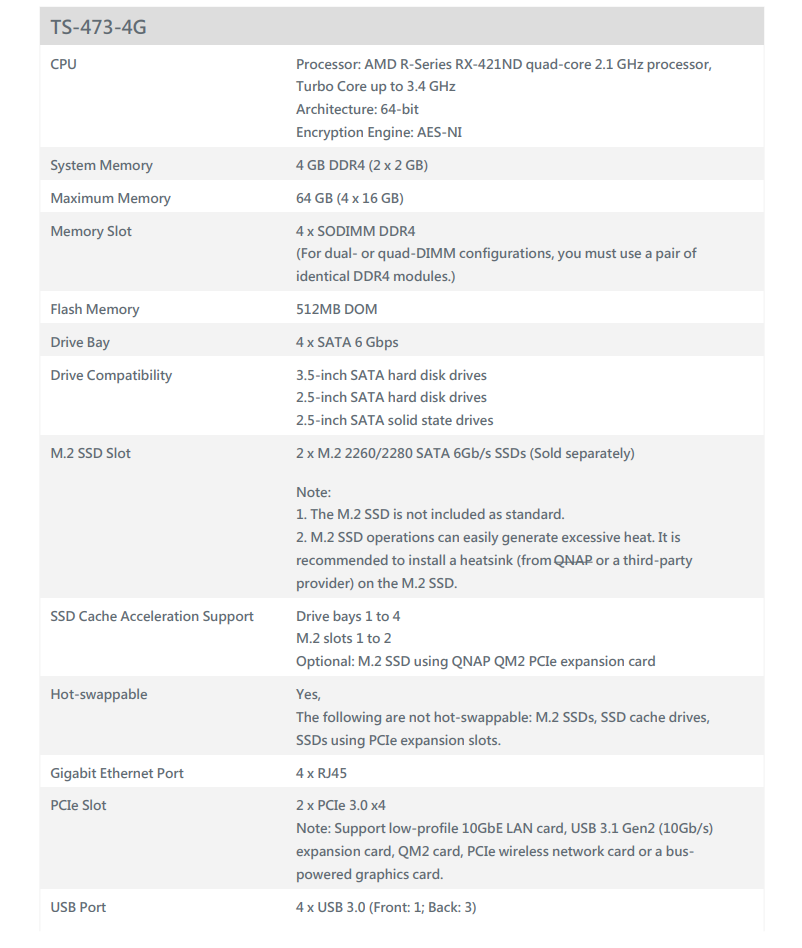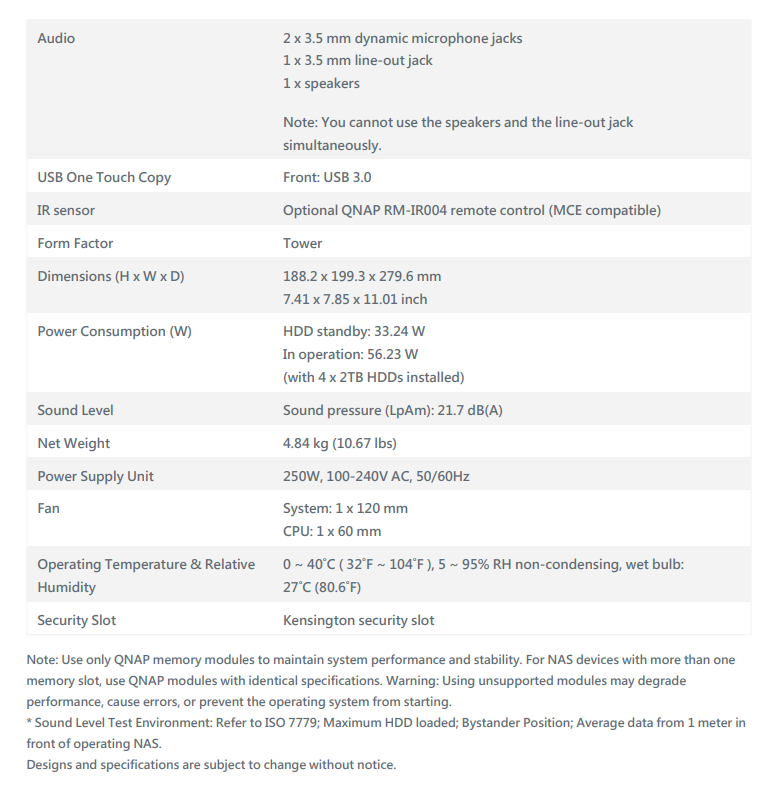 Pricing Notes:
Pricing and product availability subject to change without notice.