QNAP TS-877

The first Ryzen™-based NAS with up to 8 cores and 16 threads and graphics card support to redefine your virtualization and 4K processing experiences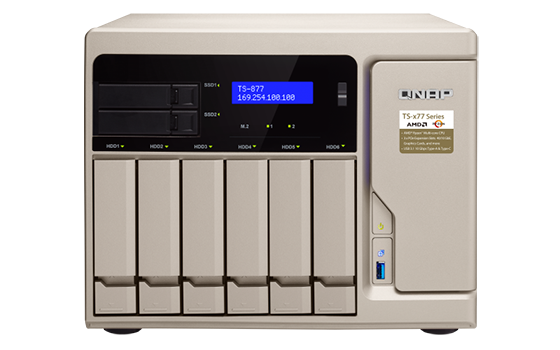 Sorry, this product is no longer available, Please contact us for a replacement.
Overview:
The first Ryzen™-based NAS with up to 8 cores and 16 threads and graphics card support to redefine your virtualization and 4K processing experiences
Package Content
TS-877 SAN/NAS Storage System
2 x Ethernet Cables
Quick Installation Guide (QIG)
Flat Head Screws (For 2.5" HDD)
Flat Head Screw (For M.2 SSD)
1 x Power Cord
2 x M.2 SSD Cooling Module
The TS-877 powered by AMD's new 14nm Ryzen™ processor redefines the high-end desktop business NAS for greater video and virtual machine performance with up to 8 cores/16 threads native processing and Turbo Core up to 3.7 GHz. Cutting-edge hardware integrated with multitasking software makes the TS-877 the preeminent choice to tackle resource-demanding applications and tasks.

Two M.2 SATA 6Gb/s SSD slots for caching or caching pools to accelerate system performance.

PCIe expandability allows for 10GbE/40GbE adapters, PCIe NVMe SSD, graphics cards, USB 3.1 10Gbps cards, or wireless network cards.

Supports AMD Radeon™ and NVIDIA® graphics cards for video processing or GPU-passthrough to VMs.

Qtier™ technology and SSD caching enable 24/7 optimized storage efficiency.



Scalable storage supporting virtualization, containerized apps, centralized storage, backup, sharing, and disaster recovery.

RAID 50/60 is recommended for NAS with over 10 disks to strike a balance between capacity, protection, and performance.
Features:
Absolute performance with AMD Ryzen™ and up to 64GB RAM
Powered by a high-performance AMD Ryzen™ 7 1700 or AMD Ryzen™ 5 1600 processor with AES-NI encryption acceleration and up to 64GB DDR4 RAM, the TS-1277 delivers aggressive yet power-smart performance to meet your multitasking demands and is capable of running up to 16 virtual machines simultaneously*. For resource-demanding business applications such as VDI, R&D, private cloud, and server virtualization, the TS-1277 with gold-standard performance is your ideal choice.
Top-class hardware engineering
The feature-packed hardware of the TS-1277 bolsters overall system performance. Coupled with the flexible and expandable architecture, the TS-1277 fulfills diversified application needs.
Extend NAS functionality with PCIe slots
The TS-1277 features three PCIe slots (1 x PCIe 3.0 x8, 1 x PCIe 3.0 x4, 1 x PCIe 2.0 x4) that allow for installing 10GbE/40GbE network cards, QM2 M.2 SSD/10GbE PCIe cards, or compatible wireless network cards for greater application potential.
Fuel GPU-accelerated computing with a 550W power supply
Graphics cards are optimized for graphical calculations and transformations, but require significantly more power compared to other hardware. The TS-1277 offers PCIe slots to support AMD Radeon™ or NVIDIA® graphics cards and a 550 watt power supply that is capable of powering a graphics card for boosting imaging processing in QTS and performance of virtual machines via GPU passthrough. When enjoying videos with the TS-1277, you can use the remote control (RM-IR004, optional purchase) that supports QButton for a more convenient control of your multimedia experience.
SSD caching and auto tiering enable 24/7 optimized storage efficiency
The TS-1277 provides four 2.5-inch SSD slots dedicated for caching to increase IOPS performance, and supports optional M.2 SATA 6Gb/s SSDs. Using an SSD cache boosts overall system performance, and is perfect for improving the overall workflow of random IOPS demanding applications such as virtualization. Qtier™ Technology empowers the TS-1277 with auto tiering that further helps continuously optimize storage efficiency across M.2 SSD, SSD, and high-capacity SATA drives with around-the-clock acceleration. The new Qtier™ 2.0 features IO-awareness that empowers SSD tiered storage with a cache-like reserved space to handle burst I/O in real time, greatly maximizing the advantages of SSD.
Performance & reliability. Your wise choice.
The TS-1277 supports advanced business features to provide maximized efficiency, performance, and to ensure round-the-clock services.
RAID 50/60
For businesses using NAS with over 10 disks, RAID 50/60 not only provides greater data protection than a single RAID 5/6, but also maximizes usable storage space compared to RAID 10. Besides data storage, and with an obvious random write performance boost when using SSD RAID, RAID 50/60 also offers a great choice for professional video streaming and database usage.
iSER
iSCSI Extensions for RDMA (iSER) protocol working with a compatible 10GbE/40GbE SFP+ NIC helps boost data transfer performance of the TS-1277 as VMware® ESXi storage, providing an essential tool to optimize demanding virtualization applications.
Central management
Designed for IT administrators, QRM+ provides a single-point solution to discover, map, monitor and manage all Windows®, Linux® and IPMI devices in your network, and facilitates device discovery with a graphical topology diagram.
Block-based iSCSI LUN: Ideal choice for virtualization storage
The TS-1277 supports block-based iSCSI LUN that provides a more reliable and isolated environment than file-based LUN. Supporting VMware®, Citrix®, Microsoft® Hyper-V® and Windows Server® 2012 R2, the TS-1277 provides a high-performance, reliable and affordable storage solution for virtualization environments, while also supporting VMware VAAI and Microsoft ODX to increase performance by offloading server loading for ESXi server and Hyper-V respectively, and supporting QNAP vSphere Client plug-in and QNAP SMI-S provider with enhanced operational efficiency and management in virtualization applications.
All-in-one server to host virtual machines and containers
Virtualization Station and Container Station jointly introduce a hybrid approach to virtualization. No matter your virtualization needs, you can count on QNAP for complete virtualization support.
QTS – Intelligent, intuitive and creative NAS operating system
With modularized multiple applications and functions, QTS enhances management efficiency, personal productivity, multimedia, and much more, making your NAS experience easier, efficient, and more flexible! The new Qboost provides a NAS optimization tool that helps accelerate applications, free up system resources, and schedule applications. The built-in App Center with hundreds of install-on-demand apps realizes far more extensive NAS functionality. QTS breaks the barriers of devices, platforms, and geography to bring you optimized cloud experiences and incorporates advanced features.
Optimized collaboration with seamless file sharing and sync
The TS-1277 centrally stores data and files, and supports SMB/CIFS, AFP and NFS protocols for file sharing across Windows®, Mac®, and Linux®/UNIX® networks. Coupled with Qsync (a utility that turns a QNAP NAS into a safe, high-capacity data center for file synchronization) any file uploaded to the TS-1277 will be made available for all linked devices, such as computers, laptops or mobile devices. You can sync shared folders and team folders for group file sharing to enhance the flexibility of team projects and collaboration. Files can be centrally managed using File Station, including files from mobile devices and optical disc drives. File Station also allows you to mount a remote NAS, and transfer files between your NAS and public cloud services for greater convenience.
Complete backup planning
The TS-1277 provides a reliable, flexible backup & disaster recovery solution to assist organizations in routine backup jobs with cost-efficiency and high productivity.
4K live-streaming on a private cloud
Live-stream broadcasts enable real-time audience interaction and increase engagement, providing great potential for versatile business and lifestyle applications. The TS-1277 supports DJ2 Live, an exclusive live broadcasting platform based on a private cloud that supports up to 4K video live-stream broadcasts, providing a complete solution for integrating live broadcasting, storage, and sharing. You can capture live videos from computers, mobile devices or webcams to stream to DJ2 Live with high-speed intranet transmission, and store all the videos on the private, secure, high-capacity TS-1277. It also supports streaming to video services such as YouTube™ and Facebook® for universal live broadcasting.
Comprehensive surveillance solution for 24/7 monitoring
The TS-1277 provides an intelligent video management system that assists you in managing real-time monitoring, video & audio recording and playback with a wide range of customizable settings to safeguard your physical environment. You can use the Vmobile mobile app to manage the monitored channels at anytime and anywhere, or install the Vcam mobile app to turn your device into a network camera to instantly record to your NAS. The TS-1277 also supports QVR Pro (Beta) that integrates QNAP's professional QVR system into the QTS operating system. You can establish a dedicated, independent storage space for surveillance data on the NAS and leverage the advantages of scalability and storage manageability from QTS.
Flexible and economical storage expansion
You need an easy solution to increase storage capacity when running out of space. QNAP provides several ways to expand your NAS storage as needed to accommodate data and business growth.
More Productivity Applications
Q'center
Use the NAS as a central management platform to manage multiple QNAP NAS across multiple sites, monitor system logs, and manage NAS updates and maintenance.
QmailAgent
Centrally manage and switch between different email accounts, back up emails to the NAS, and safeguard email security and personal privacy.
Browser Station
Enable remote access through NAS browsers to access local LAN resources without going through complex VPN setting.
IFTTT Agent
A popular web automation service for combining QNAP NAS and mobile devices/apps to customize NAS applets.
QIoT Suite Lite
Combines the security and large capacity potential of QNAP NAS while providing an IoT solution on a private cloud. It only takes three steps to quickly deploy your own IoT application.
Mobile Apps
Simplify file access, NAS management, multimedia entertainment, surveillance, and download tasks on mobile devices with QNAP mobile apps.
Specifications:
Hardware Specifications
TS-1277
TS-877
TS-677
Ordering SKUs
TS-1277-1700-64G:
AMD Ryzen™ 7 1700,
64GB memory

TS-1277-1700-16G:
AMD Ryzen™ 7 1700,
16GB memory

TS-1277-1600-8G:
AMD Ryzen™ 5 1600,
8GB memory
TS-877-1700-16G:
AMD Ryzen™ 7 1700,
16GB memory

TS-877-1600-8G:
AMD Ryzen™ 5 1600,
8GB memory
TS-677-1600-8G:
AMD Ryzen™ 5 1600,
8GB memory
CPU
AMD Ryzen ™ 7 1700 eight cores / 16 threads 3.0 GHz processor (Turbo Core 3.7 GHz)
AMD Ryzen ™ 5 1600 six cores / 12 threads 3.2 GHz processor (Turbo Core 3.6 GHz)
Encryption engine
AES-NI
System Memory
64GB DDR4 (4 x 16GB), 16GB DDR4 (2 x 8GB), 8GB DDR4 (2 x 4GB)
Expand up to Memory
64GB (4 x 16GB)
Total memory slots
4 x UDIMM DDR4
Flash Memory
512MB DOM
4 x 2.5-inch SATA 6Gb/s SSD +
8 x 2.5-inch / 3.5-inch SATA
6Gb/s HDD or SSD
2 x 2.5-inch SATA 6Gb/s SSD +
6 x 2.5-inch / 3.5-inch SATA
6Gb/s HDD or SSD
2 x 2.5-inch SATA 6Gb/s SSD +
4 x 2.5-inch / 3.5-inch SATA
6Gb/s HDD or SSD
M.2 SSD port
2 x M.2 2242/2260/2280/22110 SATA 6Gb/s SSD slots
40 Gigabit network ports
Expandable with PCIe cards
10 Gigabit network ports
Expandable with PCIe cards
Gigabit LAN Ports
4 x Gigabit RJ45 LAN ports
HDMI output
Expandable with PCIe cards
PCIe expansion slot
1 x PCIe 3.0 x8, 1 x PCIe 3.0 x4, 1 x PCIe 2.0 x4
USB
2 x USB 3.1 Gen 10 Gbps Type-C + Type-A
6 x USB 3.0 Type-A
Audio
2 x 3.5 mm Dynamic Microphone Jack, 1 x 3.5 mm line-out jack, 2 x speaker

Note: Speakers and line-out jack cannot be used at the same time
LED Indicators
Status/Power, LAN, USB, M.2 SSD, 2.5-inch SSD, 3.5-inch HDD
Button
Power, backup, reset
Other interfaces
3.5mm service port, Kensington security lock
Model
Desktop model
Dimensions (Height x Width x Depth)
234.6 x 369.9 x 319.8 mm
231.9 x 292.8 x 319.8 mm
231.9 x 224.9 x 319.8 mm
Weight
Net weight (NAS): 11.55 kg
Net weight (NAS): 9.05 kg
Net weight (NAS): 7.7 kg
Operating Temperature and Relative Humidity
0 ~ 40˚C ( 32˚F ~ 104˚F ), non-condensing, wet bulb temperature: 27˚C
Power
550W, 100-240V AC, 50/60 Hz
450W, 100-240V AC, 50/60 Hz
250W, 100-240V AC, 50/60 Hz
Cooling
Hard disk area: 3 x 8 cm
Processor area: 2 x 9 cm
Hard disk area: 2 x 8 cm
Processor area: 2 x 9 cm
Hard disk area: 1 x 8 cm
Processor area: 2 x 9 cm
Software Specifications
Supported disk group types
RAID 0/1/5/6/10/50/60 + spare, single, JBOD
Storage & Snapshots Manager
Flexible disk area and LUN configuration. Storage pool online RAID capacity expansion and configuration migration
Supported client systems
Windows 7, Windows 8, Windows 10, Windows Server 2003/2008 R2/2012/2012R2, Apple Mac OS 10.6+, Linux & UNIX
Internal file system
EXT4
Supported external file systems
EXT4, EXT3, NTFS, HFS +, FAT32, exFAT
* A license (sold seperately) is required to access exFAT devices.
Supported protocols
CIFS/SMB, AFP (v3.3), NFS(v3), FTP, FTPS, SFTP, TFTP, HTTP(S), Telnet, SSH, iSCSI, SNMP, SMTP, and SMSC
File sharing
Maximum number of users: 4096; Maximum number of user groups: 512; Maximum shared folder: 512; maximum number of simultaneous connections: 1500
Video surveillance
Surveillance Station includes 8 free camera channel licenses.
Other Features
File Station, Photo Station, Music Station, Video Station, Download Station, Qsync, Notes Station, HD Station, FTP Server, Printer Server, VPN Server / Client, Qtier, AntiVirus, Qsirch, Qcontactz, QmailAgent , Qfiling, iSER, Qtier, Virtualization Station, Container Station, Hybrid Backup Sync, DJ2 Live, QVR Pro, Q'center, Browser Station, QIoT Suite Lite and QNAP mobile applications
Multimedia streaming
DLNA Server, Airplay, Chromecast, iTunes Server
Video playback and conversion
NVIDIA® graphics cards are supported for extra performance
Remote access
myQNAPcloud
Note: Use only QNAP memory modules to maintain system performance and stability. If the NAS unit has multiple memory modules, use the QNAP module with the same specifications.
* Design and specifications are subject to change without notice