QNAP TS-963X

Cost-effective quad-core AMD NAS with 10GBASE-T port
Sorry, this product is no longer available, Please contact us for a replacement.
Overview:
Package Content
Cost-effective Quad-core AMD NAS with 10GBASE-T Port
2 x Ethernet Cables
1 x Power Cord
AC Adapter
Flat Head Screw (for 3.5" HDD)
Flat Head Screw (for 3.5" HDD)
Quick Installation Guide (QIG)
The TS-963X is an affordable NAS for small and medium-sized businesses (SMBs) with AMD Embedded G-Series GX-420MC quad-core 2.0 GHz processor, 9 drive bays and a built-in 5-speed 10GBASE-T port for up to 10Gb connectivity. Four 2.5-inch drive bays can be used to install SSDs to enable caching and Qtier technology. One built-in 5-speed 10GBASE-T port (10G/5G/2.5G/1G/100M) also increases productivity of businesses with existing Cat 5e/6 cables, without extra costs or additional installation procedures. Combined with several QNAP technologies including VJBOD, Container Station, and Virtualization Station, the TS-963X has the potential to empower a wide range of business applications and can also be easily expanded to fit future data storage requirements.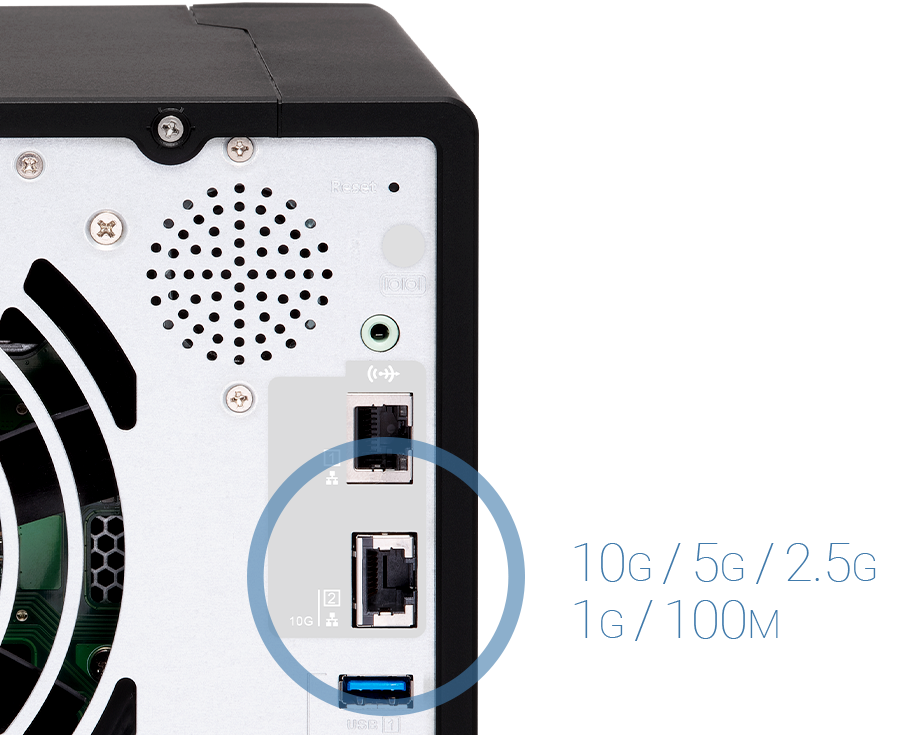 Built-in 10GBASE-T port for accelerated workflows
The TS-963X supports the out-of-box 10 GbE connectivity with a built-in 10GBASE-T port that supports five speeds (10G / 5G / 2.5G / 1G / 100M). The 10GBASE-T port utilizes the Aquantia® AQtion™ AQC107, an enterprise-class multi-gigabit Ethernet controller, which lets you quickly perform more applications such as database transfers, virtual machine storages and big data backups.
Boost performance with SSDs and Qtier
The TS-963X comes with four dedicated 2.5-inch drives bays that are ideal for installing SSDs. With SSDs, you can enable Qtier which offers both tiered storage and cache-like mechanisms for both volumes and iSCSI LUNs. This allows the TS-963X to be further accelerated to meet the performance requirements of demanding applications such as virtualization.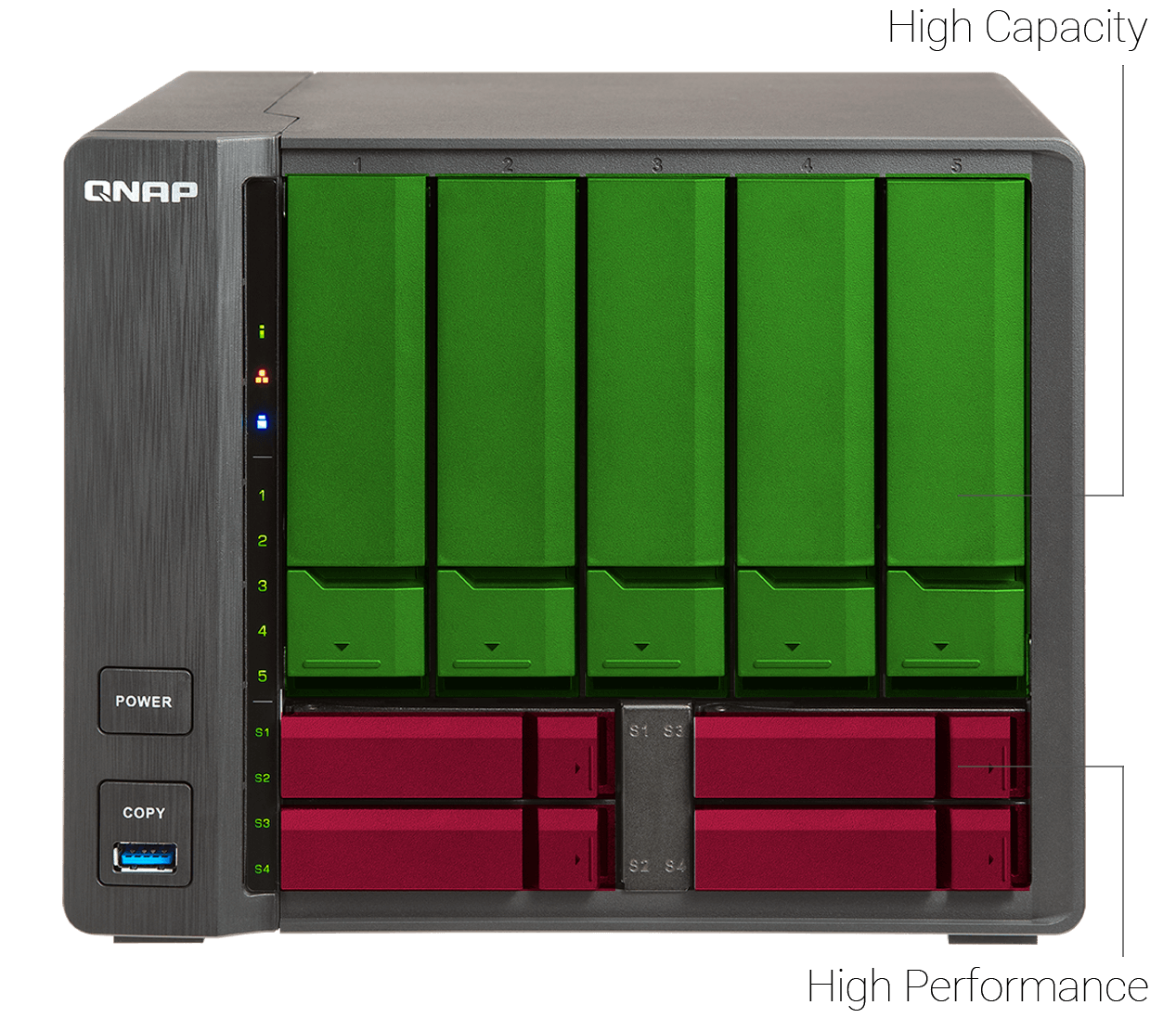 High-flexibility virtualization and virtual switches
The TS-963X supports versatile virtualization technologies such as containers (LXC and Docker®) and virtual machines (VMs), so you can easily migrate existing applications to or deploy new solutions on the TS-963X. Virtual switches support several modes for connecting containers, VMs, NAS, and physical network interfaces for flexibly deploying business IT infrastructure while ensuring high security.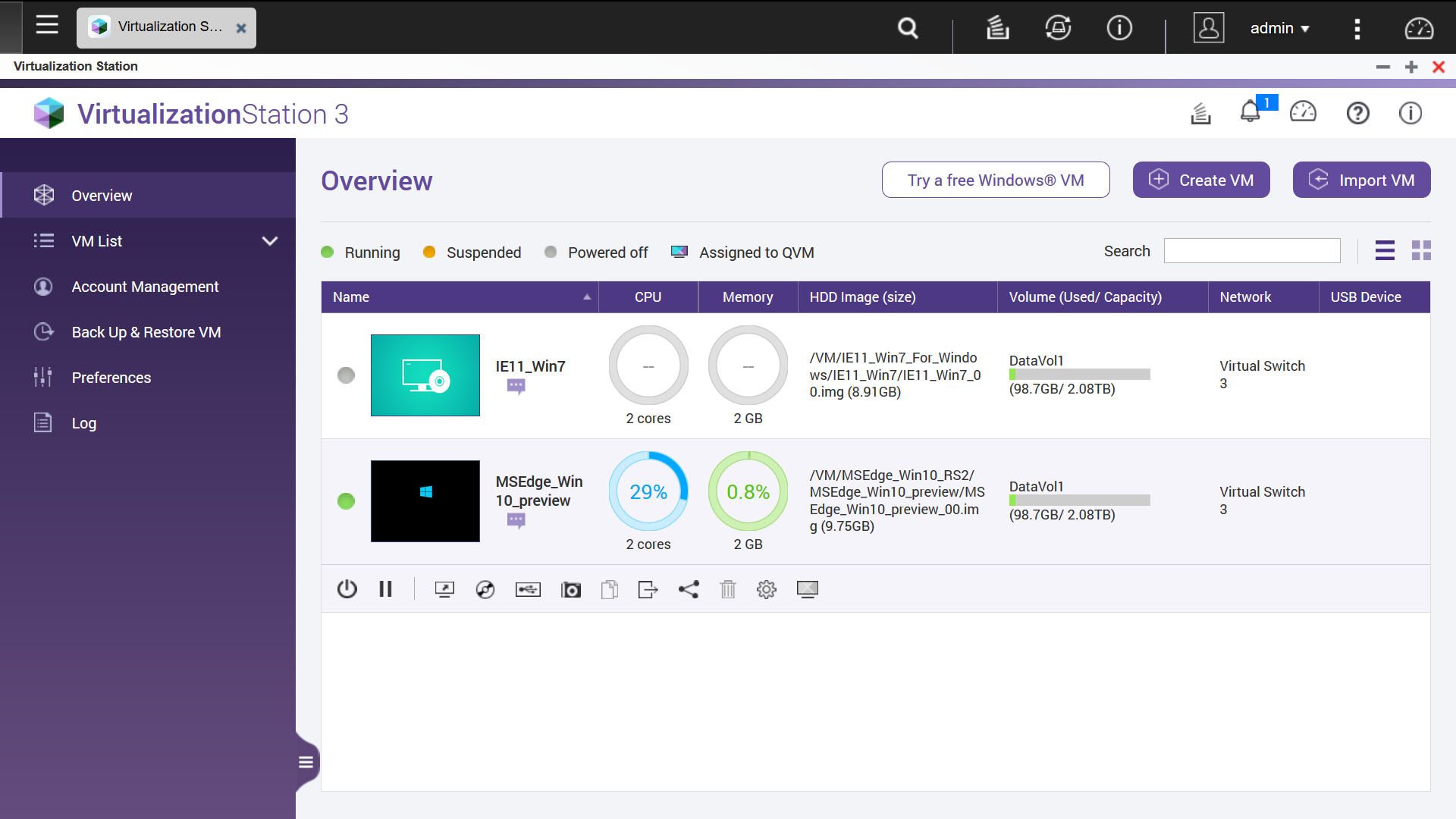 Convenient file exchange with cross-platform file sharing and Qsync
The TS-963X supports SMB/CIFS, NFS, and AFP protocols for file sharing across Windows, Mac, Linux/UNIX networks. Data can be centrally stored and protected by rigid security measures provided by the TS-963X. The Windows AD and LDAP services enable system administrators to configure user permissions by using an existing Windows AD server, LDAP server or built-in LDAP service. To sync data across devices, including mobile phones and tablets, simply install Qsync Central on the NAS and Qsync clients on other devices to enjoy a fast, private, secure and real-time file sync service.

Create a professional surveillance system
The TS-963X provides an intelligent surveillance management system for managing real-time monitoring, video & audio recording and playback to safeguard your work environment. You can even use USB webcams as affordable IP cameras with the free QUSBCam2 app. The TS-963X also supports QVR Pro, the next-generation QNAP NVR system, that allows you to arrange a dedicated, independent storage space for surveillance data on the NAS and leverage the advantages of scalability and storage manageability from QTS.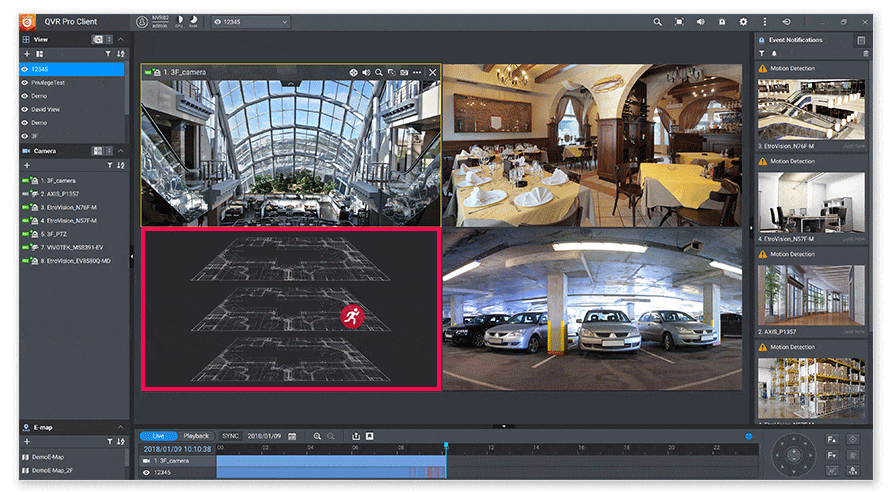 Features:

Install up to four SSDs in the dedicated 2.5-inch drive bays to enable SSD caching and Qtier for optimal system performance.

The built-in 10GBASE-T port empowers mission-critical applications such as databases and virtualization.

The TS-963X can directly host virtual machines and containers, and act as storage for hypervisors such as VMware®, Citrix® and Microsoft® Hyper-V®.

The Hybrid Backup Sync app completes your backup strategies, allowing you to back up, restore and sync files locally and remotely.

Snapshots add an extra layer of protection to your disaster recovery plans, giving you the flexibility to create and revert snapshots locally and/or remotely.

Besides conventional expansion enclosures, the TS-963X can utilize QNAP's Virtual JBOD technology to use the unused storage capacity of other QNAP NAS.
Specifications:
CPU
AMD G-Series GX-420MC quad-core 2.0 GHz
Encryption Acceleration
AES-NI
System Memory
8 GB DDR3L (1 x 8 GB)
Maximum Memory
16 GB (2 x 8 GB, 2 SODIMM slots)
Drive Bay
5 x 3.5-inch/2.5-inch SATA 6Gb/s + 4 x 2.5-inch SATA 6Gb/s
Gigabit Ethernet Port
1 x RJ45
10 Gigabit Ethernet Port
1 x RJ45 10GBASE-T, supporting 10G/5G/2.5G/1G/100M speeds
Note: Please use Cat 6a or Cat 7 LAN cables to achieve 10GbE speed over longer distance (not included).
USB Port
2 x USB 3.0 (Front: 1, Rear: 1) + 2 x USB 2.0 (Rear)
Audio
3.5 mm line-out jack, speaker, and alarm buzzer
Buttons
Power, One Touch Copy, Reset
Security Slot
Kensington security slot
Form Factor
Tower
Dimensions (H x W x D)
182 x 225 x 224 mm
7.17 x 8.86 x 8.82 inch
Power Consumption (W)
HDD standby:35.64W
In operation:53.06W
(with 5 x HDD + 4 x SSD fully populated)
Sound Level
Sound pressure (LpAm): 17.3 dB(A)
(with 5 x HDD + 4 x SSD fully populated)
Net Weight
3.53 kg (7.78 lbs)
Operating Temperature & Relative Humidity
0 ~ 40˚C (32˚F ~ 104˚F)
5~95% RH non-condensing, wet bulb: 27˚C (80.6˚F)
Power Supply Unit
120W 100-240V AC adapter
Fan
1 x 14cm smart fan (12V DC)
CPU
AMD G-Series GX-420MC quad-core 2.0 GHz
Encryption Acceleration
AES-NI
System Memory
2 GB DDR3L (1 x 2 GB)
Maximum Memory
16 GB (2 x 8 GB, 2 SODIMM slots)
Drive Bay
5 x 3.5-inch/2.5-inch SATA 6Gb/s + 4 x 2.5-inch SATA 6Gb/s
Gigabit Ethernet Port
1 x RJ45
10 Gigabit Ethernet Port
1 x RJ45 10GBASE-T, supporting 10G/5G/2.5G/1G/100M speeds
Note: Please use Cat 6a or Cat 7 LAN cables to achieve 10GbE speed over longer distance (not included).
USB Port
2 x USB 3.0 (Front: 1, Rear: 1) + 2 x USB 2.0 (Rear)
Audio
3.5 mm line-out jack, speaker, and alarm buzzer
Buttons
Power, One Touch Copy, Reset
Security Slot
Kensington security slot
Form Factor
Tower
Dimensions (H x W x D)
182 x 225 x 224 mm
7.17 x 8.86 x 8.82 inch
Power Consumption (W)
HDD standby:35.64W
In operation:53.06W
(with 5 x HDD + 4 x SSD fully populated)
Sound Level
Sound pressure (LpAm): 17.3 dB(A)
(with 5 x HDD + 4 x SSD fully populated)
Net Weight
3.53 kg (7.78 lbs)
Operating Temperature & Relative Humidity
0 ~ 40˚C (32˚F ~ 104˚F)
5~95% RH non-condensing, wet bulb: 27˚C (80.6˚F)
Power Supply Unit
120W 100-240V AC adapter
Fan
1 x 14cm smart fan (12V DC)