QNAP UX-1200U-RP

Economical RAID Expansion Enclosure for Turbo NAS

Sorry, this product is no longer available, please contact us for a replacement.
Overview:
When expanding data storage capacity, deploying multiple servers can lead to complexity in management and also dramatically increase costs. The QNAP UX-1200U-RP expansion enclosure is an economical expansion alternative designed with easy setup in mind for expanding the total storage space of your Turbo NAS. The UX-1200U-RP offers a hassle-free storage expansion for business use. Each UX-1200U-RP provides additional 12 hard drives for the Turbo NAS and allows for a total raw capacity of 72TB* making it especially useful for massive data backup, digital media collection, and video surveillance.
Package Content
UX-1200U-RP Drive Enclosure
1 x USB 3.0 Cable
2 x Power Cord
48 x Flat Head Screws (for 3.5" HDD)
36 x Flat Head Screws (for 2.5" HDD)
Quick Installation Guide
Highlights:
Easily add additional drive capacity to a Turbo NAS
Missing mode protection
Flexible RAID Configuration with the QTS Storage Manager
Provides a quick & easy backup solution for Turbo NAS
An excellent hardware design that's built to last
Easily add additional drive capacity to a Turbo NAS
Simply connect the UX-1200U-RP to a Turbo NAS* and power it on. The Turbo NAS will automatically detect the hard drives in the UX-1200U-RP as newly installed local drives. The Turbo NAS capacity can then be expanded as a large volume seamlessly & economically by using the powerful QTS Storage Manager.
*QTS 4.0.5 or newer is required for the Turbo NAS.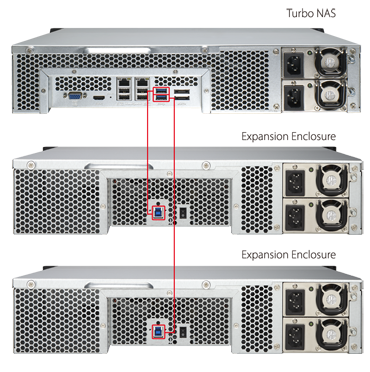 *Supported Turbo NAS models and maximum number of applicable expansion enclosures.
Supported NAS models
TS-469U-RP
TS-469U-SP
TS-869U-RP
TS-1269U-RP
Maximum number of connected UX-1200U-RP
2
2
2
Maximum number of hard drives
28
32
36
Maximum raw capacity**
168 TB
192 TB
216 TB
Maximum RAID group size
144 TB*
Maximum number of RAID groups per storage pool
128
Maximum storage pool size
144 TB*
Maximum number of storage pools per system
128
Maximum Flexible Volume size
144 TB*
Maximum iSCSI LUN size
144 TB*
*Requires the Turbo NAS to have a minimum of 2GB RAM installed
**The maximum capacity is calculated by 6TB HDDs
Missing mode protection
If your UX-1200U-RP is accidentally disconnected, the Turbo NAS enters missing mode and blocks I/O access to protect the stored data. The system can then recover from the missing mode to the normal state with data remaining intact.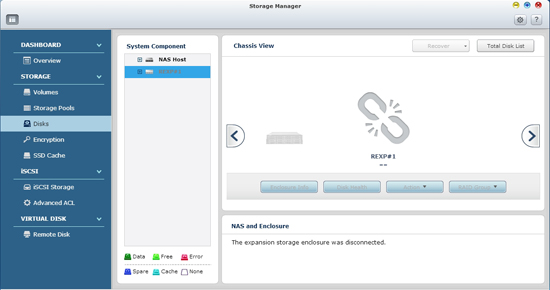 Powerful QTS Storage Manager
The QTS Storage Manager neatly presents tools & options for managing system storage with a modern & intuitive graphical user interface, greatly simplifying the process of managing the UX-1200U-RP and NAS capacity expansion. You can easily monitor the health status of the UX-1200U-RP and the disks within it. When multiple expansion enclosures are connected, the Locate Disk and Locate Enclosure functions assist you in quickly maintaining the UX-1200U-RP.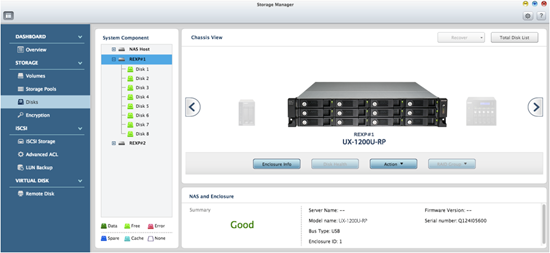 Flexible RAID Configuration
The UX-1200U-RP features 12 hot-swap drive bays for easy installation & removal. The automatic insertion/removable detection and rebuild allow easy management. Featuring Supporting RAID 0, 1, 5, 6 and 10 and managed by the powerful QTS Storage Manager, the UX-1200U-RP ensures maximum performance and data security.
An excellent backup solution for Turbo NAS
The UX-1200U-RP can be used as a cost-efficient external storage to perform fast & secure backup tasks for the Turbo NAS. The administrator can back up the Turbo NAS data to the UX-1200U-RP on a real time or scheduled basis.

Excellent hardware design
The UX-1200U-RP includes redundant 300W internal PSUs to ensure business continuity and to provide ample power even under a sustained full load. You can replace a failed power supply unit without turning off the server. The well-ventilated chassis and smart fan provides efficient cooling for better stability & reliability, with the easily-replaceable fan module enabling efficient heat removal even when all 12 drives are under full operation simultaneously.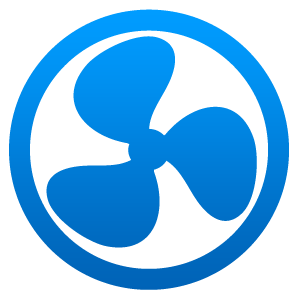 Specifications: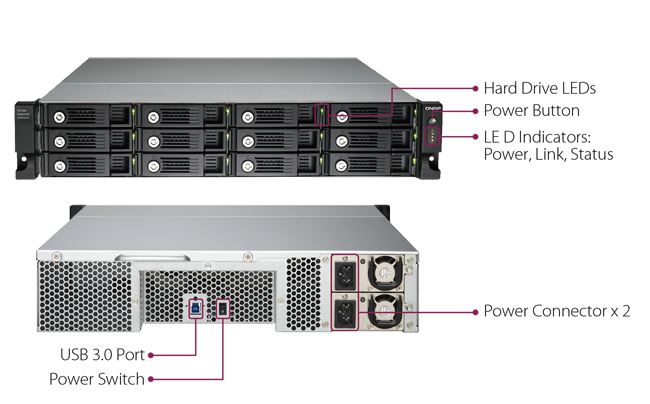 UX-1200U-RP Specification
Supported NAS models
TS-469U-RP/SP, TS-869U-RP, TS-1269U-RP
Hard Drive
12 x 3.5" or 2.5" SATA 6Gb/s, SATA 3Gb/s hard drive
Hard Disk Tray
12 x Hot-swappable tray with key lock
RAID Management
Yes, (via QNAP QTS Storage Manager)
USB
1 x USB 3.0 port (rear)
LED Indicator
Power, Link, Status
LCD Panel
Monochrome-LCD display with backlight
Secure Design
Kensington security slot for theft prevention
Fan
Quiet cooling fan (7 cm, 12V DC) x 2
Power Supply Unit
Redundant PSU. Input: 100-240V AC, 50/60Hz Output: 300W
Form Factor
Rackmount
Temperature
5°C ~ 35°C (40°F ~ 95°F)
Humidity
5~95% RH non-condensing, wet bulb: 27˚C
Package contents

UX-1200U x 1
Quick installation guide x 1
Accessory pack x 1
AC power cord x 2
USB 3.0 cable x 1