QNAP QSW-1208-8C-US

12-port 10GbE unmanaged switch
QNAP Products
QNAP Unmanaged Switch
12-Port Unmanaged 10GbE Switch. Twelve 10GbE SFP+ Ports with Shared Eight 10GBASE-T Ports
Twelve 10GbE SFP+ ports with shared eight 10GBASE-T ports unmanaged switch, NBASE-T support for 5-speed auto negotiation (10G/5G/2.5G/1G/100M)
#QSW-1208-8C-US
Our Price: $749.00
Click here to jump to more pricing!
Overview:
The QNAP QSW-1208-8C is a 12-port 10GbE unmanaged switch, allowing you to instantly upgrade your network environment at a cost-effective price. The QSW-1208-8C supports 10GBASE-T and NBASE-T standards, allowing you to take advantage of higher network speeds with your existing Cat 5e and 6a cables. Both SFP+ (fiber) and RJ45 (copper) ports are available (with 8 combo ports) for servicing a range of network needs. Compliant with IEEE 802.3az (Energy Efficient Ethernet, EEE), the QSW-1208-8C is energy efficient as well. With high performance, low latency and superb functionality, the QSW-1208-8C is the ideal choice for upgrading your home or business network to support 10GbE connections.
Package Content
QSW-1208-8C Ethernet Switch
Power Cord
Rackmount Kit
Rubber Feet
Quick Installation Guide (QIG)
With NBASE-T support, existing cables can be used. Backwards compatibility is provided for legacy devices.
With a combination of SFP+ (fiber) and RJ45 (copper) ports, most devices can take advantage of 10GbE connectivity provided by the QSW-1208-8C.
IEEE 802.3az (EEE) helps to reduce power consumption for low-speed and inactive connections.
Features:
Faster speeds using existing cables with 10GBASE-T & NBASE-T
The QSW-1208-8C is compatible with 10GbE and NBASE-T technologies to provide higher transmission speeds with existing cables. Depending on cable types and their lengths, different speeds can be achieved for faster, more efficient data transfers. The QSW-1208-8C is also backwards compatible to provide connectivity with legacy devices.
---
Flexible deployment with eight combo ports
The QSW-1208-8C offers a combination of 12 SFP+ (fiber) ports and 8 combo RJ45 (copper) ports for connecting different interfaces to the same switch. With RJ45 interfaces, 10 GbE is supported with Cat 6a (or above) cables. Alternatively, direct attach copper (DAC) cables can be used with SFP+ ports for connecting to servers inside a rack. The switching capacity of the QSW-1208-8C is 240 Gbps, guaranteeing the full potential of each port.
---
Near-silent and energy saving
With its smart cooling system, the QSW-1208-8C works quietly to ensure high-speed network performance without generating distracting background noise. IEEE 802.3az (EEE) support also reduces power consumption without sacrificing performance or functionality. By dynamically detecting link speeds and activities and adjusting accordingly, the QSW-1208-8C provides energy savings of up to 50% to minimize lifetime operational costs.
---
Versatile installation and sleek appearance
The QSW-1208-8C features a sleek modern design that blends in with existing digital homes and offices. A Rackmount Kit is also included at no extra cost for installing the QSW-1208-8C in a rack.
Specifications: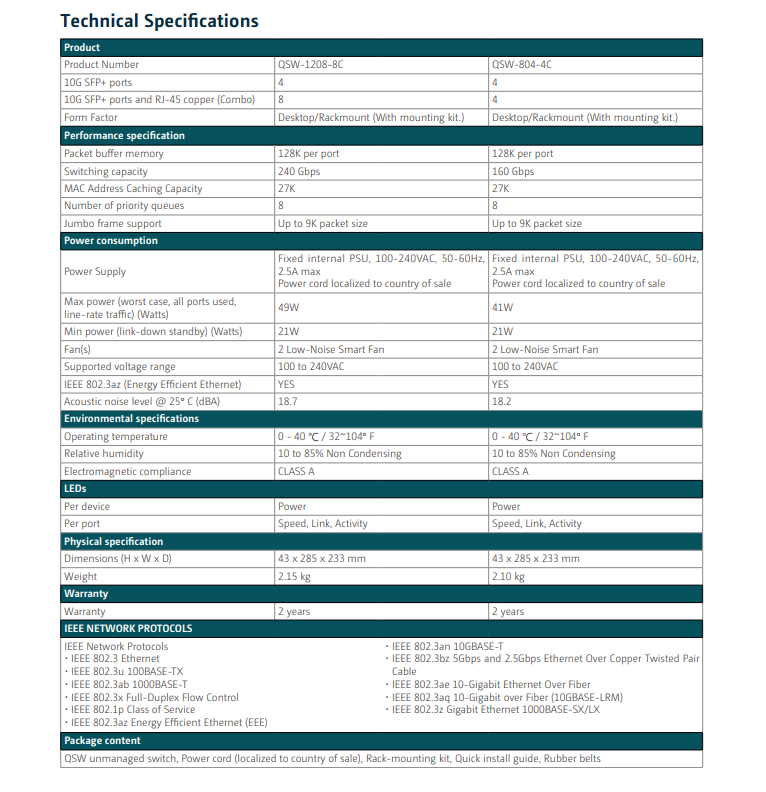 Pricing Notes:
Pricing and product availability subject to change without notice.
QNAP Products
QNAP Unmanaged Switch
12-Port Unmanaged 10GbE Switch. Twelve 10GbE SFP+ Ports with Shared Eight 10GBASE-T Ports
Twelve 10GbE SFP+ ports with shared eight 10GBASE-T ports unmanaged switch, NBASE-T support for 5-speed auto negotiation (10G/5G/2.5G/1G/100M)
#QSW-1208-8C-US
Our Price: $749.00