QNAP TS-1886XU-RP

Cost-effective auto-tiered NAS solution for virtualization and data-intensive enterprise applications
Sorry, this product is no longer available, please contact us for a replacement.
Click here to jump to more pricing!
Package Content
QNAP TS-1886XU-RP Storage
2 x Ethernet cables
2 x Power cords
48 x Flat head screw (for 3.5" HDD)
64 x Flat head screw (for 2.5" HDD)
Quick Installation Guide
Overview:
As a high-performance and cost-effective NAS solution designed for enterprises, the 2U rackmount TS-1886XU-RP provides 12 3.5-inch drive-bays and 6 SSD dedicated slots. Additionally, powered by an Intel® Xeon® D processor with up to 128 GB DDR4 Error Correcting Code (ECC) memory, the TS-1886XU-RP delivers server-grade performance with dependable reliability. The pre-installed dual-port 10GbE SFP+ network card not only empowers bandwidth-demanding applications but also supports RDMA/RoCE to improve performance and lower CPU consumption. Moreover, the scalable TS-1886XU-RP satisfies growing data storage needs, along with advanced business-ready features for streamlined data and IT management, including SSD over-provisioning, comprehensive virtualization support, software-defined networking and virtual switch, QuDedup source-based data deduplication, elastic cloud storage gateway services, and more.
Available Models
TS-1886XU-RP-D1602-4G-


Intel® Xeon® D-1602 2 cores/4 threads 2.5 GHz processor (burst up to 3.2 GHz), 4 GB DDR4 ECC RAM (1 x 4 GB); redundant power supply



TS-1886XU-RP-D1622-8G-


Intel® Xeon® D-1622 4 cores/8 threads 2.6 GHz processor (burst up to 3.2 GHz), 8 GB DDR4 ECC RAM (2 x 4 GB); redundant power supply

DDR4 ECC memory detects and then corrects single-bit memory errors, demonstrating high reliability for crucial applications.

Supports SSD caching to boost IOPS performance, Qtier for auto-tiered storage, and software-defined SSD extra over-provisioning to combat write amplification and optimize SSD performance and lifespan.

Two 10GbE SFP+ SmartNIC ports with RDMA support accelerate large file sharing and intensive data transfer.

PCIe expandability allows for 10GbE/ 25GbE/ 40GbE adapters, QM2 cards, Fibre Channel cards, or graphics cards to increase application potential.

Supports storage for virtualization of VMware®, Citrix®, Microsoft® Hyper-V® and Windows Server® 2019, and hosts independent virtual machines and containerized apps.

Provides your NAS comprehensive security management and a secure portal to keep you informed of the NAS status at all times. Supports self-encrypting drive (SED).
Features:
Cost-effective NAS solution with powerful Intel® Xeon® D processor
The TS-1886XU-RP features an Intel® Xeon® D-1600 series processor, with up to 128 GB DDR4 ECC memory, and a redundant power supply, delivering server-grade performance and dependable reliability for rugged enterprise IT environments as a cost-efficient NAS solution. By connecting multiple QNAP expansion enclosures or enabling Virtual JBOD (VJBOD) to leverage other QNAP NAS storage, the storage capacity of the TS-1886XU-RP can be easily expanded to satisfy fast-growing data and budget flexibility.


ECC memory forestalls data corruption to assure reliability
The TS-1886XU-RP uses ECC memory that can detect and correct single-bit memory errors as they occur to prevent downtime and data loss, which is essential for always-on, mission-critical, server-grade applications. The TS-1886XU-RP supports dual-channel DDR4 memory in four Long-DIMM slots. When using paired memory modules, the TS-1886XU-RP can leverage the power of dual-channel architecture to boost performance. You can also customize memory configuration (supports up to 128 GB RAM) of the TS-1886XU-RP for greater performance to tackle dynamically-changing workloads, such as virtualization.
SSD caching and auto-tiering enable 24/7 optimized storage efficiency
While SSD prices have dropped significantly, and SSD capacity and performance have been greatly optimized, organizations can easily take advantage of SSD strengths. With the native six 2.5-inch SSD slots and QNAP's SSD-aware features, the TS-1886XU-RP can maximize performance with high cost-effectiveness.
| SSD over-provisioning | SSD cache acceleration | Qtier for auto-tiering |
| --- | --- | --- |
| You can add additional SSD over-provisioning (1% ~60%) to prevent the write amplification issue and improve SSD random write speeds and endurance. You can potentially attain enterprise-grade SSD performance levels even from affordable consumer SSDs! | Enables SSD caching for increasing IOPS performance and reducing latency for storage volume. This feature is perfect for IOPS-demanding applications including databases and virtualization. The TS-1886XU-RP also supports write-only cache to boost write-intensive applications and RAID 5/6 SSD caches to optimize performance and caching space. | Qtier technology drives auto-tiered storage with continuous data optimization across high-performance SSDs and high-capacity HDDs based on access frequency. I/O-Aware Qtier can reserve a cache-like space in the SSD tiered to handle burst I/O in real time. |
Dual 10GbE connectivity optimizes high-speed data transfer and supports RDMA/RoCE
The TS-1886XU-RP comes with a pre-installed dual-port 10GbE SFP+ Smart NIC to improve bandwidth-demanding data center and virtualization applications. The 10GbE Smart NIC uses Broadcom BCM57412 NetXtreme®-E network controller that supports RDMA over Converged Ethernet (RoCE and RoCEv2), allowing data to bypass general network drivers, the socket layer, and directly enter ESXi server and storage memory buffer. RoCE technology can improve NAS performance while lowering CPU consumption of applications that use an Ethernet network, ideal for low-latency and high-speed large data transferring.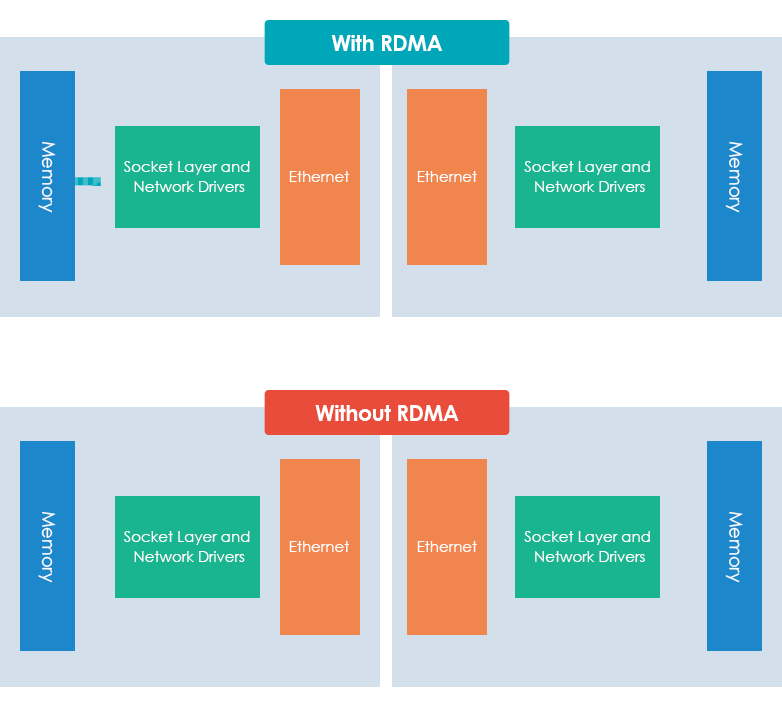 Abundant I/O capability with PCIe expansion
The TS-1886XU-RP features four PCIe Gen3 x4 slots (one slot pre-installed with a dual-port 10GbE expansion card) that allow for various expansion cards for expanding application potential.
Note: 2U rackmount NAS model uses low-profile graphics cards.
All-in-one server to host virtual machines and containers
Regardless of your virtualization needs, you can count on Virtualization Station and Container Station for complete virtualization support. You can use Network & Virtual Switch to allocate adequate physical network resources to virtual machines, containers, and the NAS to simplify network deployment.

Virtualization Station
Run multiple Windows®, Linux®, UNIX®, and Android™ virtual machines and access them via a web browser or Virtual Network Computing (VNC). Businesses can run virtualized server applications on a single NAS without the need for additional physical servers.

Container Station
Experience LXC and Docker® lightweight virtualization technologies, download apps from the built-in Docker Hub Registry®, import and export containers, and create abundant microservices.
Block-based iSCSI LUN: Ideal choice for virtualization storage
The TS-1886XU-RP supports block-based iSCSI LUN and is compatible for VMware®, Citrix®, Microsoft® Hyper-V®, and Windows Server® 2019 virtualization environments to provide a high-performance and affordable storage solution. The TS-1886XU-RP also supports VMware VAAI and Microsoft ODX to increase performance by offloading server loading for ESXi server and Hyper-V respectively, and supporting QNAP vSphere Client plug-in with enhanced operational efficiency and management in virtualization applications.
Complete backup planning
The TS-1886XU-RP provides a reliable, flexible backup and disaster recovery solution to assist organizations in routine backup jobs cost-efficiently and with high productivity.

HBS
Consolidates backup, restoration and synchronization functions (using RTRR, Rsync, FTP, CIFS/SMB) for easily transferring data to local, remote and cloud storage spaces as a comprehensive data storage and disaster recovery plan.

Snapshots for Volume & LUN
Snapshots are essential for NAS data protection, and their block-level feature makes it a dependable data protection method in the face of growing ransomware threats. The TS-1886XU-RP supports up to 256 snapshots per volume/LUN, and up to 1,024 snapshots per NAS.

VM backup
The TS-1886XU-RP is perfect for backing up virtual machines, with its high performance, huge storage capacities, integrated virtualization solutions, and snapshot support that records system status any time.

Windows® and Mac® backup
Use the license-free QNAP NetBak Replicator utility to back up and restore files from Windows® computers. Apple's Time Machine® is supported for backing up Mac® computers.
Move business data to the cloud flexibly and economically
The TS-1886XU-RP perfectly integrates NAS with mainstream cloud services. By deploying cloud storage gateways and enabling local caching on the NAS, you can seamlessly use the cloud for storage, backup, and data recovery with low-latency access, providing an innovative hybrid cloud experience.

HybridMount File-based Cloud Gateway
Flexibly expand your storage capacity by connecting to cloud storage. You can leverage QTS apps to manage and edit your cloud files or multimedia files. HybridMount is ideal for file server online collaboration and file-level data analysis.

VJBOD Cloud Block-based Cloud Gateway
VJBOD Cloud supports mounting object cloud storage as a block-based volume or LUN on a NAS. The block-based data transmission uploads random data and large files to the cloud in blocks, and only transmits block-based volume or LUN changes such as addition, modification, or deletion. This is ideal for enterprise-level applications with large file transfer requirements, such as databases, VM volumes, and videos.
QuDedup source-based deduplication reinforces your backup plan with greater efficiency
QuDedup technology reduces backup data size and speeds up future backup tasks. This is also beneficial for accelerating multi-version backups for greater protection against data loss.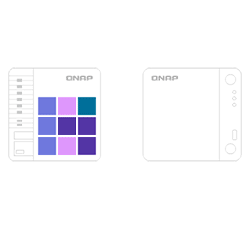 First backup – save storage
Eliminates redundant data at the source to reduce the backup data size by up to 75% for greater storage savings.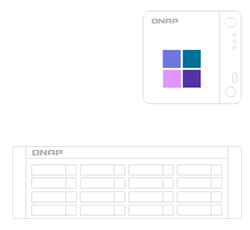 Second backup – save time
The deduplicated data makes following backup tasks faster and allows complete multiple backup versions. Multiple backup versions can significantly reduce the risks of data loss.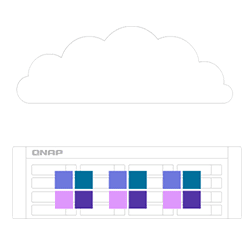 Cloud backup – save time and storage
TCP BBR algorithm for congestion control greatly improves Internet data transfer speeds, so backing up NAS-based files to the cloud becomes much more efficient.
Up to 128 monitoring channels in QVR Pro for well-rounded security surveillance
The TS-1886XU-RP supports QVR Pro surveillance solution with 8 license-free channels for surveillance monitoring, which can be expanded up to 128 channels* with additional channel license purchase for more extensive security deployment. QVR Pro supports over 5,000 IP cameras, including all standard fisheye cameras available on the market. There are more advanced features for fully unleashing the potential of fisheye cameras: allowing a single fisheye camera's image to be simultaneously viewed in nine channels from different angles, and cross-platform hardware-accelerated decoding for fisheye camera images. QVR Pro ensures higher surveillance performance for greater security while providing deployment flexibility and budget-savings.
*The maximum number of channels supported varies by NAS model, network configuration, and camera settings.
More productivity applications

Notification Center
Consolidates all QTS system events, alerts, and notifications for smooth and easy NAS management, keeping you informed of your NAS status at all times.

Security Counselor
A NAS security portal for checking weaknesses and offer recommendations for enhancing NAS security. It also integrates anti-virus and anti-malware scanning software.

Qsirch
QNAP's powerful, Google-like search tool for quickly finding specific images, music, videos, documents, and emails by keywords, color, and more search conditions.

Boxafe
Allows you to backup or sync files, emails, calendars and contacts from Google™ G Suite and Microsoft® Office 365® into the NAS to safeguard enterprise cloud data.
Browser Station
Enable remote access through NAS browsers for accessing local LAN resources without requiring complex VPN settings.

Qmiix
An Integration Platform as a Service (iPaaS) solution that enables you to connect apps and devices with QNAP NAS for automating daily tasks for greater productivity.
Hardware Specifications:
TS-1886XU-RP-D1622-8G
TS-1886XU-RP-D1602-4G
CPU
Intel® Xeon® D-1622 quad-core 2.60 GHz processor (burst up to 3.2 GHz)
Intel® Xeon® D-1602 dual-core 2.50 GHz processor (burst up to 3.2 GHz)
CPU Architecture
64-bit x86
System Memory
8 GB UDIMM DDR4 ECC (2 x 4GB)
4 GB UDIMM DDR4 ECC (1 x 4GB)
Maximum Memory
128 GB (4 x 32 GB)
Memory Slot
4 x Long-DIMM DDR4
Flash Memory
5GB (Dual boot OS protection)
Drive Bay
Front: 12 x 3.5-inch SATA 6Gb/s, 3Gb/s
Rear: 6 x 2.5-inch SATA 6Gb/s, 3Gb/s
Drive Compatibility
3.5-inch bays:
3.5-inch SATA hard disk drives
2.5-inch SATA hard disk drives
2.5-inch SATA solid state drives

2.5-inch bays:
2.5-inch SATA solid state drives
Hot-swappable
SSD Cache Acceleration Support
Gigabit Ethernet Port (RJ45)
4
10 Gigabit Ethernet Port
2 x 10GbE SFP+ SmartNIC port
Pre-installed with a 10GbE PCIe adapter
PCIe Slot
4
Slot 1: PCIe Gen 3 x4
Slot 2: PCIe Gen 3 x8 or x4
Slot 3: PCIe Gen 3 x4
Slot 4: PCIe Gen 3 x8 or x4
*Slot 4 is preinstalled with a 10GbE network adapter. **Slot 2 provides the width of PCIe Gen 3 x8 when Slot 1 is not in use, and provides the width of PCIe Gen 3 x4 when Slot 1 is in use. ***Slot 4 provides the width of PCIe Gen 3 x8 when Slot 3 is not in use, and provides the width of PCIe Gen 3 x4 when Slot 3 is in use.
USB 3.0 Port
2
Form Factor
Rackmount
LED Indicators
HDD, SSD, Status, LAN, storage expansion port status
Buttons
Power, Reset
Dimensions (HxWxD)
88.3 × 482 × 549.7 mm
Weight (Net)
12.73 kg
Weight (Gross)
18.69 kg
Operating temperature
0 - 40 °C (32°F - 104°F)
Relative Humidity
5-95% RH non-condensing, wet bulb: 27˚C (80.6˚F)
Power Supply Unit
550W(x2), 100-240V
Power Consumption: Operating Mode, Typical
117.92 W
Fan
System fan: 3 x 60mm, 12VDC
Sound Level
56.9 db(A)
System Warning
Buzzer
Note: Use only QNAP memory modules to maintain system performance and stability. For NAS devices with more than one memory slot, use QNAP modules with identical specifications. Warning: Using unsupported modules may degrade performance, cause errors, or prevent the operating system from starting.
* Sound Level Test Environment: Refer to ISO 7779; Maximum HDD loaded; Bystander Position; Average data from 1 meter in front of operating NAS. Designs and specifications are subject to change without notice.
HDD + SSD hybrid structure to optimize storage performance and utilization
The TS-1886XU-RP features outstanding hardware and expandable architecture, enabling optimum performance and flexibility to satisfy business needs in various applications.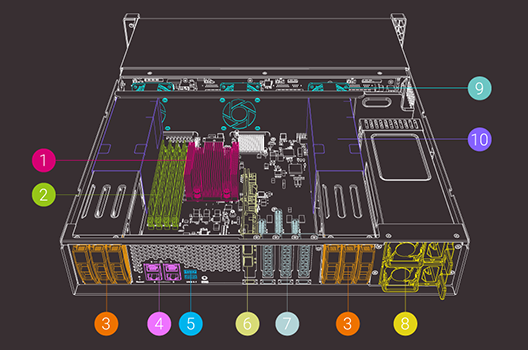 1
Intel® Xeon® D processor
Intel® Xeon® D-1600 series processors with multi-core computing power.
2
DDR4 ECC memory
Support four DDR4 dual-channel Long-DIMM memory modules for a maximum memory of 128 GB RAM.
3
6x 2.5-inch SATA 6Gb/s SSD slots
Support SSD cache acceleration or Qtier for auto-tiering storage.
4
4x Gigabit Ethernet ports
Ideal for service binding, port trunking and MPIO configurations.
5
2x USB 3.1 Gen1 ports
Delivers transfer speeds up to 5Gbps. Supports external hard drives or UPS.
6
Dual-port 10GbE SFP+ network expansion card
Uses Broadcom BCM57412 NetXtreme®-E network controller and supports RDMA over Converged Ethernet (RoCE and RoCEv2). Additionally, 10GbE bandwidth boosts virtualization, large file sharing, and data-intensive applications.
7
4x PCIe expansion slots
Support 10GbE/25GbE/40GbE network cards, QM2 cards, SAS expansion cards, graphics cards, and Fibre Channel cards for greater application potential (one slot comes with a pre-installed dual-port 10GbE SFP+ adapter).
8
550W power supply units
Redundant 500W power supplies ensure continuous system uptime.
9
System fans
Monitors system temperatures and automatically adjusts fan speeds accordingly.
10
Air ducts
Connect to SSD slots for centralizing air flow and pressure from the system fans to effectively disperse SSD heat.
Front View

Rear View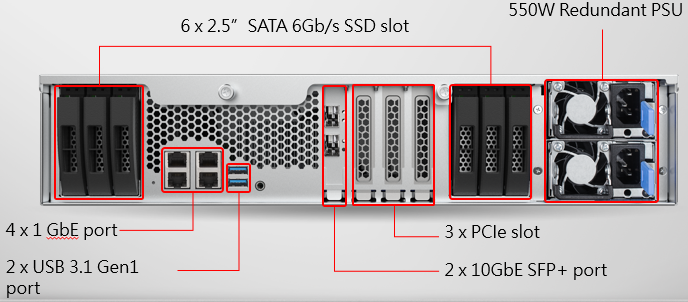 Internal Design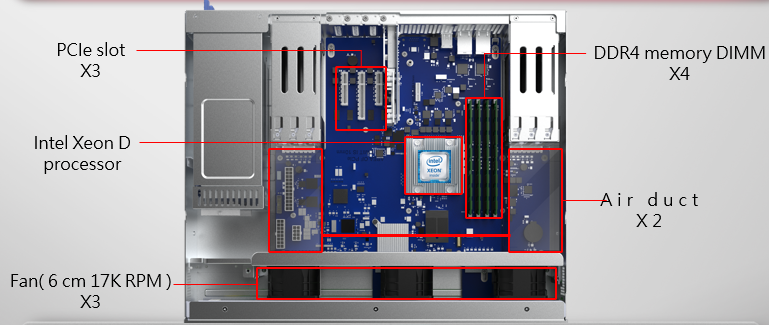 Product Views:
| | | | |
| --- | --- | --- | --- |
| Front View | Top Right Angle View | Top Left Angle View | Rear View |
| Right Angle View | Left Angle View | Open View | Hot-swappable View |
Documentation:
Datasheet for QNAP TS-1886XU-RP is coming soon.
Pricing Notes:
Pricing and product availability subject to change without notice.
QNAP Products
Storage Expansion Card
Dual M.2 22110/2280 PCIe SSD expansion card (PCIe Gen2 x4), Low-profile bracket pre-loaded, Low-profile flat and Full-height are bundled *shorter version to support TVS-x82/TS-x77 PCIe slot 2 & slot 3
Check NAS compatibility list: https://www.qnap.com/en-us/compatibility/
#QM2-2P-244A
Our Price: $89.00
Dual M.2 PCIe SSD expansion card; supports up to two M.2 2280/22110 formfactor M.2 PCIe (Gen3 x4) SSDs; PCIe Gen3 x4 host interface
Low-profile bracket pre-loaded, Low-profile flat and Full-height are bundled. Check NAS compatibility list: https://www.qnap.com/en-us/compatibility/
#QM2-2P-344
Our Price: $119.00
Dual M.2 PCIe SSD expansion card; supports up to two M.2 2280/22110 formfactor M.2 PCIe (Gen3 x4) SSDs; PCIe Gen3 x8 host interface
Low-profile bracket pre-loaded, Low-profile flat and Full-height are bundled. Check NAS compatibility list: https://www.qnap.com/en-us/compatibility/
#QM2-2P-384
Our Price: $149.00
QM2 series, 2 x PCIe 2280 M.2 SSD slots, PCIe Gen2 x 4 , 1 x AQC107S 10GbE NBASE-T port
Check NAS compatibility list: https://www.qnap.com/en-us/compatibility/
#QM2-2P10G1TA
Our Price: $169.00
Dual M.2 22110/2280 SATA SSD expansion card (PCIe Gen2 x2) *shorter version to support TVS-x82/TS-x77 PCIe slot 2 & slot 3
Low-profile bracket pre-loaded, Low-profile flat and Full-height are bundled. Check NAS compatibility list: https://www.qnap.com/en-us/compatibility/
#QM2-2S-220A
Our Price: $69.00
Quad M.2 PCIe SSD expansion card; supports up to four M.2 2280 formfactor M.2 PCIe (Gen3 x2) SSDs; PCIe Gen3 x4 host interface
Low-profile bracket pre-loaded, Low-profile flat and Full-height are bundled. Check NAS compatibility list: https://www.qnap.com/en-us/compatibility/
#QM2-4P-342
Our Price: $149.00
Quad M.2 PCIe SSD expansion card; supports up to four M.2 2280 formfactor M.2 PCIe (Gen3 x4) SSDs; PCIe Gen3 x8 host interface
Low-profile bracket pre-loaded, Low-profile flat and Full-height are bundled
#QM2-4P-384
Our Price: $169.00
Dual 2.5″ SATA to 3.5″ SATA drive converter/adapter, up to 9.5mm 2.5″ drive height support, hardware RAID 0/1, JBOD, Individual disk modes
#QDA-A2AR
Our Price: $59.00
Dual M.2 2280 SATA to 2.5″ SATA drive converter/adapter, hardware RAID 0/1, JBOD, Individual disk modes
#QDA-A2MAR
Our Price: $59.00
Network Expansion Card
Dual-port SFP+ 10GbE network expansion card; low-profile formfactor; PCIe Gen3 x8
TS-470, TS-470 Pro, TS,473, TVS-472XT, TVS-473, TVS-473e, TS-670, TS-670 Pro, TS-673, TS-677, TVS-670, TVS-672XT, TVS-673, TVS-673e, TVS-682, TVS-682T, TS-870, TS-870 Pro, TS-870U-RP, TS-873, TS-877, TS-877XU, TS-877XU-RP, TS-883XU, TS-883XU-RP, TVS-870, TVS-872XT, TVS-872XU, TVS-872XU-RP, TVS-873, TVS-873e, TVS-882, TVS-882BR, TVS-882BRT3, TVS-882ST2, TVS-882ST3, TVS-882T, TS-1270U-RP, TS-1277, TS-1277XU-RP, TS-1283XU-RP, TVS-1272XU-RP, TVS-1282, TVS-1282T, TVS-1282T3, TS-1677XU-RP, TS-1683XU-R
#QXG-10G2SF-CX4
Our Price: $199.00
Dual-port BASET 10GbE network expansion card; low-profile form factor; PCIe Gen2 x4
TS-470, TS-470 Pro, TS,473, TVS-472XT, TVS-473, TVS-473e, TS-670, TS-670 Pro, TS-673, TS-677, TVS-670, TVS-672XT, TVS-673, TVS-673e, TVS-682, TVS-682T, TS-870, TS-870 Pro, TS-870U-RP, TS-873, TS-877, TS-877XU, TS-877XU-RP, TS-883XU, TS-883XU-RP, TVS-870, TVS-872XT, TVS-872XU, TVS-872XU-RP, TVS-873, TVS-873e, TVS-882, TVS-882BR, TVS-882BRT3, TVS-882ST2, TVS-882ST3, TVS-882T, TS-1270U-RP, TS-1277, TS-1277XU-RP, TS-1283XU-RP, TVS-1272XU-RP, TVS-1282, TVS-1282T, TVS-1282T3, TS-1677XU-RP, TS-1683XU-R
#QXG-10G2T-107
Our Price: $179.00
Quad port 2.5GbE 4-speed Network card
PC/Server or NAS with a PCIe slot
#QXG-2G4T-I225
Our Price: $129.00
QNAP 5GbE multi-Gig expansion card;Aquantia AQC111C;Gen2 x 1;low profile
PCIe supported NAS
#QXG-5G1T-111C
Our Price: $69.00
QNAP dual port 5GbE multi-Gig expansion card;Aquantia AQC111C;Gen2 x 2;low profile
PCIe supported NAS
#QXG-5G2T-111C
Our Price: $119.00
QNAP quad-port 5GbE multi-Gig expansion card;Aquantia AQC111C;Gen3 x 4;low profile
NAS Compatibility: www.qnap.com/go/compatibility
#QXG-5G4T-111C
Our Price: $219.00
Interface Expansion
USB 3.2 Gen 2 dual-port PCIe expansion card
NAS with a PCIe slot, Windows 8.x/10, Ubuntu 20.04 LTS Note: 1. Minimum QTS 4.3.6 requirement. 2. USB cable is not included. 3. Follow the compatibility guide: https://www.qnap.com/en/compatibility/
#QXP-10G2U3A
Our Price: $49.00
4-port miniSAS HD host bus adapter, Broadcom Mercator SAS3616W, PCIe 3.0 x 16 for TL SAS JBOD series
Check NAS compatibility list: https://www.qnap.com/en-us/compatibility/
#QXP-1620S-B3616W
Our Price: $649.00
16G Fibre Channel Host Bus Adapter, 2 x transceivers are included
Check NAS compatibility list: https://www.qnap.com/en-us/compatibility/
#QXP-16G2FC
Our Price: $999.00
32G Fibre Channel Host Bus Adapter, 2 x transceivers are included
Check NAS compatibility list: https://www.qnap.com/en-us/compatibility/
#QXP-32G2FC
Our Price: $1,499.00
Cable / Transceiver
Mellanox MFM1T02A-SR 10GbE Transceiver
For use with SFP+ 10GbE (except x85U and 16489U)
#TRX-10GSFP-SR-MLX
Our Price: $119.00
16G short wavelength SFP+ fibre channel transceiver
QXP-16G2FC
#TRX-16GFCSFP-SR
Our Price: $169.00
32G short wavelength SFP+ fibre channel transceiver
QXP-32G2FC
#TRX-32GFCSFP-SR
Our Price: $299.00
SFP+ 10GbE twinaxial direct attach cable, 1.5M, S/N and FW update
For use with SFP+ 10GbE
#CAB-DAC15M-SFPP
Our Price: $50.00
SFP28 25GbE twinaxial direct attach cable, 3.0M
For use with 25GbE
#CAB-DAC30M-SFP28-DEC01
Our Price: $90.00
SFP+ 10GbE twinaxial direct attach cable, 3.0M, S/N and FW update
For use with SFP+ 10GbE (except x85U)
#CAB-DAC30M-SFPP
Our Price: $70.00
SFP+ 10GbE twinaxial direct attach cable, 5.0M, S/N and FW update
For use with SFP+ 10GbE (except x85U and ARM Models)
#CAB-DAC50M-SFPP
Our Price: $100.00
QSFP DAC cable
40GbE NIC supported NAS
#CAB-NIC40G30M-QSFP
Our Price: $110.00
Mini SAS 12G cable (SFF-8644), 0.5m
TVS-x80U-SAS, REXP-1220U-RP, REXP-1620U-RP,SAS-12G2E-D,SAS-12G2E, ES1640dc v2, EJ1600 v2, TL-R1620Sep-RP, TL-R1220Sep-RP, TL-R1620Sdc
#CAB-SAS05M-8644
Our Price: $69.00
Mini SAS 12G cable (SFF-8644), 1.0m
TVS-x80U-SAS, REXP-1220U-RP, REXP-1620U-RP,SAS-12G2E-D,SAS-12G2E, ES1640dc v2, EJ1600 v2, TL-R1620Sep-RP, TL-R1220Sep-RP, TL-R1620Sdc
#CAB-SAS10M-8644
Our Price: $99.00
Mini SAS 12G cable (SFF-8644), 2.0m
ES1640dc v2, EJ1600 v2, TL-R1620Sep-RP, TL-R1220Sep-RP, TL-R1620Sdc
#CAB-SAS20M-8644
Our Price: $109.00
Mini SAS 12G cable (SFF-8644), 3.0m
ES1640dc v2, EJ1600 v2, TL-R1620Sep-RP, TL-R1220Sep-RP, TL-R1620Sdc
#CAB-SAS30M-8644
Our Price: $119.00
RAM
16GB ECC DDR4 RAM, 2666 MHz, UDIMM, T0 version
TS-1886XU-RP
#RAM-16GDR4ECT0-UD-2666
Our Price: $325.00
32GB ECC DDR4 RAM, 2666MHz, UDIMM, S0 version
TS-1886XU-RP, TS-1283XU, TS-h1283XU-RP, TS-h1683XU-RP, TS-h2483XU-RP, TS-h686, TS-h886
#RAM-32GDR4ECS0-UD-2666
Our Price: $449.00
4GB ECC DDR4 RAM, 2666 MHz, UDIMM.
TS-983XU, TS-983XU-RP, TS-883XU, TS-883XU-RP, TS-1283XU-RP, TS-1683XU-RP, TS-2483XU-RP, TS-1886XU-RP, TS-h686, TS-h886, TNS-h1083X
#RAM-4GDR4ECP0-UD-2666
Our Price: $119.00
8GB ECC DDR4 RAM, 2666 MHz, UDIMM.
TS-983XU, TS-983XU-RP, TS-883XU, TS-883XU-RP, TS-1283XU-RP, TS-1683XU-RP, TS-2483XU-RP
#RAM-8GDR4ECP0-UD-2666
Our Price: $199.00
Other Accessories
QNAP Rail Kit for 2U Rackmount Models
TS-431XeU, TS-431XU, TS-431XU-RP, TS-831XU, TS-831XU-RP, TS-1231XU, TS-1231XU-RP, TVS-871U-RP, TVS-1271U-RP, TVS-471U, TVS-471U-RP, TS-463U, TS-463U-RP,TS-863U, TS-863U-RP, TS-1263U, TS-1263U-RP Series, TS-873U, TS-873U-RP, TS-1273U, TS-1273U-RP, TS-x53BU, TS-x32XU series, UX-800U-RP, UX-1200U-RP, TS-853U, TS-853U-RP, TS-1253U, TS-1253U-RP, TS-877XU(-RP), TVS-872XU(-RP), TS-873XU/TS-873XU-RP, TS-883XU(-RP), TS-977XU(-RP), TVS-972XU(-RP), TS-983XU(-RP), TS-1886XU-RP, TS-873AU(-RP), TS-1273AU(-R
#RAIL-B02
Our Price: $99.00