QNAP TS-230

Enjoy a smart and fun lifestyle with the budget-friendly file center and home media hub
Sorry, this product is no longer available, please contact us for a replacement.
Click here to jump to more pricing!
Package Content
QNAP TS-230
1 x Ethernet cable
AC Adapter
1 x Power cord
8 x Flat head screw (for 3.5" HDD)
6 x Flat head screw (for 2.5" HDD)
Quick Installation Guide
Overview:
Lightweight, quiet, and versatile, the TS-230 is your ideal entry-level NAS. Coated in a shade of elegant baby blue, the NAS can easily fit into your living environment to stimulate an intelligent and fun lifestyle. You can centrally store and back up all your digital files to the TS-230 for easily accessing, syncing, and sharing those files, creates snapshots to protect important files, and build a one-stop home entertainment portal for streaming photos, music, and videos to multiple devices in your home and beyond. Besides laptop and mobile phone, the TS-230 is also the tech gadget that you should have one!
Available Models
TS-230-
Realtek RTD1296 ARM® Cortex-A53 quad-core 1.4 GHz processor, 2GB DDR4 RAM

An entry-level NAS with snapshot protection, allowing you to protect files and data from accidental deletion and malware attacks.

Centrally store personal or family photos, music, and videos; easily browse, organize, and share multimedia files, and enjoy video streaming for better entertainment.

H.264 hardware decoding and real-time transcoding brings smooth audiovisual experience.

myQNAPcloud service allows you to easily access, manage, and share NAS files via the Internet.

Use HBS to back up or sync NAS files to remote or cloud storage space for reliable data backup and restoration

Serves as your secure private cloud and supports user account protection, IP blocking, 2-step verification, encryption access, and more.
Features:
Sleek and stylish design makes modern life simple and fun!
Adorned with a refreshing baby blue color, the minimal and slim TS-230 fits anywhere in your home. Featuring a unique, toolless design, setting up the TS-230 is so easy that it doesn't even need a screwdriver! Let the TS-230 be your new companion for starting a smart and fun lifestyle.
Effective cooling fan for heat flow
The TS-230 is small in size (188.6mm high, 90.2mm wide, and 156.2mm in depth) and requires only 12.3W, providing powerful features without a high power bill. The 8 cm HDB type Sintetico bearing fan is used as a cooling fan for maintaining high airflow while generating low level noise, providing better cooling for the TS-230 to ensure constant system operation.
Compact feature-rich NAS for home and everyday use
FThe TS-230 features a Realtek RTD1296 quad-core 1.4 GHz processor and built-in 2 GB DDR4 RAM for meeting personal and home NAS applications. Equipped with a 1 Gigabit Ethernet network port and support for SATA 6Gbps disk drives, the TS-230 provides data transfer performance up to 113 Mbps. If you decide to encrypt files with AES-256 encryption, the performance is still an impressive 113 Mbps— securing data transfers without sacrificing performance. You can also install an SSD for SSD caching to boost IOPS-demanding applications performance.
Always remember to back up your data
The TS-230 provides a flexible backup and disaster recovery solution, and supports snapshots that record the system status and data at any time. You can easily restore data back to any point of time with snapshots or backup files whenever needed.

Windows® and Mac® backup
Use the license-free QNAP NetBak Replicator utility to backup and restore files from Windows® computers. Time Machine® is fully supported for backing up Mac® computers.

Uses HBS for cloud backup
HBS consolidates backup, restoration, and synchronization functions for easily transferring data in the TS-230 to another QNAP NAS or cloud storage space for double protection

Instant snapshots
Snapshots are essential for NAS data protection and restoration, providing dependable methods for protecting data in the face of growing ransomware threats. The TS-230 supports up to 32 snapshots per volume/LUN, and up to 64 snapshots per NAS.
Real-time 4K video transcoding
The TS-230 supports 4K (H.264) hardware decoding and real-time transcoding, allowing you to convert videos to universal file formats that can be smoothly played on multiple devices. Therefore, you can easily share movies or travel videos saved on your NAS with family and friends through shared links, so they can watch videos anytime and anywhere.
Note: The TS-230's hardware provides H.264 10-bit hardware decoding, encoding and transcoding capabilities. However, playback quality may vary due to factors including playback software, file formats, system usage, and available bandwidth. The TS-230 reserves some RAM for shared graphics memory.
Easy photo management with AI-powered QuMagie for automated photo categorization
QuMagie brings you a brand-new photo management experience. By integrating QuMagie Core AI deep-learning algorithm, QuMagie enables facial recognition, object identification, and geotagging of photos on your NAS. Similar photos are categorized in the AI Albums (including People, Things, and Places). Other useful features include a built-in timeline scroll, customizable folder covers, iOS® Live Photos display, and a powerful search tool, providing you with the ultimate photo management and sharing solution
Note: The TS-230 now only supports Live Photos in JPEG and H.264 formats.
Connect to NAS easily and securely with myQNAPcloud
Wherever you are, myQNAPcloud allows you to be always connected to your TS-230 at home via the Internet by using an unique domain name. It becomes easy and convenient to access, manage, and share NAS data as you don't have to worry about complex routing environments. Also, myQNAPcloud strengthens keys on SSL Certificates to 2048-bits that ensures the security of remote access service.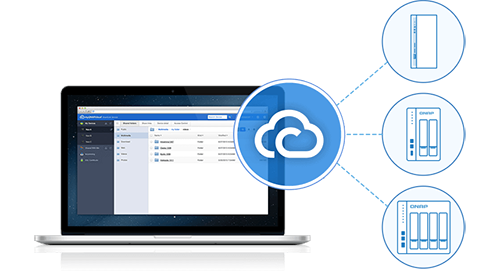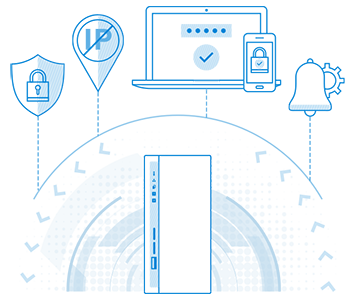 Protect your data with higher security
The TS-230 is loaded with comprehensive security features to keep your data safe.
Security Counselor: A security portal for the TS-230 to check for weaknesses and offer recommendations for enhancing NAS security. It also integrates anti-virus and anti-malware scanning software.
IP blocking: Operates policy-based automatic IP blocking of suspicious IP addresses. You can also block specific IP addresses to strengthen system security and reduce risks of malicious attacks over the Internet.
2-step verification: When activated, anyone who logs in to the TS-230 needs to enter a one-time verification code after their username and password.
Notification Center: Consolidates system logs and notifications of all NAS apps, facilitating smooth and easy NAS management. You can receive notifications via emails, SMS, instant messages, and push notifications (through the Qmanager mobile app and web browsers).
All these NAS functions on the go
The TS-230 has a multitude of companion mobile apps to extend its functionality to your smartphones and tablets. Whether you're on the go for business trips or traveling, your files and data are only a few taps away.

Qfile allows you to access NAS files anytime anywhere, so you can ditch USB thumb drives forever, and download files to your mobile devices for offline reading.

You can remotely monitor system status, shutdown or restart the NAS, pause or run downloads and backup tasks. Qmanager makes managing multiple NAS systems hassle-free.
Whether sharing photos with family or collaborating with colleagues, Qsync Pro quickly and effortlessly syncs files across different platforms and multiple devices and makes file sync so easy.

View, organize, and share photos stored on the NAS freely. You can also quickly find photos through customized tags, people, dates, and titles.

Instantly search for files on the NAS. Search while you type, use search conditions to quickly find desired files, and preview, download, and share files after finding them.

Connect to your NAS over VPN from your mobile device with QBelt, PPTP, OpenVPN, L2TP protocols. It's secure and easy.
Host container applications
If you are enthusiastic about Docker, the Container Station on the TS-230 is your playground for containers! Container Station integrates LXC and Docker® lightweight virtualization technologies. You can download apps from the built-in Docker Hub®, including popular and fully-configured applications, and deploy them with just one click. From smart homes to multimedia applications, you can explore your creativity and bring containerized applications to life. Besides Container Station, more apps including tools for backup/sync, content management, communications, download, and entertainment, are available from the QTS App Center. Simply click and install on-demand to further extend NAS functionality.
Hardware Specifications:
TS-230
CPU
Realtek RTD1296 quad-core 1.4GHz processor)
CPU Architecture
64-bit ARM
Floating Point Unit
Encryption Engine
Hardware-accelerated Transcoding
System Memory
2 GB DDR4, not expandable
Maximum Memory
2 GB DDR4, not expandable
Flash Memory
4 GB (Dual boot OS protection)
Drive Bay
2 x 3.5-inch SATA 6Gb/s, 3Gb/s
Drive Compatibility
3.5-inch SATA hard disk drives
2.5-inch SATA hard disk drives
2.5-inch SATA solid state drives
Hot-swappable
Gigabit Ethernet Port (RJ45)
1
Jumbo Frame
USB 2.0 port
1
USB 3.0 port
2
Form Factor
Tower
LED Indicators
System Status, LAN, USB, HDD1~2
Buttons
Power, USB copy, Reset
Dimensions (HxWxD)
188.64 × 90.18 × 156.26 mm
Weight (Net)
1.11 kg
Weight (Gross)
1.99 kg
Operating temperature
0 - 40 °C (32°F - 104°F)
Relative Humidity
5-95% RH non-condensing, wet bulb: 27˚C (80.6˚F)
Power Supply Unit
External, 65 W, AC 100 to 240 V
Power Consumption: HDD Sleep Mode
4.48 W
Power Consumption: Operating Mode, Typical
12.277 W
Fan
1 x 80mm, 12VDC
Sound Level
15 db(A)
System Warning
Buzzer
Note: Use only QNAP memory modules to maintain system performance and stability. For NAS devices with more than one memory slot, use QNAP modules with identical specifications. Warning: Using unsupported modules may degrade performance, cause errors, or prevent the operating system from starting.
* Sound Level Test Environment: Refer to ISO 7779; Maximum HDD loaded; Bystander Position; Average data from 1 meter in front of operating NAS. Designs and specifications are subject to change without notice.
Documentation:
Datasheet for QNAP TS-230 is coming soon.
Pricing Notes:
Pricing and product availability subject to change without notice.
QNAP Products
Storage Expansion Card
Dual 2.5″ SATA to 3.5″ SATA drive converter/adapter, up to 9.5mm 2.5″ drive height support, hardware RAID 0/1, JBOD, Individual disk modes
#QDA-A2AR
Our Price: $59.00
Dual M.2 2280 SATA to 2.5″ SATA drive converter/adapter, hardware RAID 0/1, JBOD, Individual disk modes
#QDA-A2MAR
Our Price: $59.00