QNAP TS-253D

Quad-core 2.5GbE NAS for professionals, supporting PCIe expansion for 10 Gbps or M.2 SSDs to accelerate applications
Sorry, this product is no longer available, please contact us for a replacement.
Click here to jump to more pricing!
Package Content
QNAP TS-253D Storage
2 x Ethernet cables
1 x Power cords
Flat head screw (for 3.5" HDD)
Flat head screw (for 2.5" HDD)
AC Adapter
Quick Installation Guide
Overview:
The new-gen Wi-Fi 6 (802.11ax) trend has driven higher bandwidth demands for wired and wireless network connections. By integrating Intel® Celeron® J4125 quad-core 2.0 GHz processor and 2.5GbE connectivity, the TS-253D not only provides modern businesses an excellent NAS solution to upgrade to 2.5GbE environments for productive daily backup/restore tasks, but also provides gamers with ample storage for their vast game collections. Up to 5 Gbps transfer speeds can be made by setting port trunking with the two built-in 2.5GbE ports. The TS-253D also supports PCIe expansion, multi-cloud backup, cloud storage gateways, 4K HDMI output and real-time transcoding, alongside expandable storage capacity and feature-rich apps to perform as a cost-efficient, reliable 2.5GbE NAS.
Available Models
TS-253D-4G-
Intel® Celeron® J4125 quad-core 2.0 GHz processor (Bursts up to 2.7 GHz), 4 GB DDR4 memory (1 x 4 GB)


Dual 2.5GbE ports accelerates file sharing across teams and devices or gaming storage applications.

PCIe expansion allows for a Multi-Gig 10GbE or 5GbE network card, or a QM2 card to add M.2 NVMe or SATA SSDs for caching.

4K media playback and real-time transcoding; directly watch videos on an HDTV via HDMI 2.0 (4K @60Hz) output.

HBS provides comprehensive backup and data recovery; QuDedup deduplicates the data at the source to reduce storage space usage, bandwidth usage, and backup time.

Cloud storage gateways realize hybrid cloud applications by working with the cache space reserved on NAS to ensure low-latency data access to the cloud.

Hosts multiple virtual machines and containers to execute different applications in one NAS device.
Features:
Upgrade your NAS to 2.5GbE networks
The TS-253D comes with two 2.5GbE RJ45 LAN ports that allow you to use existing CAT5e cables to upgrade network speeds from 1 Gigabit to 2.5 Gigabit. The dual 2.5GbE ports also support Port Trunking for up to 5 Gbps! By using QNAP's N-BASET/Multi-Gig USB 3.2 Gen 1 to 5GbE adapter (Model name QNA-UC5G1T) or 5GbE PCIe expansion card (Model name QXG-5G1T-111C), your laptop or desktop computer can easily connect to 2.5GbE networks with the TS-253D to benefit from higher network speeds.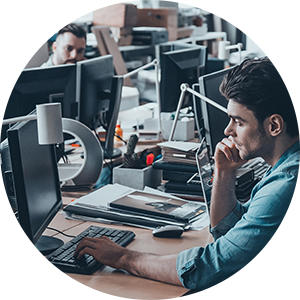 Virtualization
Satisfies bandwidth-demanding applications such as virtual machines and containers.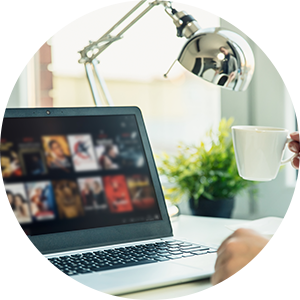 Video Streaming
Boosts transfer speeds to improve smooth 4K video streaming and display.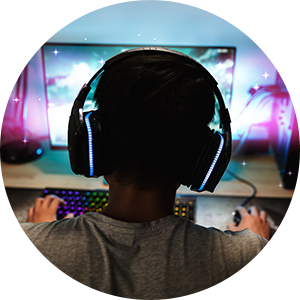 Gaming Storage
Mount an iSCSI LUN from the TS-653D to your computer to store your vast game collections.
Transform your network with a wallet-friendly 2.5GbE switch
Upgrading your network shouldn't break the bank, and 2.5GbE connectivity provides immediately noticeable improvements compared to standard 1GbE. The QSW-1105-5T is an unmanaged switch with five 2.5GbE ports (backwards compatible with 1G/100M) and supports CAT5e cables to connect multiple computers and NAS. The QSW-1105-5T is energy-saving, low-noise, plug-and-use, and supports loop detection and blocking to provide a simple and effective high-speed network environment.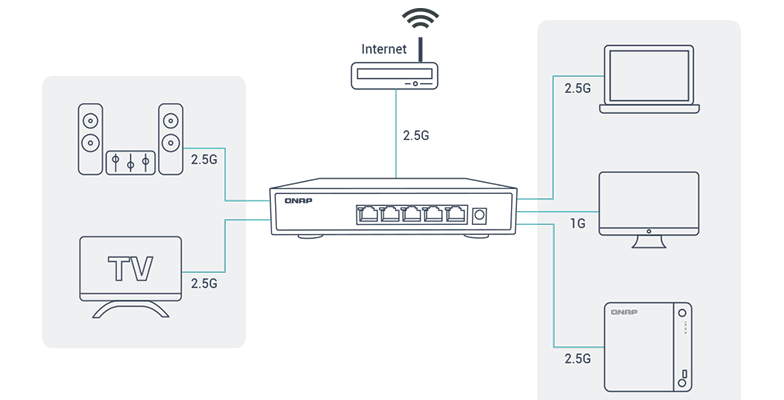 Quad-core 2.0 GHz (burst up to 2.7 GHz) with up to 8 GB memory
The TS-253D is powered by an Intel® Celeron® J4125 quad-core 2.0 GHz processor (bursts up to 2.7 GHz), features up to 8 GB DDR4 memory, and supports SATA 6 Gb/s drives. The support of Intel® AES-NI encryption engine boosts encryption performance while also maintaining the security of your NAS data. You can flexibly install SSDs for cache acceleration to maximize network and storage performance for data-intensive applications.
A secure data center for backing up device data with snapshot protection

Windows® and Mac® backup
Use the license-free QNAP NetBak Replicator utility to back up and restore files from Windows® computers. Apple's Time Machine® is supported for backing up Mac® computers.

Snapshots for Volume & LUN
Snapshots are essential for NAS data protection, and their block-level feature makes it a dependable data protection method in the face of growing ransomware threats. The TS-253D supports up to 256 snapshots per volume/LUN, and up to 1,024 snapshots per NAS.
Increase HBS backup efficiency with 2.5GbE connectivity
Hybrid Backup Sync (HBS) consolidates backup, restoration and synchronization functions (using RTRR, Rsync, FTP, CIFS/SMB) for easily transferring data in the TS-253D to local, remote and cloud storage spaces (including Microsoft One Drive®, Google Drive™, Dropbox®, and more) as a comprehensive data storage and disaster recovery plan. Supporting QuDedup technology that eliminates duplicated data at the source, HBS reduces backup data size and speeds up future backup tasks. This is also beneficial for accelerating multi-version backups for greater protection against data loss.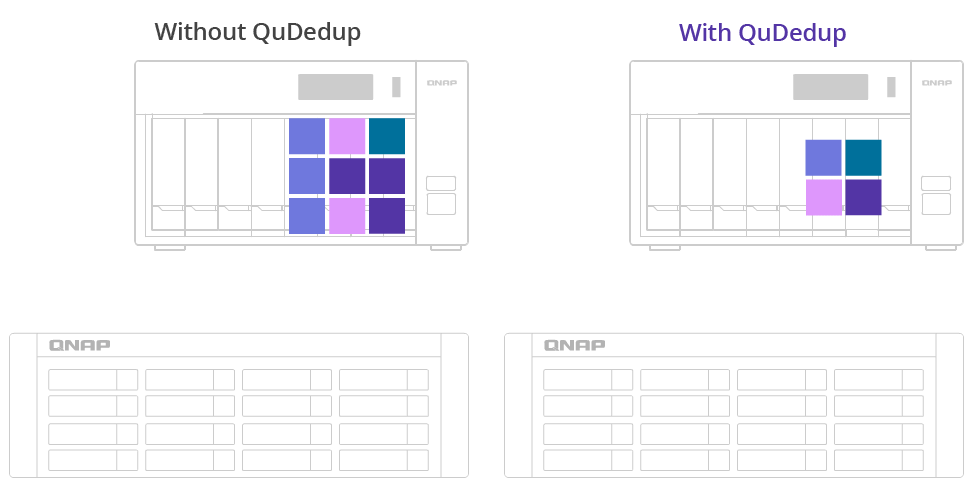 Abundant I/O capability with PCIe expansion
The TS-253D features one PCIe 2.0 slot that allows for various expansion cards for expanding application potential.
SSD caching and auto-tiering enable 24/7 optimized storage efficiency
While SSD prices continue to fall, and SSD capacity and performance continue to increase, organizations can easily take advantage of SSD strengths. The TS-253D supports numerous SSD-aware features that significantly maximize NAS performance with high cost-effectiveness.
SSD over-provisioning
(Over-provisioning)
SSD cache acceleration
Qtier for auto-tiering
You can add additional SSD over-provisioning (1% ~60%) to avoid write amplification and improve SSD random write speeds and endurance. You can potentially attain enterprise-grade SSD performance levels from affordable consumer SSDs!
Enables SSD caching for increasing IOPS performance and reducing latency for storage volume. This feature is perfect for IOPS-demanding applications including databases and virtualization. The TS-253D also supports write-only cache to boost write-intensive applications.
Qtier technology drives auto-tiered storage with continuous data optimization across high-performance SSDs and high-capacity HDDs based on access frequency. I/O-Aware Qtier can reserve a cache-like space in the SSD tiered to handle burst I/O in real time.
Ultimate visual experience with 4K HDMI display and real-time video transcoding
The TS-253D has an HDMI 2.0 port that supports 4K (4096 x 2160) 60Hz output, allowing you to directly view multimedia content saved on the NAS on a bigger screen. The support of high-quality 4K video transcoding enables the NAS to convert videos to universal file formats that can be smoothly played on multiple devices. The TS-253D also can stream videos through DLNA®, Chromecast™, and more to satisfy versatile multimedia application needs.
Note: The TS-253D's hardware provides hardware decoding, encoding, and transcoding capabilities. However, playback quality may vary due to factors including playback software, file formats, system usage, and available bandwidth.
Build a Plex Media Server
By installing Plex® Media Server from App Center, setting up the Plex® Media Server on your NAS is only a few minutes away. You can stream media files stored on the TS-253D to mobiles and media streaming devices (including DLNA®, Roku®, Amazon Fire TV® and Google Chromecast™).
Note: PlexPass is required for Plex Media Server hardware transcoding.
Move business data to the cloud flexibly and economically
The TS-253D perfectly integrates NAS with mainstream cloud services. By deploying cloud storage gateways and enabling local caching on the NAS, you can seamlessly use the cloud for storage, backup, and data recovery with low-latency access, providing an innovative hybrid cloud experience.

HybridMount File-based Cloud Gateway
Flexibly expand your storage capacity by connecting to cloud storage. You can leverage QTS apps to manage and edit your cloud files or multimedia files. HybridMount is ideal for file server online collaboration and file-level data analysis.

VJBOD Cloud Block-based Cloud Gateway
VJBOD Cloud supports streamlined NAS backup to object cloud storage. The block-based data transmission uploads random data and large files to the cloud in blocks, and only transmits block-based volume or LUN changes (such as addition, modification, or deletion). This is ideal for enterprise-level applications with large file transfer requirements, such as databases, VM volumes, and videos.
All-in-one server to host virtual machines and containers
Regardless of your virtualization needs, you can count on Virtualization Station and Container Station for complete virtualization support. You can use Network & Virtual Switch to allocate adequate physical network resources to virtual machines, containers, and the NAS to simplify network deployment.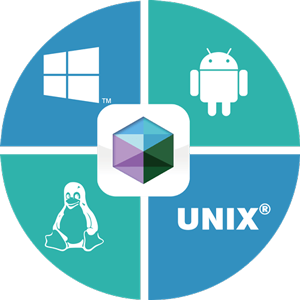 Virtualization Station
Run multiple Windows®, Linux®, UNIX®, and Android™ virtual machines and access them via a web browser or Virtual Network Computing (VNC). Businesses can run virtualized server applications on a single NAS without the need for additional physical servers.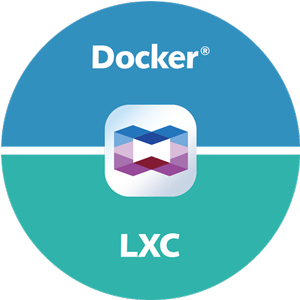 Container Station
Experience LXC and Docker® lightweight virtualization technologies, download apps from the built-in Docker Hub Registry®, import and export containers, and create abundant microservices.
Optimized collaboration with seamless file sharing and sync
The TS-253D centrally stores data and files, and supports SMB/CIFS, AFP and NFS protocols for file sharing across Windows®, Mac®, and Linux®/UNIX® networks. Coupled with the Qsync utility, any file uploaded to the TS-253D will be made available for all linked devices (such as computers, laptops and mobiles). You can sync shared folders and team folders for group file sharing to enhance the flexibility of team projects and collaboration. With the myQNAPcloud service, you can easily and securely connect to the TS-253D via the Internet for accessing, managing, and sharing NAS files. The Windows AD® and LDAP services enable system administrators to configure user permissions by using an existing Windows AD® server, LDAP server, or the TS-253D's built-in LDAP service.
Secure your premises with integrated surveillance solutions
QVR Pro allows you to arrange a dedicated, independent storage space for surveillance data on the TS-253D and leverage the advantages of scalable NAS storage. It greatly simplifies camera management, storage space allocation, camera live view, and playback. Supporting over 5,000 IP cameras (including all standard fisheye cameras available on the market), QVR Pro provides 8 license-free channels for surveillance monitoring and the optional QVR Pro Camera Channel Extension License for more extensive security deployment. You can also use QVR Pro Client's mobile app to monitor anytime, or use a USB webcam as an ONVIF® network camera with the QUSBCam2 app.
*The maximum number of channels supported varies by NAS model, network configuration, and camera settings.
More productivity applications

Notification Center
Consolidates all QTS system events, alerts, and notifications for smooth and easy NAS management, keeping you always informed of your NAS status.

Security Counselor
A security portal for checking weaknesses and providing recommendations for enhancing NAS security. It also integrates anti-virus and anti-malware scanning software.

Qsirch
QNAP's powerful, Google-like search tool for quickly finding specific images, music, videos, documents, and emails by keywords, color, and more search conditions.

Boxafe
Allows you to backup or sync files, emails, calendars and contacts from Google™ G Suite and Microsoft® Office 365® into the NAS to safeguard enterprise cloud data.

QuMagie
An AI-powered photo management app, supporting automated photo categorization with AI Albums, iOS® Live Photo display, and powerful search tool for ultimate photo management and sharing solution.

Qmiix
An Integration Platform as a Service (iPaaS) solution that enables you to connect apps and devices with QNAP NAS for automating daily tasks for greater productivity.
Expand your Storage with USB 3.2 Gen 2 (10 Gbps) - Better than eSATA!
Flexibly expand the storage capacity of the TS-253D via USB or multi-lane SATA interfaces. You can choose a high-speed USB 3.2 Gen 2 (10 Gbps) TL series JBOD, USB 3.2 Gen 1 (5 Gbps) TR series RAID expansion enclosures, or SATA 6Gbps TL series JBOD. They provide economical, flexible, high-performance and high-capacity storage expansion solutions for NAS, PC and servers.
Note: A USB 3.2 Gen 2 PCIe card or QXP SATA expansion card is required for using a compatible expansion enclosure.
Flexible and economical storage expansion
QNAP provides easy storage capacity expansion solutions. Here are several ways to expand your TS-253D storage as needed to accommodate data and business growth.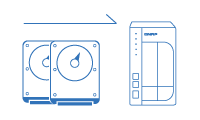 Upgrade RAID Capacity
Hot-swap lower-capacity drives with larger-capacity drives to expand your NAS capacity so it can grow with your business.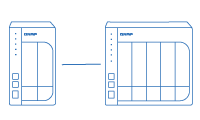 Attach Expansion Enclosures
Connect two TR-004 RAID expansion enclosures, or one 8-bay TL-D800C USB 3.2 Gen 2 JBOD, or one 16-bay TL-D1600S SATA 6 Gb/s JBOD, and use the QTS Storage & Snapshots Manager to easily handle NAS capacity expansion.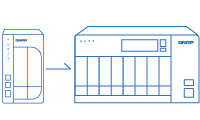 Migrate to a New NAS
Install your NAS hard drives into a larger QNAP NAS and retain all your existing data and configurations.
Extend hardware warranty up to 5 years
The TS-253D is backed by a 3-year warranty at no additional costs. You can purchase a warranty extension that extends your warranty coverage up to 5 years.
Hardware Specifications:
TS-253D-4G
CPU
Intel® Celeron® J4125 quad-core 2.0 GHz processor (burst up to 2.7 GHz)
CPU Architecture
64-bit x86
Graphic Processors
Intel® HD Graphics 600
Floating Point Unit
Encryption Engine
(AES-NI)
Hardware-accelerated Transcoding
System Memory
4 GB SO-DIMM DDR4 (1 x 4 GB)
Maximum Memory
8 GB (2 x 4 GB)
Memory Slot
2 x SO-DIMM DDR4
For dual-DIMM configuration, you must use a pair of identical DDR4 modules.
Flash Memory
4 GB (Dual boot OS protection)
Drive Bay
2 x 3.5-inch SATA 6Gb/s, 3Gb/s
The system is shipped without HDD.
Drive Compatibility
3.5-inch SATA hard disk drives
2.5-inch SATA hard disk drives
2.5-inch SATA solid state drives
Hot-swappable
M.2 SSD Slot
Optional via a PCIe adapter
SSD Cache Acceleration Support
2.5 Gigabit Ethernet Port (2.5G/1G/100M)
2
5 Gigabit Ethernet Port (5G/2.5G/1G/100M)
Optional via PCIe expansion card
10 Gigabit Ethernet Port
Optional via PCIe expansion card
Jumbo Frame
PCIe Slot
1
Slot 1: PCIe Gen 2 x2
PCIe bandwidth limitations will restrict the NAS 10GbE performance.
USB 2.0 port
3
USB 3.2 Gen 1 port
2
USB 3.2 Gen 2 (10Gbps) Port
Optional via a PCIe adapter
IR Sensor
(RM-IR004)
HDMI Output
1, HDMI 2.0 (up to 4096 x 2160 @ 60Hz)
Form Factor
Tower
LED Indicators
Power/Status, LAN, USB, HDD1-2
Buttons
Power, USB copy, Reset
Dimensions (HxWxD)
6.61 × 4.13 × 8.9 inch
Weight (Net)
3.26 lbs
Weight (Gross)
5.91 lbs
Operating temperature
0 - 40 °C (32°F - 104°F)
Relative Humidity
5-95% RH non-condensing, wet bulb: 27˚C (80.6˚F)
Power Supply Unit
65W adapter, 100-240V
Power Consumption: HDD Sleep Mode
8.198 W
Power Consumption: Operating Mode, Typical
12.448 W
Fan
1 x 70mm, 12VDC
Sound Level
17.1 db(A)
System Warning
Buzzer
Kensington Security Slot
Max. Number of Concurrent Connections (CIFS)
800
Note: Use only QNAP memory modules to maintain system performance and stability. For NAS devices with more than one memory slot, use QNAP modules with identical specifications. Warning: Using unsupported modules may degrade performance, cause errors, or prevent the operating system from starting.
* Sound Level Test Environment: Refer to ISO 7779; Maximum HDD loaded; Bystander Position; Average data from 1 meter in front of operating NAS.
Designs and specifications are subject to change without notice.
Optional Accessories:
RAM-4GDR4A0-SO-2400

DDR type: DDR4(260PIN)
Capacity: 4GB
Spec: HYNIX 512M X 16
Manufacturer: ADATA
Frequency: DDR4-2400
Form(PIN): 260PIN
Manufacturer P/N: AD4S2400J4G17-BHYA
Power Supply: 1.2V
Dram Organization: 512M*64
Temperature: 0℃~85℃
Environmental Regulation: RoHS
Product Views:
| | | |
| --- | --- | --- |
| Top Right Angle View | Front View | Top Left Angle View |
| Left View | Rear View | Right View |
| Hot-swappable Vieww | | |
Documentation:
Datasheet for QNAP TS-253D is coming soon.
Pricing Notes:
Pricing and product availability subject to change without notice.
QNAP Products
Storage Expansion Card
Dual M.2 22110/2280 PCIe SSD expansion card (PCIe Gen2 x4)
Low-profile bracket pre-loaded, Low-profile flat and Full-height are bundled
*shorter version to support TVS-x82/TS-x77 PCIe slot 2 & slot 3
#QM2-2P-244A
Our Price: $123.00
Dual M.2 22110/2280 SATA SSD expansion card (PCIe Gen2 x2)
Low-profile bracket pre-loaded, Low-profile flat and Full-height are bundled
*shorter version to support TVS-x82/TS-x77 PCIe slot 2 & slot 3
#QM2-2S-220A
Our Price: $79.00
Network Expansion Card
Single-port (10Gbase-T) 10GbE network expansion card, PCIe Gen3 x4, Low-profile bracket pre-loaded, Low-profile flat and Full-height bracksts are bundled
All NAS models with a PCIe slot.
#QXG-10G1T
Our Price: $139.00
Single port 2.5GbE 4-speed Network card
PCIe supported NAS and Windows 10/ Windows Server 2016 & 2019 /Linux PCs. Visit https://www.qnap.com/go/compatibility for the compatibible NAS.
#QXG-2G1T-I225
Our Price: $59.00
Dual port 2.5GbE 4-speed Network card
PC/Server or NAS with a PCIe slot
#QXG-2G2T-I225
Our Price: $79.00
QNAP 5GbE multi-Gig expansion card;Aquantia AQC111C;Gen2 x 1;low profile
PCIe supported NAS
#QXG-5G1T-111C
Our Price: $89.00
QNAP dual port 5GbE multi-Gig expansion card;Aquantia AQC111C;Gen2 x 2;low profile
PCIe supported NAS
#QXG-5G2T-111C
Our Price: $145.00
Interface Expansion
USB 3.2 Gen 2 dual-port PCIe expansion card
NAS with a PCIe slot, Windows 8.x/10, Ubuntu 20.04 LTS Note: 1. Minimum QTS 4.3.6 requirement. 2. USB cable is not included. 3. Follow the compatibility guide: https://www.qnap.com/en/compatibility/
#QXP-10G2U3A
Our Price: $65.00
4-port miniSAS HD host bus adapter, 16 x SATA, PCIe 3.0 x8, for QNAP NAS, Windows or Linux
#QXP-1600eS-A1164
Our Price: $199.00
1-port SFF-8088 SATA host bus adapter, 4 x SATA 6Gb/s , PCIe 3.0 x2, for QNAP NAS, Windows or Linux
Check NAS compatibility list: https://www.qnap.com/en-us/compatibility/
#QXP-400eS-A1164
Our Price: $69.00
2-port SFF-8088 SATA host bus adapter, 8 x SATA 6Gb/s, PCIe 3.0 x4, for QNAP NAS, Windows or Linux
Check NAS compatibility list: https://www.qnap.com/en-us/compatibility/
#QXP-800eS-A1164
Our Price: $129.00
QNAP WiFi 6 (Intel AX200) PCIe wireless card w/ antenna & brackets for NAS; Giga-byte GC-WBAX200 QNAP Edition
PCIe supported NAS and Windows 10/Linux PCs.
#QXP-W6-AX200
Our Price: $70.00
Cable / Transceiver
Mellanox MFM1T02A-SR 10GbE Transceiver
For use with SFP+ 10GbE (except x85U and 16489U)
#TRX-10GSFP-SR-MLX
Our Price: $129.00
SFP+ 10GbE twinaxial direct attach cable, 1.5M, S/N and FW update
For use with SFP+ 10GbE
#CAB-DAC15M-SFPP
Our Price: $50.00
SFP+ 10GbE twinaxial direct attach cable, 3.0M, S/N and FW update
For use with SFP+ 10GbE (except x85U)
#CAB-DAC30M-SFPP
Our Price: $70.00
SFP+ 10GbE twinaxial direct attach cable, 5.0M, S/N and FW update
For use with SFP+ 10GbE (except x85U and ARM Models)
#CAB-DAC50M-SFPP
Our Price: $100.00
QNAP 4GB DDR4 RAM, 2400 MHz, SO-DIMM, 260 pin, A0 version
TVS-951X
#RAM-4GDR4A0-SO-2400
Our Price: $105.00