QNAP TVS-882ST2

Thunderbolt™ 2 NAS with eight 2.5" SSD/HDD and 10GbE connectivity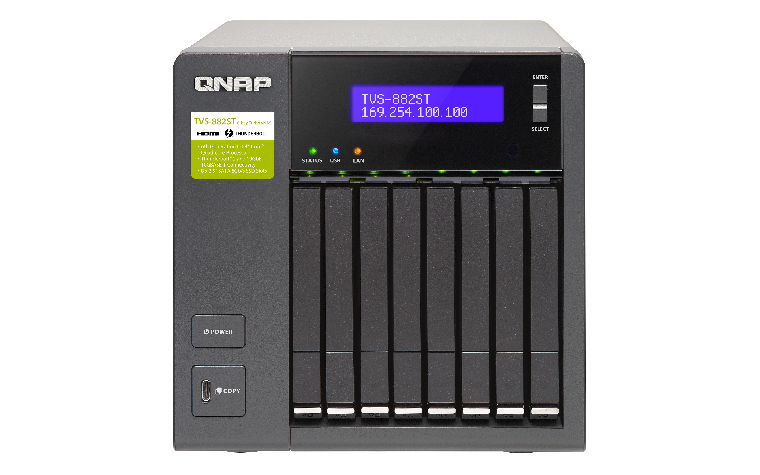 Sorry, this product is no longer available, Please, contact us for a replacement product!
Click here to jump to more pricing!
Overview:
The TVS-882ST2 is powered by an Intel® 6th Generation Core™ i5 Quad-core processor with AES-NI hardware encryption and provides a Thunderbolt™ 2/NAS/iSCSI SAN triple solution. With Thunderbolt™ 2, 10GbE, USB 3.1 Type-C + Type-A 10Gbps, and 4K output it provides the performance and connectivity to empower small offices and studios to take their business to the next level. The software-based Thunderbolt-to-Ethernet (T2E) function also allows Thunderbolt-enabled computers to access Ethernet networks by connecting them to the TVS-882ST2.
Eight 2.5" SATA 6Gb/s SSD/HDD slots
High-speed Thunderbolt™ 2 (20Gbps) and 10GbE dual networks
High flexibility with USB 3.1Gen 2 10Gbps Type-A & Type-C ports
The Network & Virtual Switch app assists network traffic distribution, and re-routes dedicated bandwidth for diverse applications
4 available combinations with Mac/PC and JBOD for flexible attaching, sharing and expansion
HDMI with 4K 30Hz output
Supports QvPC Technology and features integrated virtualization and container solutions
Virtual JBOD (VJBOD) allows to use QNAP NAS to expand the TVS-882ST2's storage capacity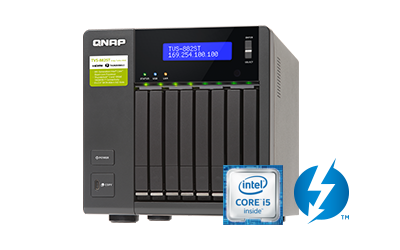 Specifications:
TVS-882ST2 Specifications
Ordering P/N
TVS-882ST2-i5-8G
Processor
6th Genertion 14nm Intel® Core™ i5-6442EQ 1.9 GHz Quad-core processor
Hardware Encryption Accleration
, AES-NI
System Memory
8GB DDR4 (2 x 4GB)
Maximum Memory
32GB (2 x 16GB)
Memory slot
2 x SODIMM DDR4
(For dual-DIMM configurations, you must use a pair of identical DDR4L modules.)
Flash Memory
512MB DOM,installed QTS operating system
Drive Type
8 x 2.5" SATA 6Gb/s SSDs/HDDs (up to 9.5mm SSD/HDD support)
Thunderbolt Port
2 x Thunderbolt™ 2 high-speed port
10GbE Port
2 x 10GbE 10GBASE-T LAN ports
GbE Port
2 x Gigabit RJ45 LAN ports
USB 3.1 Port
1 x Type-C + 1 x Type-A USB 3.1 Gen2 10Gbps
USB 3.0 Port
2
LCD Panel
PCIe Slot
1 x PCIe Gen3 (x8) + 1 x PCIe Gen3 (x4)
Both PCle slots are occupied by a Thunderbolt™ 2 card and a 10GbE adapter
HDMI
1, max. resolution 3840 x 2160 @ 30Hz
Audio Input
3.5mm microphone jacks (dynamic microphones only)
Audio Output
3.5mm Line Out jacks (for amplifier or headphone amplifier)
LED Indicator
Status/Power、USB、Drive 1-8
Button
Power/Status, USB Auto Copy, Reset
IR Sensor
, supports QNAP RM-IR004 remote controls
Other
Kensington security slot,console port
Dimension (H x W x D)
177 x 180 x 235 mm
6.97 x 7.09 x 9.25 inch
Weight
Net:3.97 kg (8.75lbs)
Operating Temperature
0 ~ 40˚C
Relative Humidity
5~95% RH non-condensing, wet bulb:27˚C
Noise Level
15.2 dB (A)
Refer to ISO 7779 ; Maximum HDD loaded ; Bystander Position ; Average data from 1 meter in front of operating NAS
Power Consumption
HDD standby:25.57W
In operation:42.70W
(with 8 x 1TB HDDs installed)
Power
ATX 240W,Input:100V-240V ~ / 3.5A, 47Hz-63Hz
Fan
1 x 12cm (12V DC)
Designs and specifications are subject to change without notice.
Pricing Notes:
Pricing and product availability subject to change without notice.
QNAP Products
Accessories
8GB DDR4 RAM, 2133 MHz, SO-DIMM, 260 pin
TS-x73, TVS-x73e/x73, TVS-882ST3, TVS-882ST2
#RAM-8GDR4K0-SO-2133
Our Price: $199.00
4GB DDR4 RAM, 2133 MHz, SO-DIMM, 260 pin
TS-x73, TVS-x73e/x73, TVS-882ST3, TVS-882ST2
#RAM-4GDR4K0-SO-2133
Our Price: $100.00